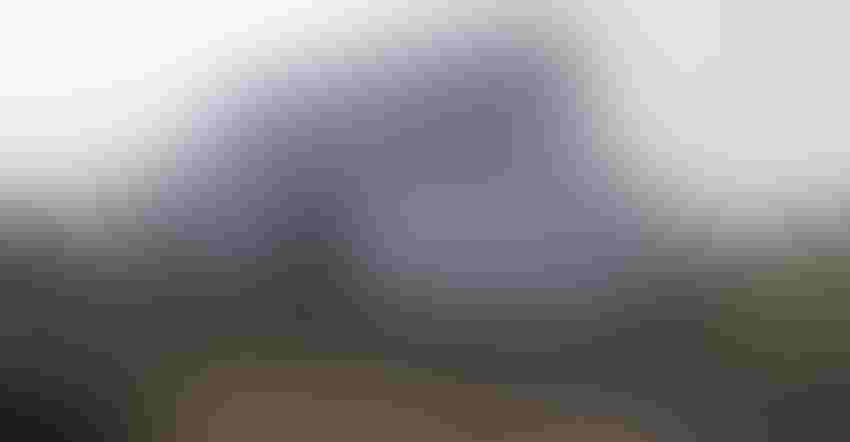 BARN STOP NO. 1: The first barn stop on the tour is the Deed Farm.
Friends of Ohio Barns is celebrating 20 years of the Ohio Barn Conference and Tour the last weekend in April.
Licking County is hosting this exciting celebration of barns, which provides a great opportunity to get your barn fix by learning about great Ohio barns and connecting with friends old and new.
The Ohio Barn Conference was conceived in 2000 by Chuck Whitney (1918-2009), the "Barn Consultant." Over the years the Ohio Barn Conference has grown from a one-day conference with a driving tour of a couple of barns to what is now a three-day event. Preregistration is required for any of the events during the three days. Visit friendsofohiobarns.org to register.
Barn Detective Workshop
The workshop will be held from 1 to 4 p.m. April 25. James McDonald has kindly offered his barn for a Barn Detective Workshop. The barn is a puzzlement, and you are invited to scratch your heads with the rest of us as our barn gurus enlighten us as to the what, where and why of it.
Friday barn tour
All aboard — the buses leave promptly at 9 a.m. April 26. This year features four barn stops, each filled with awesome barns and plenty of history.
Barn Stop No. 1 is the Deed Farm. It is a registered centennial farm, with the main barn and outbuildings adapted over the years to accommodate changing farming practices.
BARN STOP NO. 2: This is one of several barns built at the Montgomery Homestead to accommodate new innovations.
Barn Stop No. 2 is the Montgomery Homestead, which has several barns. Instead of adapting structures to the coming changes, a new barn was built next to the old one to handle the new innovations. Here we will see a visual timeline of the progression of barn building.
Stop No. 3 is a non-farm stop. By now, all will be plenty hungry. We will head to Virtues Golf Club for a scrumptious lunch, which is also the site of Saturday's conference.
BARN STOP NO. 3: The third barn stop on the tour is the Graham Farms, which showcase a barn built by Col. Crawford, a prominent local horseman.
Barn Stop No. 3 is the Graham Farms. There is a barn that measures 54 by 140 feet and has three stories. This was the last barn built by Col. Crawford, a prominent local horseman. Watch where you step here — you never know which of three counties you will be standing in.
BARN STOP NO. 4: The last barn stop on the tour is another barn built by Col. Crawford at the Longaberger Homestead.
Barn Stop No. 4 is the last stop, the Col. Crawford barn at the Longaberger Homestead. There are plenty of history and horses that paraded through this enormous barn, a fine example of the barns built during the era of "scientific farming."
Saturday conference
Ohio Barn Conference XX, "Evolution of Preservation," will be held April 27 at The Virtues Golf Club in Nashport.
I will start off with the president's remarks and a few announcements. The opening remarks will be followed by keynote speaker David Wilhelm, whose presentation is "What would my father say?" He is the son of the late Dr. Hubert Wilhelm.
Chris Klingemier, an architectural historian from Trumbull County, will help us to see the "Evolution of Preservation." Our own Tom O'Grady, historian extraordinaire, will speak about the first builders in Ohio who created the Native American earthworks in Licking County.
During the lunch break, we will have our annual member meeting as well as our awards ceremony. This year we are very pleased to be presenting The Hubert Wilhelm Cultural Heritage Educators Award for the second time. This award was created by Friends of Ohio Barns to honor Hubert G.H. Wilhelm in recognition of his pioneering spirit and outstanding achievement in promoting the appreciation, significance and preservation of Ohio's historic barns.
Following lunch, the "Barn Detectives," Rudy Christian and Dan Troth, will entertain us with slides and commentary on Friday's barn tour. There will be a presentation on the process of House Bill 12 and Senate Bill 86 passing into law, as we want to recognize and honor the Genoa Middle School students for their work in helping make the barn the official architectural symbol of the great state of Ohio.
Rounding out this year's celebration is a "look-back" reminiscing panel: Rudy and Laura Christian, Ric Beck, Dan Troth and Tom O'Grady. A silent auction will take place all day at The Virtues Golf Club.
You must be preregistered for all events, so for more information and to register, please visit friendsofohiobarns.org.
Ohio's official architectural symbol 
Editor's note: The following is reprinted from The Old Barn Post, a publication of Friends of Ohio Barns, December 2018. 
Friends of Ohio Barns is very pleased to announce that on Dec. 19, 2018, Ohio Gov. John Kasich signed into law Senate Bill 86, which contained a measure to add the barn structure as the official architectural symbol for the state of Ohio.
Kudos go to Sarah Gellner, Anna Borders, Rachel Kaufman and Adriane Thompson, who started out with a dream of designating the barn structure as an official symbol for the state five years ago while in seventh grade at Genoa Middle School in Westerville. Kudos also go to their teachers, Debbie Pellington and Caley Nestor Baker, who supported them throughout the process. And many thanks go to state Rep. Anne Gonzales, R-Westerville, for helping the teens navigate their idea through the legislative process.
Friends of Ohio Barns has been behind these students along the way, hoping they would succeed.
Gray writes from Mount Vernon, Ohio. If you know of any old or historically significant barns in Ohio she might research and write about, please email her at [email protected] or call her at 740-263-1369.
Subscribe to receive top agriculture news
Be informed daily with these free e-newsletters
You May Also Like
---