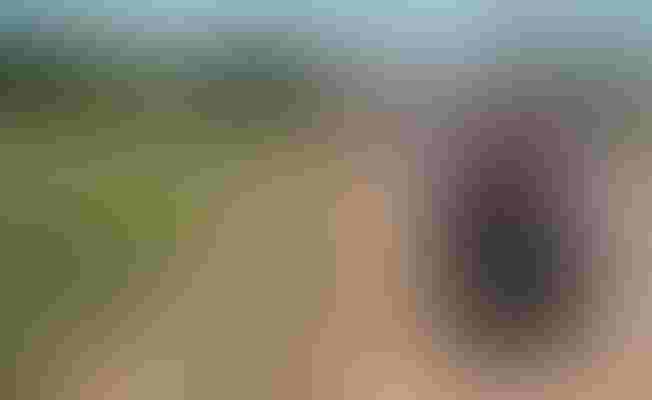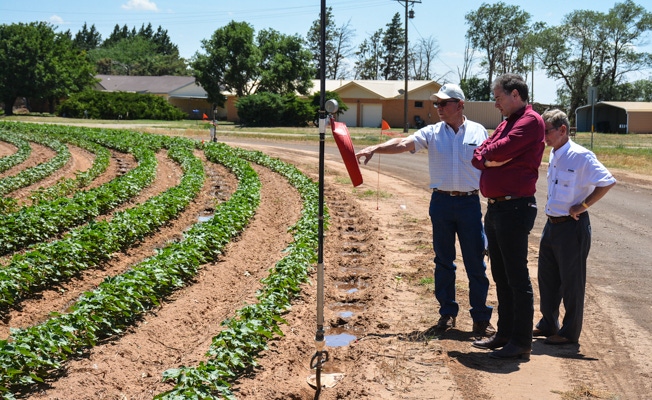 James Bordovsky, AgriLife senior research scientist and and agricultural engineer, left, discusses research being conducted at the Halfway Research Station with Dr. Patrick Stover, Texas A&M vice chancellor and dean of Life Sciences, right, with Parr Rosson, AgriLife interim director, center.
In 2017, diet-related chronic diseases cost the U.S. economy an estimated 1 trillion dollars. Today, approximately half of the adult population is under a physician's care for chronic diseases, many of which are diet related, according to Texas A&M's new vice chancellor and dean of Life Sciences Dr. Patrick J. Stover.
But through research and working alongside the agency's key stakeholders — its farmers and ranchers — Stover hopes to reduce those statistics through improved quality of U.S. agricultural products.
"The primary objective looking forward, is to be sure Texas is the recognized leader, not only to the United States but the world, on how agriculture can meet all of the demands that society places on it," says Stover, who moved from New York to College Station, Texas, in February with his wife Denise. "Not only to improve the quality of our agricultural products, in terms of their nutrient and health qualities, but to do that with fewer water inputs, so it has less of an environmental imprint, and doing it in a way that actually increases yields."
But also in a way to create quality food, Stover adds, to lower those rates of diet-related chronic disease which are driving the cost of healthcare, "through the roof." "We're talking Type II diabetes, related neuropathies, cardiovascular disease and all the inflammatory disorders related to obesity."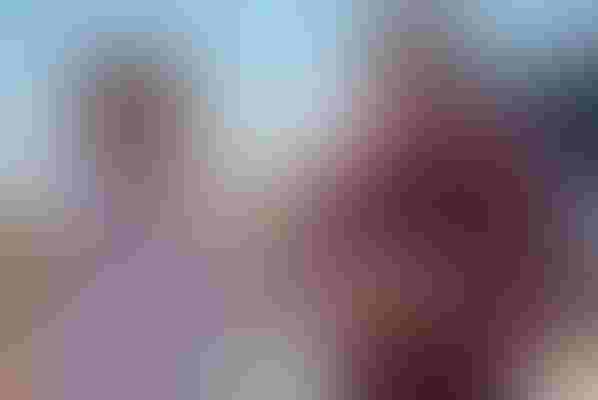 Stover, a recognized leader in nutritional science as a member of the National Academy of Sciences, joined the A&M System from Cornell University at Ithaca, New York.  He says increasing the health of our agricultural products is important not only to reduce disease but also to increase their value to the consumer and benefit produces with these value-added products.
"Over the past couple of years, the U.S. government, through the the National Academy of Sciences, Engineering and Medicine, who are the ones who oversee the dietary reference intake establishment process, setting the RDAs, have increasingly emphasized chronic disease reduction as the goal of dietary and nutrient-based guidelines, rather than exclusive use of biochemical measures as was most common in the past."
Texas tour
To familiarize himself with the researchers and their work throughout the state, Stover and Denise, have been visiting Texas A&M Research and Extension centers from Weslaco and Corpus Christi to the Texas South Plains and the Panhandle, with plans of also touring facilities in East Texas and the metroplex. Stover says he's wants Texas to be a model for the world in how its agriculture system is in harmony with both the environment and with human health.
"There's no better place than Texas to do that: its large bio economy and its growing population demands more of the food system — we're going to be a model of health as it's achieved," he says.
Producers concerns
As he and his wife have toured the state, they also have been visiting with Texas farmers and ranchers. Stover says, there have been two reoccurring themes:
A lot of the agriculture community doesn't feel like their story is being told.

Concern around the profitability of agriculture and the diminishing return on their investments.
"There's no one who cares more about the food system and the impact of agriculture on the environment than the agricultural community. They are the ones that need to have an environment that supports agricultural production. So, they care more about our precious resources more than anyone because it's absolutely essential for their livelihoods," says Stover. "Margins are getting smaller and smaller. There again, this where we can help the agriculture community and help human health."
See Drs. Patrick and Denise Stover tour Texas A&M Extension research stations
And he says that begins at Texas A&M University, being responsive to the farmers and ranchers and their needs today, while also maintaining what is the best food system and agriculture system in the world.
"We have to continue to support, with research and Extension, to deliver the information and those new discoveries that keep Texas agriculture and our international agriculture system strong, yet do the research that's going to be needed to have even higher quality agricultural products.
"It's a huge research agenda but there's no better place on earth than Texas to do this because we have such a strong bioeconomy and such a strong connection to the food system."
A slice of heaven
On a personal note, Denise says, she and Patrick have been pinching themselves since they arrived in Texas in February. "It's been a whirlwind. Everything Patrick is saying, with nutrition and healthy Texas, is what Texas is doing. Everybody works together," says Denise, who continues to work part-time at Cornell. "The community here, from what we've seen, is amazing. It's a slice of heaven."
Subscribe to receive top agriculture news
Be informed daily with these free e-newsletters
You May Also Like
---