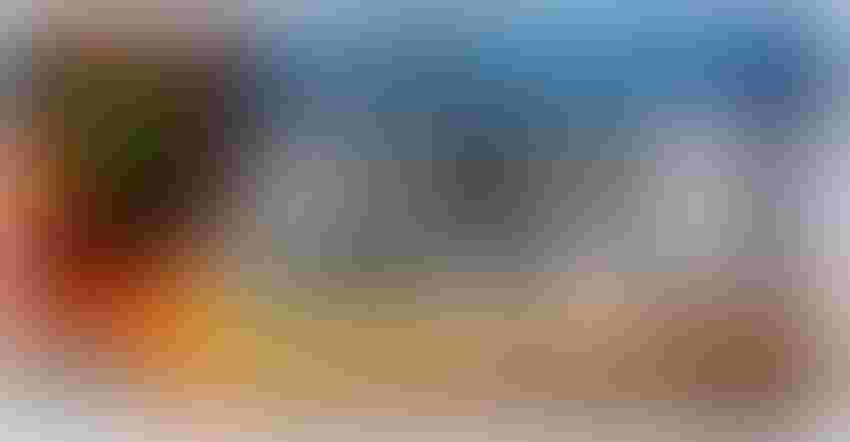 MINNESOTA-GROWN: Minnesota's new specialty plate, designed with input from FFA and 4-H youth, celebrates the diversity of the state's agriculture.
Courtesy of Minnesota Department of Public Safety
Minnesotans with agricultural ties finally have a specialty vehicle license plate to call their own.
A new, colorful plate featuring a brilliant sunrise, hands cupping soil with growing plants and the logo, "Supporting Agriculture for All," is available through Minnesota Department of Public Safety's Driver and Vehicle Services (DVS) offices.
The plate has an additional $20 annual fee that will support programs offered by the Minnesota FFA and 4-H organizations.
The ag plate was one of three specialty license plates approved in the state's omnibus transportation package by the 2021 Legislature. Overall, DVS offers more than 80 specialty plates, many of which recognize critical habitat, colleges and veterans.
More than a decade has passed since the idea of a special farm-related license plate first surfaced in the state Legislature. In March 2011, former state Sen. Gary Kubly, Granite Falls, authored a bill that called for the transportation commissioner to design a special license plate that would represent Minnesota farmers. Connecting it to provide support of 4-H and FFA programs was proposed in 2018 legislation.
Val Aarsvold, Minnesota FFA Foundation executive director, was instrumental in making the connection with 4-H.
"I reached out to Minnesota 4-H leadership and asked if they wanted to partner with us, recognizing that our two organizations have a major role in developing young people to be leaders in Minnesota agriculture," Aarsvold says.
Youth input
Unique to the ag plate is that FFA'ers and 4-H'ers had input into the design. A contest was held last fall, drawing nearly 100 submissions from youth who showcased Minnesota's agricultural diversity. Design elements from numerous submissions were woven together to help create the final plate design, Aarsvold says. State ag and transportation department officials also gave input throughout the process.
Important to all stakeholders was the intent to include images that would have meaning for both 4-H and FFA youth.
The new ag plate design strikes that balance, offering symbolism important to both youth organizations as well as recognizing the breadth of Minnesota agriculture. According to Aarsvold, the rising sun on the plate is a reminder of official FFA opening ceremony protocol: "The rising sun is the token of a new era in agriculture ..." The hands in the design represent 4-H and part of its pledge, "… my hands to larger service." The hands also symbolize generations working together and FFA's Greenhand degree.
The soil and plants represent life and everyone's ability to be involved in agriculture, respectively. And finally, completing the plate is an inclusive phrase, "Supporting Agriculture for All."
"This is a reminder that all have a role to play in the important work of growing food, fiber and fuel," Aarsvold adds. "And through the FFA and 4-H, young people are being supported in the exploration of agricultural careers and skills."
To help promote the ag plate, FFA and 4-H members will gather Friday (Feb. 11) for a photo shoot with a license plate sample. Photos taken will then be used in print ads and shared on social media posts.
How to get a plate
According to DVS, residents can apply for the agriculture plate at any motor vehicle office. The cost per plate is $15.50, plus a $20 minimum contribution and any applicable registration, wheelage tax, tech surcharges or filing fees. The $20 minimum contribution is due each year when the vehicle registration is renewed.
As of early February, plates are not available over the counter. Applications will be processed at the office, and plates will be manufactured on demand and sent directly to the customer. The turnaround time is roughly two weeks.
About the Author(s) Paula Mohr has been editor of The Farmer since 2004. She enjoys covering a wide range of topics that are of interest to Minnesota producers.
Subscribe to receive top agriculture news
Be informed daily with these free e-newsletters
You May Also Like
---