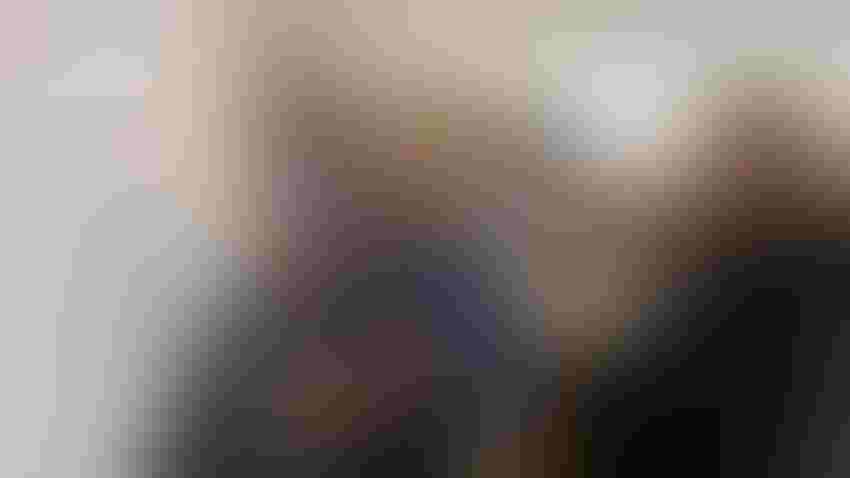 NEW CHAPTER: The St. Cecilia FFA chapter in Hastings is one of the newest chapters in Nebraska. St. Cecilia joins 209 high schools in the state that offer agricultural education and FFA, so the demand for ag teachers continues to grow.
Photo by St. Cecilia FFA chapter
by Holly Wortmann
Agriculture is a strong and diverse career field and essential to Nebraska's economy. One out of every three Nebraskans is employed in agriculture. Now, more than ever, it is vital to support and encourage agricultural education as youth learn what it takes to equip themselves with the skills needed in the workforce and postsecondary setting.
Stacie Turnbull serves as Nebraska's state director of agricultural education. "My role is to support 248 educators in agricultural education, through professional development, curriculum development and standards implementation," she says. "My entire job is about supporting teachers to be able to do the hard work every day.
"Currently, there are 209 schools offering agricultural education and FFA, with additional schools offering a few agricultural education courses or nontraditional programming," she adds. "Those 209 programs provide content knowledge, as well as skill and leadership development to over 15,000 Nebraska students. This is quite an increase from 2015, when there were 169 agricultural educators serving school-based agricultural education programs."
Ag on the rise
Turnbull says the interest in agricultural education and FFA is on the rise. However, the growth in agricultural education is contingent on the availability of teachers, and that shortage is concerning.
"Six schools opened agricultural education programs and FFA chapters for the 2022-23 school year," she says. "At least two new schools will begin offering agricultural education and FFA in the 2023-24 school year; both were ready to start their agricultural education programs in the 2022-23 school year, but the lack of teachers pushed back their start point.
"Both schools and parents understand the benefits of the programming, but the lack of agricultural educators will continue to be a struggle for programs."
School administrators across the state are finding unique ways to keep quality agricultural courses a priority in their districts.
"We've had some retired teachers who have come back to the classroom, and community colleges provide dual-credit coursework," Turnbull says. "There are a number of individuals who have decided that this is the time to step into the classroom and are teaching under an alternative certification.
"These individuals have previously taught in a different content area or have a non-teaching background in agriculture — they are teaching in the agricultural education classroom, while taking courses and working toward becoming a fully certified agricultural education teacher."
Plenty of support
Turnbull applauds the state's collaboration to support agricultural educators. "The teacher mentorship program, provided through the Nebraska Association of Agricultural Educators and the Nebraska Department of Education, is an invaluable resource in helping keep teachers in the classroom," Turnbull says.
"Toni Rasmussen, teacher at Wayne High School, and Matt Kreifels, teacher educator at the University of Nebraska-Lincoln, along with many teacher mentors, do a tremendous job of guiding new teachers. Colin Kubik, teacher at Norris High School, and Emily Whipple, teacher at Ainsworth High School, work with teachers in their second through fifth year of teaching. Mentorship, along with many other teacher retention efforts, goes a long way in helping teachers find success in the classroom.
"The Nebraska FFA Foundation is also a strong support to our teachers, providing multiple funding opportunities, to take their teaching to the next level and helping them stay engaged through continued professional development opportunities," Turnbull says.
Turnbull admits that a career in agricultural education is a demanding job, but one that is valuable. "Teaching agricultural education is the most fulfilling career I could imagine," she says. "The connection I have with my students becomes lifelong, in many cases. Each day is different. Each hour of the day is different, teaching something new each hour. There is no such thing as a boring day in the ag room."
For the future
"As a teacher, you prepare students to be informed consumers, skilled employees, entrepreneurs, diverse agricultural producers, informed voters, agricultural advocates, and lifelong learners," Turnbull says. "In agricultural education, as in all career and technical areas, we have the opportunity to connect on a deeper level with students.
"In agricultural education, the world is your classroom; the classroom can be a cornfield, a greenhouse, a land lab, an ag mechanic's shop, a welding facility, a garden, a barn, and so much more. It's a great career field, and Nebraska is a great spot to be teaching."
For more information on Nebraska agricultural education, visit education.ne.gov.
Wortmann writes from Crofton, Neb.
Subscribe to receive top agriculture news
Be informed daily with these free e-newsletters
You May Also Like
---