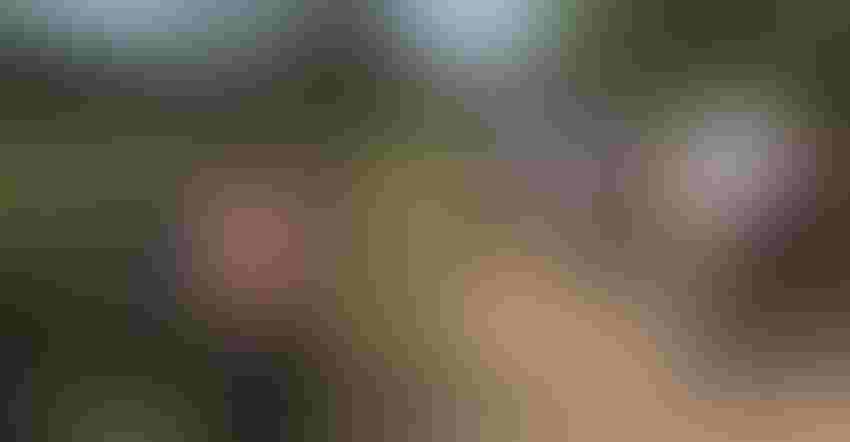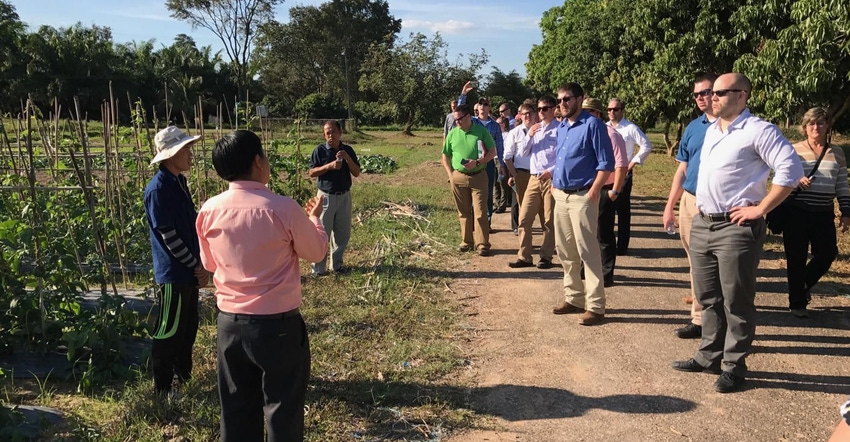 ON THE ROAD: In this photo, LEAD 35 fellows listen to researchers discuss vegetable cropping systems at the Development and Agricultural Services Center located outside Vientiane, Laos.
Terry Hejny
Group 37 participants from Nebraska LEAD — Leadership Education/Action Development — have been announced by the program's director, Terry Hejny. The two-year program will begin this month.
The newest members of Nebraska's premier two-year agricultural leadership development program are involved in production agriculture or agribusiness in Nebraska.
"We are proud to say that Class 37 appears to be filled with outstanding individuals from throughout the state, and I am excited to get started with them. Our job will be to prepare and motivate them for future leadership roles in their community, our state and beyond," Hejny says.
LEAD fellows will participate in 12 monthly three-day seminars across Nebraska, a 10-day national study and travel seminar, and a 14- to 16-day international study and travel seminar. The goal of the program is to develop problem-solvers, decision-makers and spokespeople for agriculture and Nebraska.
Seminar themes include leadership assessment and potential, natural resources and energy, leadership through communication, agricultural policy, and finance, Nebraska's political process, global perspectives, nuclear energy, social and cultural issues, development of leadership skills, agribusiness and marketing, information technology, advances in health care, and the resources and people of Nebraska's Panhandle and other areas designed to develop leaders through exposure to a broad array of current topics and issues and how they interrelate.
The Nebraska LEAD Program is operated by the nonprofit Nebraska Agricultural Leadership Council in cooperation with the Institute of Agriculture and Natural Resources at the University of Nebraska-Lincoln and 12 other institutions of higher education throughout Nebraska.
Nebraska LEAD 37 Fellows by hometown are:
• Alliance — Miles Buskirk
• Aurora — Evan Janzen
• Benkelman — MerleAnn Raichart
• Broken Bow — Clay Govier
• Cairo — Scott Sorensen
• Cody — Chelsea Luthy
• Cozad — Jason Keiser
• David City — Cory Kudlacek
• Eagle — Ted Retzlaff
• Elgin — Luke Beckman
• Exeter — Jerry Boeck
• Farnam — Adam Grabenstein
• Gering — Kyle Ann Hopkins
• Gothenburg — Amber Burge, Scott Speck
• Hastings — Jamison Jensen, Adam Pavelka
• Kearney — Jose Valles
• Lincoln — Thad Baum, Kristi Block, Megan Grimes
• Merna — Ross Daake
• O'Neill — Aaron Troester
• Scottsbluff — Christopher Stillahn
• Seneca — Bree DeNaeyer
• Springfield — Kimberly Stuhr
• St. Paul — Dan Vech
• Waverly — Alison Warner
• West Point — Sam Schmidt
• York — Aaron Kavan
Source: Nebraska LEAD Program
Subscribe to receive top agriculture news
Be informed daily with these free e-newsletters
You May Also Like
---