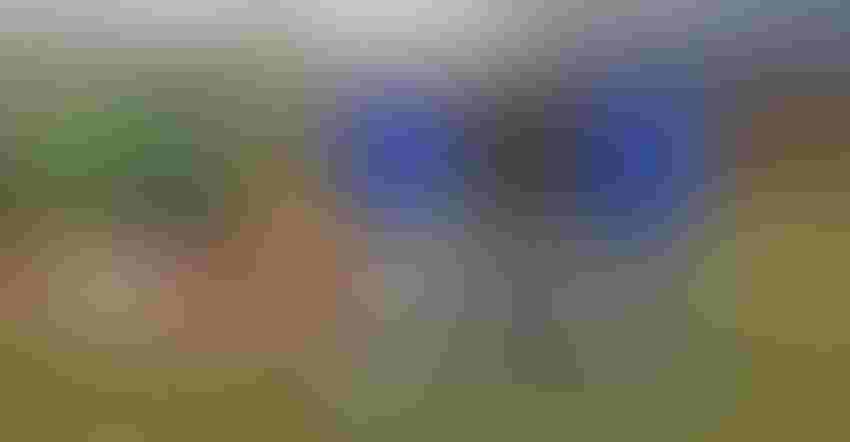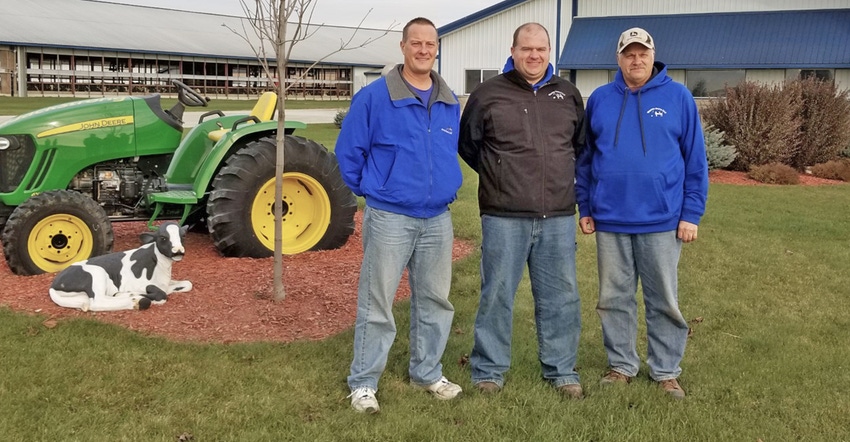 5TH-GENERATION FARM: Dan Natzke (right) owns and manages Wayside Dairy LLC near Greenleaf, Wis., with his son Jeremy Natzke (center) and nephew Paul Natzke (left).
Faith, family, farming, "in that order, are most important to us," says Dan Natzke, a strong Christian, head of a close family and a 2018 Master Agriculturist.
The Greenleaf, Wis., dairyman is the fourth generation on his family's 155-year-old farm, Wayside Dairy LLC. He milks 1,900 cows and crops 2,800 owned and rented acres in southern Brown County with son Jeremy and nephew Paul Natzke as joint owners. Dan's daughter, Jenna Nonemacher, currently among the farm's 30 employees, is transitioning into business office manager and soon will join the limited liability company. She is taking over for her mom, Barb, who says she is retiring to take care of her grandchildren.
Dan, 66, has been farming on his own since he was 17, when he and his brother Bob formed a partnership. Bob left, but his son Paul joined, and the dairy grew from 80 cows in two stanchion barns to the current 2,000 cows in freestall barns and a parallel milking parlor.
A 2001 barn fire destroyed a milking parlor, feed center, shop and some barns.
"That day was devastating," Dan says, "but it turned out to be a blessing in disguise. The cows were gone for six weeks. A year later, we built the current complex."
The LLC was formed. Dan works with finances and helps with planting, harvesting, and hauling feed and animals. Jeremy is dairy herd manager, and Paul is operations manager. Their three-times-a-day milking schedule produces a rolling herd average of 31,300 pounds of milk, 1,300 pounds of fat and 970 pounds of protein.
Doing more
The Natzke family's church, Zion Lutheran of Wayside, started in 1863, the same year Dan's great-grandfather began farming not far away. Dan has been the church chairman and an elder, serves currently on its outreach and mission committee, and has been school board chairman for both Zion Lutheran Elementary School and N.E.W. Lutheran High School in Green Bay.
In 2005, Dan was diagnosed with prostate cancer. As he recovered, he says, "I thought the Lord nudged me to do more."
That led to his first volunteer mission to the Dominican Republic. He's returned 13 times, leading a team to build churches and schools, dig wells, and find needed materials like wheelchairs and walking sticks for what he describes as "the poorest of the poor."
Each fall, he and Barb travel to the same area in the Dominican Republic to work with local clergy to line up projects. The following February, he returns with a team of 10 or 12 workers.
"I've been there 23 times in all," he says. "You really develop a camaraderie, a friendship." He adds with a smile, "For a week there are no papers, TV or phones to worry about."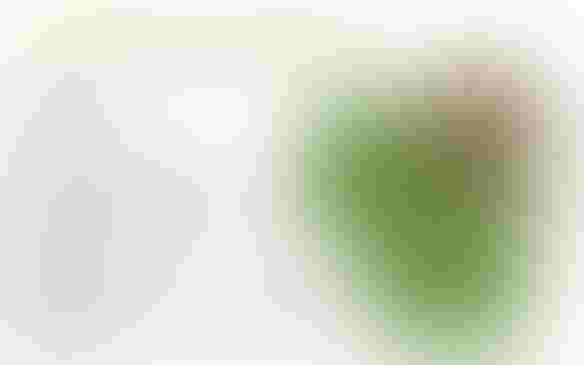 Back on the farm, though, is where Dan feels at home.
"Ever since I was a kid, I loved farming," he says with a big grin. "It's a combination of things: able to work outside, have your own business, work with and raise a family, help develop employees, watch them grow and mature, and the blessings God has given us."
Dan and Barb have another son, Jason, who works off the farm. Barb has given up farm bookwork to look after her seven grandchildren.
Dan, however, is not considering retirement. "I'm having too much fun," he says, while noting his dad was active well into his 80s. "As long as the good Lord gives me health, I enjoy what I do," he says.
Farm management
The Wayside herd is fed haylage and brown midrib corn silage put up in bunkers, and a total mixed ration that includes cottonseed. The farm was among the pioneers feeding cottonseed as a dairy supplement.
Heifer calves are raised off-farm until 5 months old; they return to the farm until 10 months, and then are shipped to Kansas to be bred and raised. They are back at Wayside again at 18 months to give birth and join the milking herd.
They've started breeding the bottom 30% of the herd to beef bulls and have begun genomic testing. "We really want to push the genetics," Dan says. Breeding for production and longevity, "we really want to build up the top end of the herd."
Cows are bedded on reclaimed sand, and manure is a major source of fertilizer. "We work with a lot of natural fertilizer for alfalfa and for starter on corn," Dan says.
They aim for 5 tons of dry matter per acre and are starting to use low-lignin alfalfa. They also aim for 20- to 21-ton BMR corn silage, and 80 bushels per acre of wheat.
"Wheat we can get off in summer, and then summer-seed alfalfa," Dan says. "The last few years we've planted a lot of cover crops. Two-thirds of our land is covered for winter. We plant a lot of triticale and take it off before the first crop. We no-till corn onto stubble and apply manure."
In the community
Dan has been on the boards of the Wisconsin Holstein Association and Professional Dairy Producers of Wisconsin, and on the state and national Farm Bureau Young Farmers committees. He's been recognized as Outstanding Young Farmer by the Wisconsin and national Jaycees and the Wisconsin Farm Bureau, and as Outstanding Young Breeder by the Wisconsin Holstein Association. He's also the zoning board chairman for his township and is on the board of directors and building committee for the new Farm Wisconsin Discovery Center being developed near Cleveland in Manitowoc County.
Wayside Dairy has hosted the Brown County Breakfast on the Farm and church events, been visited by Green Bay Packers players Donald Driver and Mason Crosby and others, and was featured in a film produced by the Wisconsin Milk Marketing Board.
"We do a lot of tours," Dan says. "We try to be very positive-minded. We try to be as involved in the community as we can, so people know who we are, as well as what we do."
Buchholz writes from Fond du Lac, Wis.
Subscribe to receive top agriculture news
Be informed daily with these free e-newsletters
You May Also Like
---