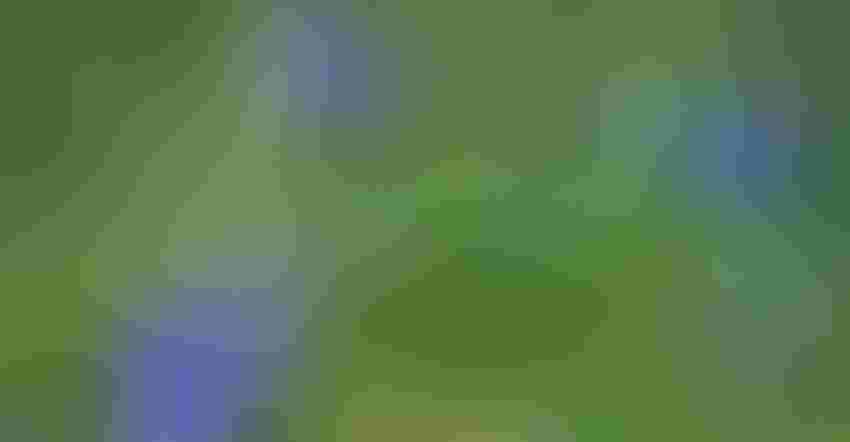 BEE'S FRIEND: The closed bottle gentian is pollinated by the bumblebee. It can be tricky to start as it likes to flop over when young. It produces a bright blue flower.
Scott Woodbury
No one purchased a single closed bottle gentian. While it is a slow grower and can be overrun by aggressive plants, it is worth the effort.
Visually, the bottle gentian is a stunning plant with cobalt blue flowers and is bumblebee pollinated. It grows best in part shade with companion plants such as clump-forming star sedge and oak sedge that prop it up and allow it to shine.
Still, no one wanted to give it a try in their native landscape. Perhaps there are more underutilized native plants that merit attention.
Unique location
Another worthy plant relegated to the sidelines is leadplant. It is one of the smallest native woody plants, topping out at 2 to 3 feet in height and spread. It prefers dry, well-drained soil and dislikes poorly drained clay soil.
Leadplant grows in full sun or part shade and is as happy as a mussel in a gravel riverbed when planted in rocky areas. It is finicky and grows slowly, but it finally puts on leaves by late May. Leaves are silvery gray and contrast nicely with other dry-loving companion plants such as fame flower, American aloe and prickly pear.

SLOW GROWTH: Leadplant is another native that does not get off to the best start. It is slow to grow and looks scrawny at first. But as the leaves head out in May, it fills in with tiny purple flowers seen here among milkweed.
In three to five years, these plants may grow 2 feet in height and width. They transplant poorly because of stout, deep taproots.
It is said that when early settlers plowed the original prairie (with mules) through leadplant roots, the ground made snapping sounds, hence the lesser-known common name, devil's shoestring.
Plants to consider
Wild onions often are overlooked when planning a native garden. There are a several species of wild onions that are showy, and one that is a delicacy: wild leek.
Growing wild onions can be difficult. However, adding mycorrhizae to seedlings before planting helps. Plant wild onions in well-drained soils. Nodding onion, glade onion, wild leek and meadow garlic are commercially available.
Glade onion and meadow garlic prefer full sun; nodding onion likes part shade; and wild leek grows in full shade.  
Indian physic is another native that sits on the shelf for no reason. It has a unique ferny texture in spring and summer and grows in dry, open woodlands.
In midsummer, it produces white flowers with a pink blush on two-and-a-half-foot-tall stems. It is a well-behaved perennial that is clump-forming and long-lived. Its finest moment is in autumn when the foliage turns reddish-purple.
Could American aloe truly be hearty in Missouri? Yes, it is, and it blooms at the same time as purple coneflower in early summer. Its flowers open in the evening to attract sphynx moths at night. It does this by producing a sweet aroma attractive to moths and people.
Plant this one where you can experience it in the evening or at night. It is the narrowest perennial of all, topping out at 3 to 4 feet in height, yet it is only 12 inches across at the base, so this one fits in tiny spaces and can tolerate extreme drought and part shade, although it prefers full sun. It also works well in containers.
This gardening season, look for the lesser-known native plant to add variety to your landscape.
Woodbury is the curator of the Whitmire Wildflower Garden at Shaw Nature Reserve in Gray Summit, Mo., and an adviser to the Missouri Prairie Foundation's Grow Native! program.
Subscribe to receive top agriculture news
Be informed daily with these free e-newsletters
You May Also Like
---