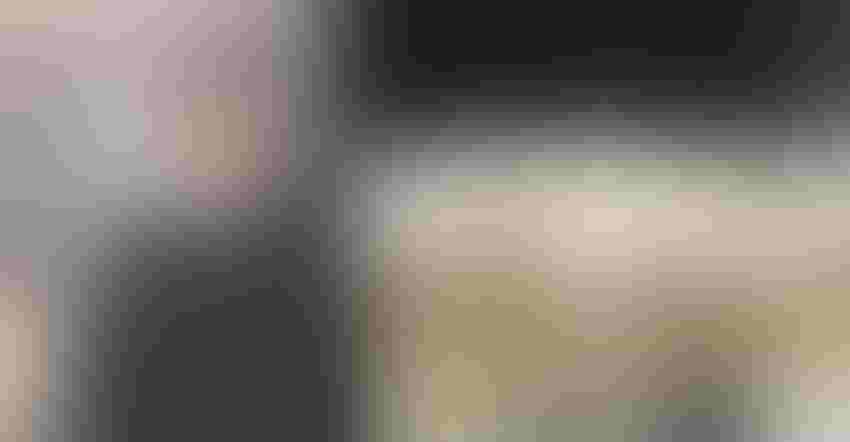 Briza Castro, a second-year animal science graduate student at New Mexico State University, is part of a new pipeline program at NMSU that aims to train more undergraduate and graduate students from underrepresented groups for competitive agricultural careers. The program is part of new collaboration with the University of California, Chico.
Josh Bachman, NMSU
New Mexico State University will train more undergraduate and graduate students from underrepresented groups for competitive agricultural careers through a new program jointly operated by the University of California, Chico.
 
The program, funded by a $999,786 grant from the U.S. Department of Agriculture's National Institute of Food and Agriculture, establishes a pipeline between the two institutions for minority students pursuing bachelor's and master's degrees in animal science. The grant was part of a $14 million investment in Hispanic-serving higher education institutions to support Hispanic student learning experiences in the agricultural and human science sectors.
 
"We're recruiting, retaining and graduating outstanding students from underrepresented groups," said Jennifer Hernandez Gifford, director of the program and an associate professor of animal science at NMSU. "The overall purpose of that is to increase those students' capacity to enter and enhance the nation's food and agricultural sciences workforce."
 
The program aims to recruit animal science majors from underrepresented groups to Chico State to complete their undergraduate studies and prepare them to enter graduate school at NMSU. Undergraduate students at Chico State will visit NMSU during the summers to complete research internships on the Las Cruces campus as part of an initiative to expose participants to research experiences in preparation for graduate school.
 
"We're expecting every student at every level in this program will gain both technical and professional competencies," Hernandez Gifford said. "A big part of our training involves giving students research skills that will set them up to be problem solvers who can meet the demands of the agricultural workforce."
 
Hernandez Gifford said the program capitalizes on the strengths of existing animal science programs at each university. Chico State, she said, has a strong undergraduate program but lacks a graduate program, whereas NMSU has both, including a Ph.D. track, in the College of Agricultural, Consumer and Environmental Sciences' Department of Animal and Range Sciences.
 
Hernandez Gifford began recruiting students into the program in September. She said she is working with her counterparts at Chico State to establish student cohorts that foster a sense of community learning. The program, which runs through 2026, currently has three graduate students at NMSU. 
 
Briza Castro, a second-year animal science graduate student, joined the program this fall. 
 
Castro works with livestock at NMSU to study the effects of a bacterial endotoxin on female fertility. Her research involves culturing an ovarian granulosa cell line with lipopolysaccharide and measuring the impact of the bacterial endotoxin on hormone concentrations and inflammatory responses.
 
"I have always been interested in animal science," said Castro, who obtained a bachelor's degree in animal science at NMSU before starting the graduate program. "I really like the hands-on experience that you get in animal science, but also physiology — how the body works and how we don't think about physiology until something goes wrong."
 
Castro said she believes her research may help livestock producers increase their profitability and improve the welfare of animals.
 
"I think it will help them manage their herds accordingly," she said.
 
Hernandez Gifford said students must apply to the pipeline program and go through a competitive selection process. Applicants must have a minimum GPA of 3.0 and come from an underrepresented group, among other requirements. Students who start the program at Chico State and wish to continue their education as graduate students at NMSU must also apply separately to their desired master's program.
 
For more information about the program, contact Hernandez Gifford at [email protected].
Source: NMSU

 
About the Author(s)
Subscribe to receive top agriculture news
Be informed daily with these free e-newsletters
You May Also Like
---