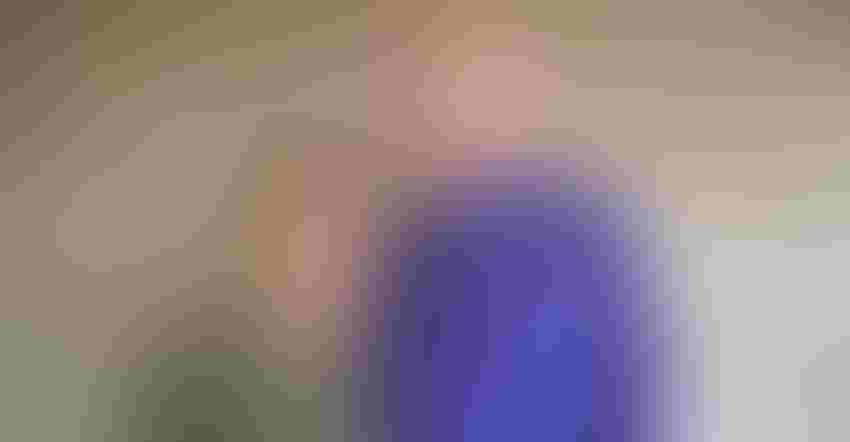 Eilene and Jim Minnix, Scott County
Farming and community service are a hand-in-hand legacy for the Minnix family of Scott County.
Jim and Eilene Minnix are the fourth generation to farm the land that two of his great-grandfathers settled on when they came to Scott County in the 1890s. One homesteaded and the other purchased a patent quarter. Both of those quarters remain as part of the farm today.
Great-grandfather William Lenihan was the township assessor. Grandparents Prosper and Julia Minnix were trustee and clerk of the local country school. Father Berl Minnix was a county commissioner.
Following in the footsteps of these ancestors, Jim has served for 22 years on the county commission.
In addition, Jim has lent the financial expertise he has acquired by both education and experience to various community endeavors. He holds bachelor's degrees in both ag economics and business finance and a master's in business administration.
Eilene obtained an associate's degree in accounting from Cowley Community College, then went on to a bachelor's in biology from the University of Tulsa, and then obtained her doctorate of veterinary medicine from Oklahoma State University in 1990.
Jim and Eilene have worked hard to make improvements in their home and their farm business. Jim is a big believer in conservation — not just when it comes to the land, but also energy as well.

STATE OF THE ART: The confinement system that Jim Minnix built on his farm far exceeds any regulatory requirement. The containment pit is concrete, and all storage tanks are seated inside it. Storage shelves for farm chemicals are also mounted inside the pit to catch any spill. There is even a special loading station with a chute (center of photo) that ensures any spills drain into the pit.
Even the house he built for the family dog is heavily insulated to keep Sam warm in the winter and cool in the summer. He added a large Cleary building in 2008 that is also heavily insulated, with a heated floor that enables him to work on machinery during the winter.
A particularly ambitious project was the containment facility that Jim constructed for all of the chemical and fuel storage on the farm. The concrete pit holds all the storage tanks and has storage space for chemicals.
A special sprayer loading area includes a chute to ensure that anything spilled will drain into the secure pit.
Over the years, trees have been replaced and cattle pens and working facilities added. In 2006, they remodeled the house to put in new windows, new siding and new brick while adding two bedrooms and a bath downstairs and a large handicapped-accessible master bedroom and bath upstairs.
Their No. 1 contribution to agriculture, Jim and Eilene say, is the three children they raised to be faith-based servant leaders in their communities. All three have ownership in the farm, and their youngest son plans to return to farm with his dad.
Daughter Kathryn Gayle is lead teacher at Hilltop Child Development Center on the KU campus. She and her husband, Chris Davis, are expecting a baby on March 9, one day before the Master Farmer award banquet.
"If we miss the banquet, that will be reason," Eilene says.
Son Carl James is a second lieutenant in the U.S. Air Force, currently stationed at Sheppard AFB in Wichita Falls, Texas. He and his wife, Lauren, are expecting their first baby in May.
Son Luke is a senior at Kansas State University majoring in ag economics.
He recently became engaged to longtime girlfriend Ellie Wilk, who is a second-year student at the KSU College of Veterinary Medicine.
Jim has also helped the local hospital, school, law enforcement center and library flourish during his time as a commissioner. He is occasionally called on to testify before the state Legislature in Topeka or to advise legislators on rural issues.
They have carried on the family tradition of being 4-H leaders, Sunday school teachers and church group members in addition to aiding church missions to support an orphanage in Mexico and an Indian Reservation in New Mexico.
They have also served as host family to two International 4-H Youth Exchange students, one from Wales and one from India.
Jim and Eilene are founding members of U.S. Premium Beef and market all their fat cattle through the value-added program.
They have about 60 head of beef cows and feed about 348 calves, some from their own herd and some they buy from ranches in New Mexico with whom they have a longstanding relationship.
Depending on market conditions, they sometimes custom-feed cattle owned by others, both in confinement and in outside grazing.
For the past two years, they have produced food-grade sorghum for NuLife Market of Scott City, which produces high-quality, gluten-free products.
Click on the following links to read the other Master Farmer stories: 90 years later, Barker family, Felbush family, Kaiser family, Reinhardt/DeGeer family and Tipton family.
Subscribe to receive top agriculture news
Be informed daily with these free e-newsletters
You May Also Like
---