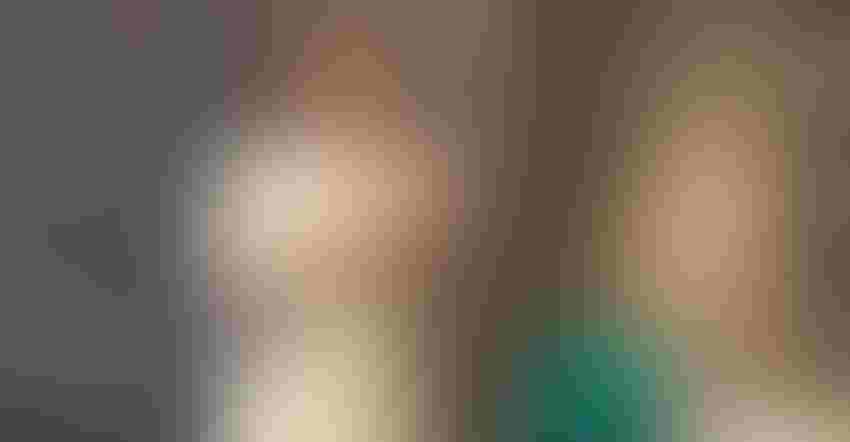 AG LITERACY TRAINING: Sue Knott, education specialist with Minnesota Ag in the Classroom, recently led a resource course for Minnesota Farm Bureau members attending the LEAP conference in Bloomington, Minn. Knott shared a classroom lesson and activity on beef production.
The Minnesota Ag in the Classroom program, offered through the state's agriculture department, continues to share agriculture's story with thousands of students state-wide.
During the 2017-18 school year, MAITC reached 123,365 students in kindergarten through 12th grade, according to Sue Knott, MAITC education specialist.
MAITC curriculum and programs are available to teachers and farmer volunteers that want to help improve student understanding of the state's food and fiber production. Curriculum content has been developed and based on educational concepts and teaching standards in science, social studies, language arts and nutrition.
Looking for new ideas to help with ag literacy?
• Tap your regional ag curriculum specialist for help and ideas. Four regional ag curriculum specialists have been hired by the MAITC Foundation.
"We like to think of these four specialists as personal guides to MAITC for educators in their area," Knott says. They assist administrators, educators and ag advocates with finding the right activities and curriculum to meet their requirements. They also assist in leading workshops and activities in classrooms.
The regional specialists are Ann Vote, southwestern Minnesota; Rachel Gray, northern Minnesota; Toni Dauwalter, central Minnesota; and Wanda Patsche, southern Minnesota. Learn more about them online.
• Consider working with themed monthly classroom lessons. Since last October, Knott says staff have worked on developing monthly lesson themes. They pulled together lessons and activities on harvest for October, turkeys and Thanksgiving for November, evergreen trees for December and "new" agriculture for January.
"We've featured different lessons and resources on these themes during the month on our Facebook page, too, as well as our new podcasts," Knott adds.
• Check out new podcasts available online.
"We chatted with a crop farmer in October for harvest, a turkey farmer in November and a Christmas tree grower in December," Knott says. February's podcast will feature Tracy Nelson Maurer of Forest Lake, Minn., the author of John Deere, 'That's Who!' February is 'National I Love to Read Month,'" Knott says.
• Pick up ready-made kits. To help teachers and "agvocates," Knott says staff selected one or two lessons for each monthly theme from MAITC current online curriculum list, called the Curriculum Matrix, and created a kit with all of the lesson materials.
"Regional specialists use this kit as a way to engage an educator in his or her area," Knott says. "Kits are then given to teachers, so they could use them with their students." Kits developed thus far include "Corn an A-Maizing Plant: Food, Fuel, and Plastic" (October); "A Rafter of Turkeys" (November); and "Discovering Christmas Trees" (December).
See all lessons offer on the matrix at https://minnesota.agclassroom.org/matrix/index.cfm
• Additional resources have been developed focusing on specialty crops, such as fruits, vegetables, honey and maple syrup. MAITC was able to create these materials with financial assistance from a USDA Specialty Crop Block Grant, Knot says.
Resources for specialty crops include:
1. "Follow Your Food" videos
2. Third-grade Specialty Crop AgMag — (this online content is also available in traditional printed magazine format)
3. "Cream of the Crop: A Harvest of Specialty Crop Lessons" — 10-lesson booklet with specialty-crop themed lessons that connect to science, social studies, language arts and health and nutrition
• Use online interaction to reinforce learning. Knott says staff have added about 15 new interactive features to MAITC's student-focused AgMag website.
"The content of the printed magazines is found there," Knott says. "It offers interactive features that allow students to complete the activities in the print magazine online by swiping, dragging-and-dropping content." The interactive lessons are available at mnagmag.org/games.
• Tell your teachers about the summer ag training tours.
"These are a program favorite," Knott says. "Last summer we did three tours and also hosted a teacher day camp. We're in the planning stages for the 2019 summer teacher tours and will have details posted and registration open on March 1."
Summer teacher training information will be posted online March 1.
Subscribe to receive top agriculture news
Be informed daily with these free e-newsletters
You May Also Like
---