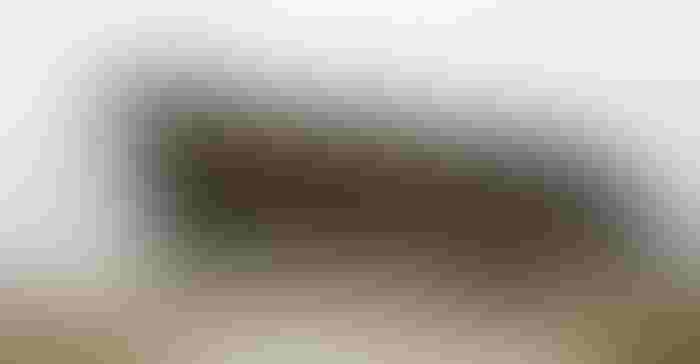 For many years, passers-by just east of Albion could feast their eyes on dairy cattle grazing near the impressive, rainbow-roofed, white barn visible from the highway — a memorable image of rural grace. 
Then, in the 1980s, polled Herefords could be seen enjoying those same fields as the highway had grown into Interstate 94 and traffic increased. Today, the pastures are empty, but the stately barn remains, patiently awaiting a new calling as traffic roars past.
Built by the Donald Smith family in 1941 to replace a larger barn that burned in the 1930s, the main barn's onetime dairy parlor is about 120 feet long by 40 feet wide, with a wing of about 40 by 30 feet used for ground floor storage with a second-floor granary.
"For many years, this was the home of Hearts Desire Dairy," says Bill Dobbins, who with his wife, Karen, has owned the property since the late 1980s. "The Smiths were at this location, and just a short distance down the road is an identical barn — minus a wing — which was owned by his brother, who I believe was Charlie Smith."
The laminated beams supporting the barns' shingled roofs were brought to Michigan from New York state, reminiscent of a large barn near Marshall, Mich., which was built with lumber from Oregon.
"When we purchased the farm, we remodeled the milking parlor to build pens for raising our registered polled Herefords," Bill says. "We showed cattle for many years." 
Proof of their prowess at raising Herefords is evident in photographs of prize-winning animals propped beside engraved awards on dusty ledges in what once was the milk house.
A red hay elevator is mounted just beneath and runs parallel with an older hay track, the length of the barn's mow under the roofline. 
"Hay was brought up the vertical elevator at the outside of the barn and moved along on the red elevator to where we wanted it, and then the elevator could be set to trip and the bales could be kicked off and stacked," Bill says.
A Bay City Type 0 Winch and rope system also are still in place for transporting hay using the much older system.
"About 12 years ago, a group of Amish workers helped us raise one-third of the west end of the mow floor by about 8 feet," Bill points out. "We put in a large door at that end of the barn so that our tractor — taller and wider than its predecessors — could be stored inside."  
The adjustment worked well, adding more functionality to the barn then and now, although neither tractor nor barn enjoy the daily use they once did. Two block silos that once stood at the east end of the barn were long ago removed.
A brightly painted hex sign graces a wall near the cut-above-average milk house, the careful work of Karen Dobbins. who created her design to bring together symbols depicting blessings and prosperity. 
Hex signs are seldom seen in the Midwest but remain popular in Pennsylvania Dutch country. They are an extension of German "fractur art." Some believe they were created to ward off evil spirits. Others say they are simply to add color and appeal to one's property.
"We have many memories of raising cattle in this barn," Bill says, "prepping our show animals, doing embryo transfers and prior to one of our fall livestock sales, we hosted a catered cocktail hour with guests being able to view the cattle and the barn."
It has been a couple of years since the last Herefords left Wilder Creek Farm, the name given it by the Dobbins. 
"Our kids are grown, and our grandkids are not interested in working with cattle," Bill says, although he doesn't hesitate to admit that it was nice not having to take care of livestock in the bitter cold of the recent Michigan winter.
"We aren't sure yet what is in our barn's future," Bill says. "Barns of this size and vintage are disappearing. They will never be replaced. We need to be a steward of these wonderful structures as most people can never afford to rebuild them."
Arnett is the author of American Barns and co-founder of the Barn Believers Community Project Fund with the Battle Creek Community Foundation. Reach her at [email protected].
About the Author(s)
Subscribe to receive top agriculture news
Be informed daily with these free e-newsletters
You May Also Like
---