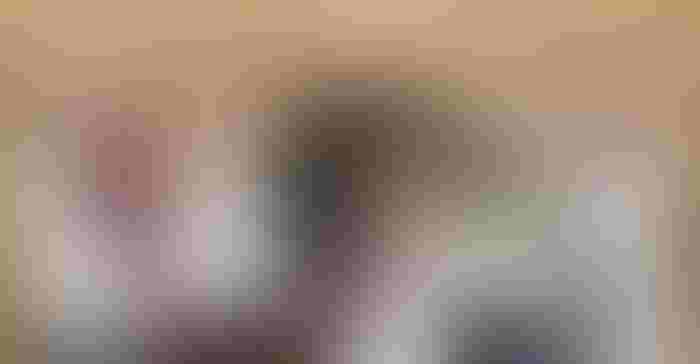 Dennis Gardner has an office full of John Deere toy tractors and implements. He's always had an interest in farming, but as a youngster, his mother never let him take his toy tractors outside. So, he brought corn and soybeans inside. Years after he moved out, his mom would move the furniture and find remnants of his carpet farming, he recalls.
Today, Dennis is farming outside with a fleet of real-sized John Deere tractors and garnering the respect of many in the industry.
In Yale, Mich., he is farming about 1,800 acres, including 500-600 acres of sugarbeets, 350-400 acres of corn, about 250 acres of wheat depending on the year, and the balance in soybeans.
"Our focus is not necessarily on getting more ground, at least not right now, but for us to maximize the ground we farm now," he says. "We're getting close to that point. I truly believe God has blessed us and helped us to the point we are now. And he'll provide if something comes in the future we need — he always has and always will; that's the way I look at it."
Dennis farms with his eye on the environment, is dedicated and passionate about agriculture, and has been active in his community and the ag industry. His farm has hosted numerous legislators and guests to provide a firsthand look at agriculture and to educate on its challenges and advocate for support.
"He also goes above and beyond to help other farmers find answers to their questions, and is always willing to lend a hand," says his oldest daughter, Kristin, 24, who graduated from Michigan State University with a bachelor's degree in agribusiness management and is a precision ag specialist with Nutrien Ag Solutions. "I got into agriculture because of how passionate my dad is about it. I wanted that too. I grew up on a farm —greatest life ever, thanks to both my parents — so it just made sense to pursue agriculture as my career."
Kristin, along with Janna Fritz, CEO for the Michigan Soybean Committee, nominated Dennis as a 2022 Michigan Master Farmer.
"Dennis has participated as a farmer-research cooperator for many years — he hosts multiple, on-farm research trials to help all Michigan soybean growers learn more about various production challenges," says Fritz, who notes that Dennis has served on the Michigan Soybean Committee for nine years in numerous roles, including secretary, vice president and president. "He is a true servant leader — taking on any responsibility that is best for the common good."
Family farming
Dennis is continuing a legacy started by his grandfather Frank, who eventually went into a partnership with his three sons, Bruce, Don and David, until Don (now deceased) branched off on his own and David went into excavating.
"My dad [Bruce] took over the farm in the early 1960s, and it's been basically my dad and my mom, Gail, with some hired help until my sister and I got old enough," Dennis explains.
His sister, Michele, helped on the farm, but made a career as a teacher. She has since retired and is back on the farm handling financial planning and record keeping, alongside her husband (Phil), also a former teacher. Phil has been back on the farm for 11 years. He is also in charge of spraying. 
Dennis met his wife, Reta, when their two churches got together and hosted a roller skating party. But as young teenagers, they never dated. It wasn't until Dennis graduated from Michigan State with a degree in livestock management that they showed mutual interest.
Dennis returned to the farm, and when Reta returned from a travel agent internship, he was waiting with a ring. After a solid "yes," and 29 years later, they have four daughters and live in the house where his grandfather and grandmother lived.
Originally a dairy farm, the cows were sold in the early 1980s in favor of raising beef cattle, which then led to a farrow-to-finish hog operation.
"When I got back from college, we expanded the hog operation, which became mostly my role, while my dad would run the combine and a secondary man would help with the crops," Dennis says. 
Overcoming challenges
But then for some health reasons, changes were coming that would put them back into strictly livestock cattle and crops. In the fall of 1992, the newlyweds had their first major hurdle. Dennis was diagnosed with lymphoma cancer, requiring six months of chemotherapy.
In Dennis' off time, he teams up with a friend, Dave Fredrick, and volunteers as a high school sports broadcaster. "At that time, we still had hogs and cattle, and Dave would come out and help with chores on days I had chemo," Dennis recalls. "The support from my family and neighbors was tremendous, helping with whatever needed to get done."
He was cured, but almost 10 years to the date, lymphoma reared its ugly head again. Chemo and radiation followed. He responded well, but then there was a bout with colon cancer that required surgery, and last year, he had surgery to repair a broken disk in his back.
"Mike 'Harvey' Noll Sr. stopped in frequently to check on me while I was laid up, and his sons Mark and Mike were great at helping out, too," Dennis says. "My faith, my wife, family and friends really got me through some tough times."
As far as a mentor, Dennis says his cousin Jeff Furness has been a sounding board for ideas.
After getting out of livestock, Dennis switched his attention to sugarbeets, bought a ROPA harvester, and started a custom, beet-harvesting operation.
"At one time, we did 1,300 acres of custom harvesting, plus our own," says Dennis, who slowly expanded his own sugarbeet acreage while downsizing custom harvesting to about 850 acres. "My dad is getting closer to retirement," he adds.
When he's not farming on the home operation, Dennis custom-farms for a neighbor, growing soybeans and wheat.
Dennis and Reta started a lawn and snow service company. Dennis' role is amped up in the wintertime to help plow snow for upward of 70 commercial accounts.
For enjoyment, he sings on the worship team at church twice a month, as well as relaxing at the lakehouse in St. Helen, Mich.
Crop management
Dennis uses the Climate FieldView program for crop management. Soil tests are done each time before sugarbeets are planted to create map-based nutrient applications.
"We've also done some variable-rate planting of seeds," he says. "I've done some research with Mark Seamon and Mike Staton with the soybean committee on soybean populations. We were planting over 200,000 seeds per acre, and now we're down to the 120,000-130,000 range. During a mix-up a couple years ago, I was supposed to plant three variety trials ranging in different populations, but I forgot to change the planter and planted a whole field with 80,000 seeds. I was sick to my stomach, but it turned out to be a huge eye-opener for us. They turned out better than I thought."
Looking ahead
With some assistance, Kristin bought her own ground, an 80-acre farm, a couple of years ago. "It's really nice that she has her own ground now, and my nephew [Felipe], who is currently serving in the military, is planning to come back to the farm, and he would like to buy some land, too," Dennis says.
On her days off, Kristin helps on the farm spreading fertilizer and running the beet cart, as do her sisters, Jenna, 20, who is a junior at MSU, Dana, 16, a junior in high school, and Lauren, 11, a sixth grader. 
"Jenna is pursuing a career in the agricultural field, as well. She's had a couple great internships," says Dennis, while also noting she has her own cow-calf operation with some help from Mom and Dad. 
"My wife helps on the farm, too — she'll run the combine, but she doesn't drive trucks," he adds. "I'm happy my kids want to go into agriculture. It's just one of those things you always hope for. I have four beautiful daughters. I've been asked about not having a son to take over the farm. Well, my girls can be just as good as boys on the farm. So that's never really been a thought for me."
Dennis Gardner at a glance 
Farm: Gardner Family Farming LLC grows sugarbeets, corn, soybeans and wheat. 
Nominator: Kristin Gardner and Janna Fritz, CEO of the Michigan Soybean Committee
Ag and community leadership: Nine years on the Michigan Soybean Promotion Committee, served as secretary, vice president and president; nine years on the East District Michigan Sugar Board, served as secretary and treasurer; member of Colonial Woods Missionary Church and served on the trustee board; currently in seventh year serving on the Croswell-Lexington school board, also served five years as vice president and on several subcommittees; member of the choir and sings tenor on praise team; deputy clerk of Fremont Township, Farm Bureau member; member of the Michigan Soybean Association 
Awards: Dennis and Reta — 2009 ASA DuPont Young Leader for Michigan; several high-yield corn contest awards
 
Subscribe to receive top agriculture news
Be informed daily with these free e-newsletters
You May Also Like
---