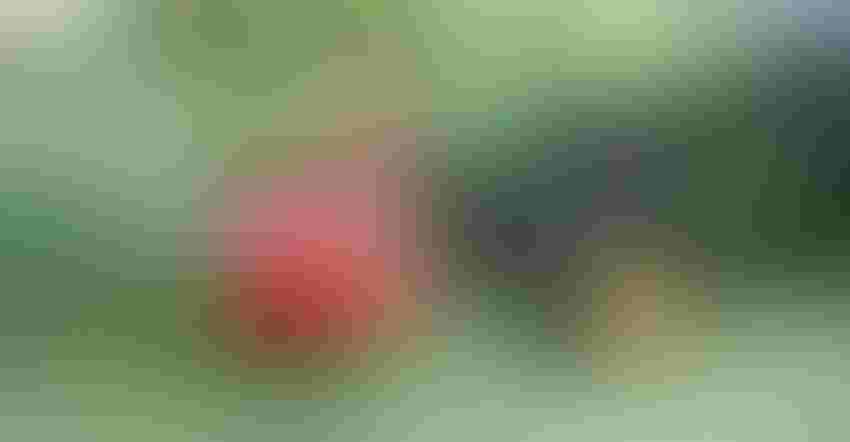 ROLLER CRIMPER: Rogers Farm uses a roller crimper to terminate winter rye cover crop.
Editor's Note: This is the first in a series of stories on the New England Green Pastures Program winners. They will all be honored at the upcoming Big E next month.
By Will Rogers
Rogers Farm in Mendon, Mass., is a story of determination, perseverance and the effort to remain viable as a small farm in an increasingly centralized, commodity-driven industry.
Growing up on my father's and uncle's farm, Earl and Wesley Rogers taught me the virtues of hard work and making do. Losing both of them within a year while attending Stockbridge School of Agriculture, UMass, forced me to drop out of school and run the farm until it was liquidated. 
The opportunity came to rent both the barn and the few remaining acres, and I was able to bring a herd of 47 Holsteins acquired from a previous Green Pasture Award winner, Richard and Shirley Downs, in 1988.
COVER CROP: Rye cover crop covered the soil like a dense mat. It is great for weed control, water conservation and overall soil health.
In 1993, the herd was moved to the former Ray Vaill Farm in Warren, which at that time was running the highest herd average for many years.
The high cost of inputs and herd health issues were greatly diminished with the transition to rotational grazing.
Today, the farm has grown to include 140 acres, of which 40 acres are in pasture, 20 acres of corn silage, 70 acres of hay and 10 acres of alfalfa. The farm has 65 milking cows, 50 of which are Holsteins, 10 Brown Swiss-Holstein crosses, 3 Normandy and 2 Swedish Reds.
Other animals include 70 calves and heifers, and 20 beef cattle.
Observing the symbiotic relationship between the cows and rotational grazing sparked my interest in the biology aspects of soil and growing crops. Learning about regenerative agriculture, I purchased a no-till drill, roller crimper and no-till corn planter to eliminate tillage.
NO-TILL: No-till corn was planted into a cover crop mat this year.
This process helped crops grow and retain nutrients, and it also allowed for the use of cover crops to reduce, if not eradicate, herbicide usage.
I have also found that I can utilize a mixture of summer and winter annuals into existing perennial grass to complement pastures in times of drought and to store for winter feed in the form of balage.
After much trial and error with the equipment, I am seeing increased soil health that provides the feed for our retail raw milk and beef.
This has been a steep learning curve. My goal is to use today's sunlight versus ancient sunlight in the form of fossil fuels. This allows for better soils and food production with less cost.
AWARD WINNERS: The Rogers family will accept their Green Pastures Award at this year's Big E.
Working for the benefit of the land, crops and animals while mimicking nature allows us to provide real food. All this is done in the hopes of preserving our small farm and strengthening our community relations, which is more important for the small farmer now than ever before.
Rogers is owner of Rogers Farm in Mendon, Mass.
Subscribe to receive top agriculture news
Be informed daily with these free e-newsletters
You May Also Like
---