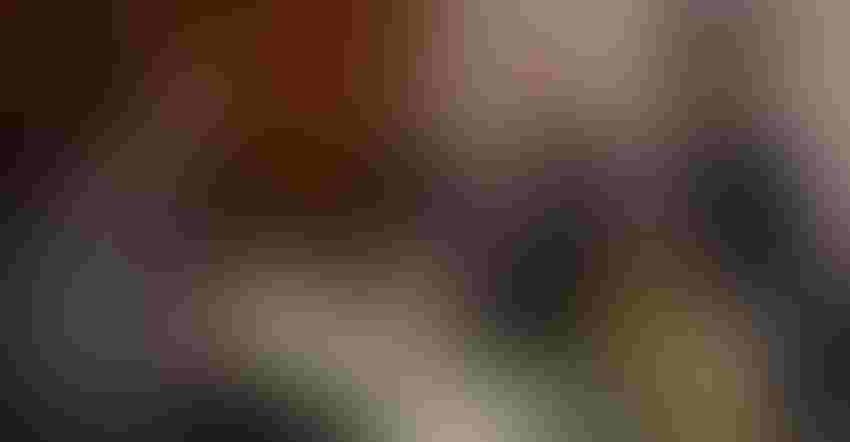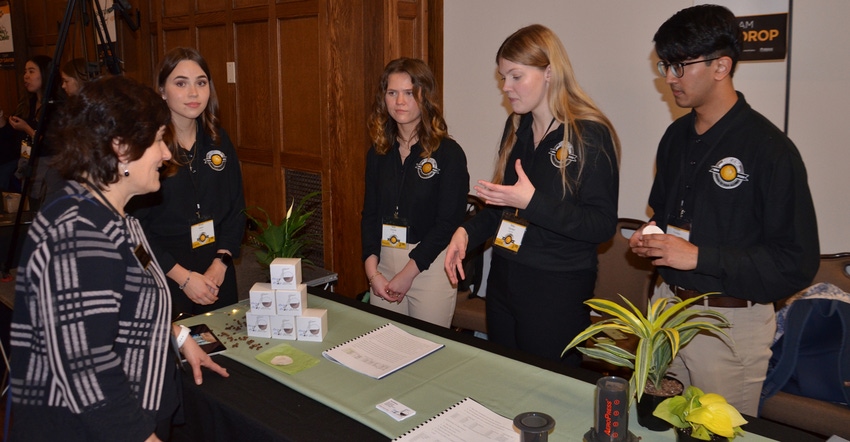 CHANGING HATS: Purdue Ag Dean Karen Plaut will be the executive vice president of research, appointed by incoming Purdue President Mung Chiang. Here, she visits with students at the 2022 Soybean Innovation awards celebration.
Tom J. Bechman
A new year brings multiple changes in the leadership lineup at the Purdue College of Agriculture, some happening now and one major change coming this spring. Sometime next year, Purdue Agriculture will have a new dean and a new director of Extension.
Here are changes and updates related to the Purdue Agriculture family:
Karen Plaut. Plaut will be Purdue's executive vice president of research, taking over for Theresa Mayer, who will become Purdue's chief science officer. Plaut began serving as interim dean of the College of Agriculture in 2017 and served as the permanent dean starting in 2018. She first came to Purdue in 2010 as associate dean for research in the College of Agriculture.
Plaut's leadership as dean led to development of both the Indiana Corn and Soybean Innovation Center at the Agronomy Center for Research and Education and the Ag Alumni Phenotyping Facility on campus. Plaut is an avid supporter of the Indiana Prairie Farmer and Purdue College of Agriculture Master Farmer program.
In her new role, Plaut will oversee the $600 million research enterprise at the university.
Ken Foster. Plaut announces that Ken Foster will serve as acting dean once she becomes the university's executive vice president for research. Foster, former head of the Purdue Ag Economics Department, returned to teaching and research in the department. He specializes in value-added market research and is heavily involved in helping small-scale farmers in Colombia and other developing countries.
The search for a permanent dean for the College of Agriculture will begin soon.
Jason Henderson. Purdue's director of Extension accepted a position as vice president of Iowa State University's Extension and Outreach program. Henderson will remain in his current role at Purdue until beginning his new role in April. He replaces John Lawrence, who will retire this spring.
Henderson, an Iowa native, came to Purdue from the Federal Reserve Bank at Kansas City, where he held several positions and was recognized as a leading expert in agriculture finances. He has served at Purdue since 2013.
During his time at Purdue, Henderson oversaw the hiring of Casey Mull as director of Indiana 4-H and helped chart a future course for the Indiana 4-H program. More recently, he led an effort to promote more local engagement with farmers and other clients among the Extension staff across Indiana.
Jay Akridge. With four decades of service to Purdue, Akridge was the longest-serving provost at a Big Ten university before he gave up the post, having served for five and a half years. Before becoming provost, he served as dean of the College of Agriculture. Patrick Wolfe, dean of Purdue Colleges of Science and Computer Science, succeeds Akridge.
During his time as provost, Akridge emphasized student success. Graduation rate increased from 58.5% in 2017 to 65% in 2021. At the same time, undergraduate enrollment increased from 31,000 in 2017 to 38,000 in 2022, while tuition remained frozen.
Akridge will take a sabbatical leave and then return to his post as a professor in Purdue's Ag Economics Department.
About the Author(s)
Subscribe to receive top agriculture news
Be informed daily with these free e-newsletters
You May Also Like
---