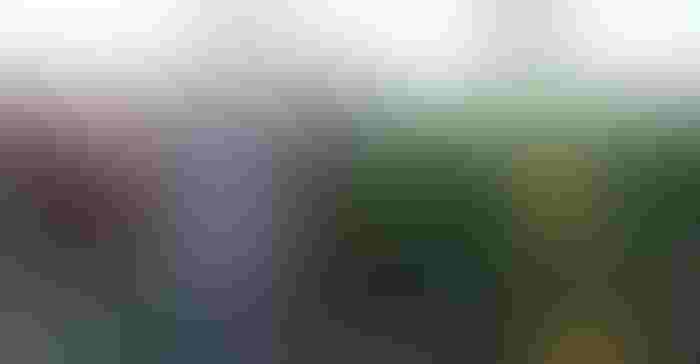 Editor's note: This the second article in a two-part piece covering the 2022 Mackinac Bridge Antique Tractor Crossing. Read the first article at farmprogress.com.
When people are asked why they take their antique tractors to northern Michigan to parade across the Mackinac Bridge, some common responses include "because it's fun," or "because I can," or even "it's a beautiful view."
But, by far, one resounding unanimous response is, "It's the people — everyone is friendly, and it's really nice to meet new people."
The 15th annual Mackinac Bridge Antique Tractor Crossing starts days before with staging just outside of Mackinaw City and continues after the crossing in the Upper Peninsula town of St. Ignace, where the tractors are parked for a weekend of showing and fun.
It has become an annual destination for many, and for some, it's quite the journey. Pam Vaillancourt and Nate Richardson of Cornville, Maine, started thinking about and preparing for the almost 1,300-mile journey several years ago. They took vacation time to haul what was Pam's father's tractor, a 1958 John Deere 720, across five states for the experience.
Pam is the president of the 500-member Maine Antique Tractor Club, and they left with another couple from the club, Laurie and Mike Pratt, on the Tuesday before the Saturday, Sept. 10 event. The Pratts drove a rare 1957 Golden Arron Cockshutt, which was brought up by Indiana friends for them to drive across.
Both Richardson and Vaillancourt, who was a buddy rider, grew up on dairy farms, but now have other full-time jobs while raising chickens and bees.
"You don't have to be a farmer to love these antique tractors," Pam says. "Tractor people are nice people, and every tractor has a story. And there's so much to see. At our Maine Festival, we have about 130 tractors, but you come here and there's over 1,100. There's every color. … It's like the Olympics of antique tractors."
Worst-designed tractor
Dan Kamburoff and his wife, Julia, made the seven-hour trek north from Ashland, Ohio, to drive what Dan says was "John Deere's worst-designed tractor." He explains that his 1962 John Deere 2010 high-crop diesel was Deere's first effort to move into four-cylinder tractors and away from two cylinders.
"By John Deere's own admission, they pushed it out in the marketplace too quick," he says. "It was underpowered, ran hot and had poor hydraulics and brakes — it wasn't real popular."
And while Deere's next series of tractors, 3010s and 4010s, were "fantastic tractors, this one being so poorly designed makes it now a lot more collectible." Only 133 were manufactured.
Kamburoff bought the tractor from the side of a road in 2001, and it sat for 10 years before he tore it completely apart. He rebuilt the engine and the transmission, put on new tires, repainted it, added new decals and a buddy seat to specs required to have a passenger crossing the bridge. "I have the innate ability to do mechanical work," he says. "I can't play the piano or sing a tune, but I can wrench."
Not with him at the crossing, but Kamburoff also has a pair of 1947 John Deere Ms he calls his twins with special order paint. Of all the JD Ms, only 45,000 were made, and the serial numbers started with 10,000. He has a yellow one numbered 10,738. A little later, he bought an orange JD M at a tractor show with serial number 10,737 — consecutive serial numbers, different colors.
"I figure the orange one was the last one of 25 built for the Iowa State Highway Department, and the yellow one was the first one built for the John Deere plow company, which was in Columbus, Ohio," says Kamburoff, who is a retired grain farmer who later got into vegetable crops, and then a lawn and garden business, before selling agriculture irrigation equipment now. "I haven't brought them to the crossing, but if I had a bigger trailer I might. You can't bring just one."
Friendships are made
After the third year of gearing up for the crossing, the Harmons of North Branch, Mich., decided to "tractor-gate."
"We were hanging out in Mackinaw City for hours and getting hungry, so we started bringing a grill and hot dogs while hanging out," says Maria Harmon, who buddy-rides with her husband, Tom, on their 1972 Farmall 686.
"We were handing out hot dogs, and her [Laurie Hall's] husband comes walking up and that's how our friendship started," explains Maria, while sitting in an RV in the tractor staging area with Laurie. "Turns out we're only about 15 miles from each other," notes Laurie, who is from Millington, Mich.
This was Tom's third crossing, and a few health concerns didn't stop him. "He has a port for chemo and got dialysis right before coming," says Maria, who notes he pulls and they cruise at many different events. "We love being together, we love antique tractors and this is what we love to do," she adds.
A couple of weeks after the bridge crossing, the Harmons joined about 200 other tractors in a five-hour North Branch cruise, where everyone wore red in support of Tom, who has pulled for many years and was on the grand national circuit with his "Preparation H" tractor.
The Halls had three tractors there. Randy, with Laurie as a buddy rider, drove a 1947 Farmall BN, while their daughters Lucinda and Victoria (who flew up from Alabama) drove Grandpa's Cockshutt and a 1946 Farmall BN, respectively. Victoria's ride was painted to honor the National Guard, in which she served.
The allure of the event was born when Randy's father, Ralph, started driving his 1940 Cockshutt across the straits of Mackinac. The family came to watch and got hooked, started participating and making it a family event.
"The camaraderie is so fun," Laurie says. "And, the morning of the crossing when all the tractors start, there's this haze … this diesel-gas-fume haze that goes over the field and you just take a deep breath and say, I might die a few minutes earlier, but this is awesome."
"This year was a bit tough, as Ralph passed away," says Laurie, while taking a moment to compose herself. "He went across 10 times. This will be our ninth crossing, and it's in his honor."
Read more tractor stories while flipping through the gallery of photos.
About the Author(s)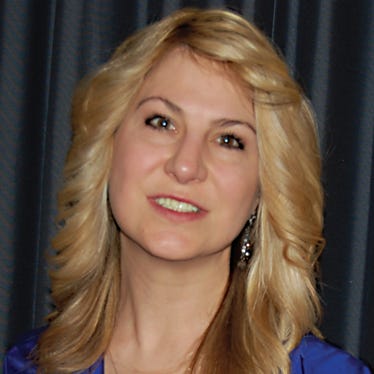 While Jennifer is not a farmer and did not grow up on a farm, "I think you'd be hard pressed to find someone with more appreciation for the people who grow our food and fiber, live the lifestyles and practice the morals that bind many farm families," she says.
Before taking over as editor of Michigan Farmer in 2003, she served three years as the manager of communications and development for the American Farmland Trust Central Great Lakes Regional Office in Michigan and as director of communications with Michigan Agri-Business Association. Previously, she was the communications manager at Michigan Farm Bureau's state headquarters. She also lists 10 years of experience at six different daily and weekly Michigan newspapers on her impressive resume.

Jennifer lives in St. Johns with her two daughters, Elizabeth, 19, and Emily 16.
Subscribe to receive top agriculture news
Be informed daily with these free e-newsletters
You May Also Like
---