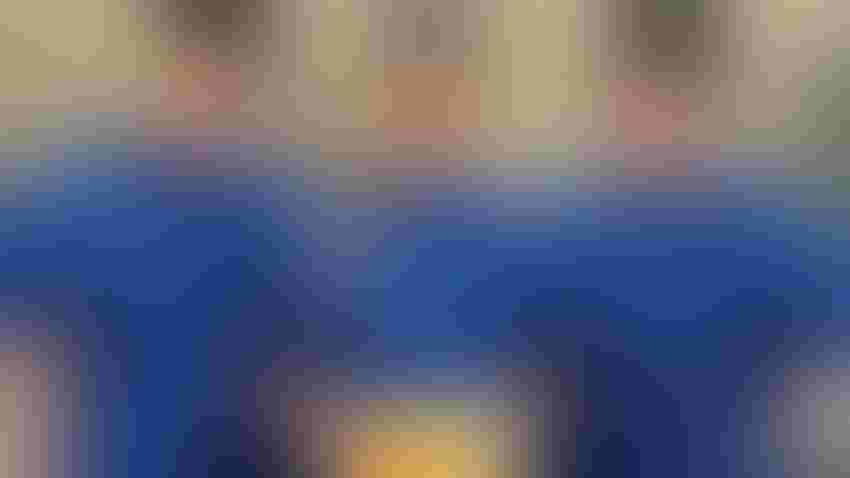 The Spice Girls from Winnfield, La., won first place in the Mid-South Food Pantry Competition with their Tahiti Thai Bowl. Eleven 4-H teams from four states competed in the competition on Feb. 25 at Mid-South Farm and Gin South in Memphis. From left: Lauren Poole, 17, Gracelyn Chevallier, 17, and Chloe Whisonant, 18.
University of Arkansas System Division of Agriculture
Youth from four states met in Memphis, Tenn., recently for a culinary showdown at the Mid-South 4-H Food Pantry Competition. Their mission: to create a nutritious, delicious and economical entrée using food pantry staples — in less than 45 minutes.
Eleven teams from Arkansas, Louisiana, Tennessee and Mississippi competed in the event held in conjunction with the Mid-South Farm and Gin Show. Arkansas 4-H organized the competition, with support and funding from the Southern Cotton Ginners Association and Foundation.
Skills for life
"Being able to put together a nutritious meal with limited resources is a life skill," said Arkansas 4-H program associate Amanda Welch, who has organized the Mid-South competition for the past two years. "Many people live in rural areas where they may have limited access to fresh produce or where they get most of their groceries from a dollar store."
In 2021, about 10% of U.S. households experienced food insecurity — not knowing where their next meal would come from, according to the U.S. Department of Agriculture's Economic Research Service. In Arkansas, an estimated 17.3% of adults and 23% of children experienced food insecurity in 2021, according to the Arkansas Hunger Relief Alliance.
"Healthy Living is a mission mandate of the 4-H program, and the food competitions are a fun and creative way for our kids to demonstrate their knowledge and skills they've learned," Welch said.
Arkansas' four teams from Howard and Grant counties made a solid showing, but ultimately, first place and $300 went to the Spice Girls team from Louisiana, who wowed judges with their Thai Protein Bowl made with egg noodles, cucumber, shredded carrot and pineapple chunks, tossed with a peanut butter sauce and topped with a fried egg.
The Seniors with Spatulas team Howard County — Sarah Lamb, 16, Anna Kate McKinnon, 14, and Christian Trombley, 15, — took second place and $200 with their Taste of the South entrée — a carefully sculpted rice dish that incorporated beans, corn, onion, peppers and canned tomatoes, topped with a spicy mayonnaise-based remoulade.
Extension Agent Brenda Hannah brought the four-member Blazing Cookers team from Lynchburg, Tenn., to compete. They placed third and received $100.
"I bought random food items and they practiced," she said. "They've really learned leadership, teamwork and communication through this."
Mystery ingredients unveiled
For the competition, teams had 45 minutes to prepare and plate an entrée using the mystery ingredient tucked inside a bag on their table. This year's mystery ingredient was grain-based, and each team found something different, including rice, egg noodles, spaghetti, bread or corn tortilla chips.
"I was so happy when we got rice," said Sarah Lamb, a member of the Seniors with Spatulas. "We were hoping for anything but noodles." The team competed last year at the National Food Challenge competition in Dallas. Lamb said rice is one of their favorite ingredients to cook.
The Food Choppers — Abi Webb, 13, Aiden Howard, 13, and Asher Howard,12, also from Howard County — prepared a dip served with tortilla chips.
The Slice, Slice, Babies from Grant County — Daley Rogers, 15, Dylan Rogers,16, Klaesy Knoefler, 15; and Acacia Searcy, 16 — created a Gordita Taco served with a side of guacamole and tortilla chips.
The Amazin' Glazinz team from Grant County — Gracie McGinley, Audrianna Ruiz, Aubrey Ottens and Michael Nichols — whipped up a tuna patty served atop a bed of rice. They used crushed tortilla chips — the mystery ingredient — in the tuna patty in place of breadcrumbs.
Ready, set, cook
When the clock started, teams had to quickly decide on a dish to make using their respective grains and other foods available at the makeshift food pantry. While one team member gathered food, other members unloaded cooking tools, prepped the workspace and wrote down the recipe that would be needed for their oral presentation.
At the food pantry, the teams found an assortment of staples — canned meats, beans, fruits, vegetables, pasta, dry seasonings and a small amount of fresh produce.
"All of the items were inexpensive, shelf-stable foods you might find in a food pantry or in a dollar store," Welch said. "Their goal was to cook a dish that not only tasted good but also was nutritionally balanced with carbohydrates, protein, dairy and fruits and vegetables. They had to know portion sizes, how to read food labels, and how to make substitutions to reduce sugar and salt – all good things to know."
Food Safety Skills
The teams were judged on their technical skills, creativity and their oral presentation to judges where they had five minutes to discuss the inspiration for their entrée and its nutritional value.
Safety factored significantly into the scoring. The young chefs all wore gloves when handling food, wore chef hats or had their hair pulled back neatly and wore long-sleeved chef jackets to protect their arms. Judges observed the young chefs' knife skills and watched for potential cross-contamination.
The Amazin' Glazinz team was hard at work when a cameraman ventured over to chat.
"That looks really delicious," he said. "Do you mind if I just stick my finger in and have a taste?"
Aubrey Ottens glanced up for a second. "I'd rather you not," she said.
Top Teams
1st Place, $300 — Spice Girls: Lauren Poole, Gracelyn Chevallier and Chloe Whisonant – Winfield, La.

2nd place, 200 — Seniors with Spatulas: Sarah Lamb, Anna Kate McKinnon and Christian Trombley – Howard County, Ark.

3rd place, $100 — Blazing Cookers: Jenny Sanders, Macy Sanders, Emily Burks and Reason Brown – Moore County, Tenn.

4th place — Jalapeno Hotties: Emily Grace Adams, Catherine Page, Emma Miller and Ella Higginbotham – Louisiana.

5th place — Slice Slice Babies: Daley Rogers, Dylan Rogers, Klaesy Knoefler and Acacia Searcy – Grant County, Ark.

6th place — Healthy Hitters: Jaiden Graves, Zoe Calhoun, Joshua Herron and Joseph Herron – Tennessee

7th place — Amazin' Glazinz: Gracie McGinley, Audrianna Ruiz, Aubrey Ottens and Michael Nichols – Grant County, Ark.

8th place – Food Choppers: Abi Webb, Aiden Howard and Asher Howard – Howard County, Ark.

9th place — Madison's Munchies: Emiliano Gonzalez-Hernandez, Dallas Weddle, London Murphy and Jasmine Hicks – Jackson, Tenn.

10th place — Mason Marshall County: Taylor and Alan Mason – Miss.

11th place — The Food Squad: Maddie Wells, Amelia Langford, Wyatt Langford and Bailey Willard – Tennessee.
Sponsors of the event were the Southern Cotton Ginners Association, GROWMARK and Vandergriff America.
Source: University of Arkansas System Division of Agriculture.
Subscribe to receive top agriculture news
Be informed daily with these free e-newsletters
You May Also Like
---