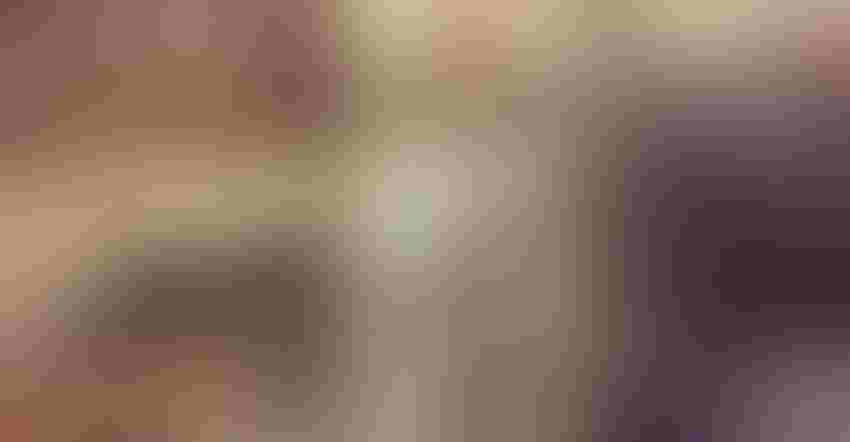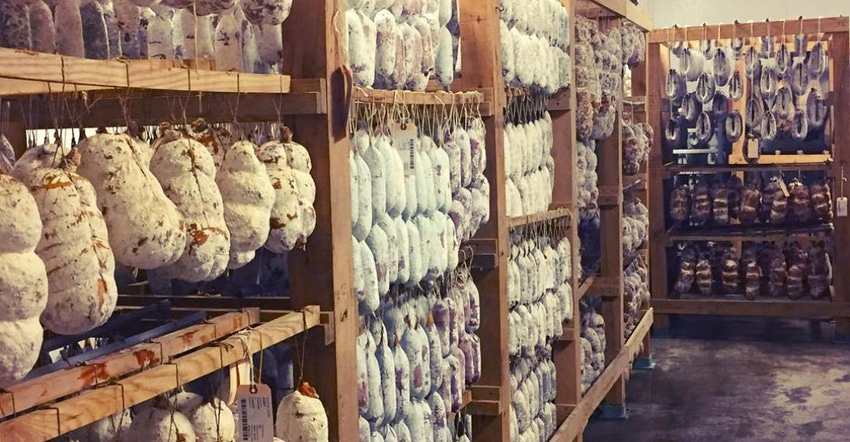 LOCAL MEATS: The smokeroom at the Smoking Goose in Indianapolis is filled with meats that will soon be offered to customers. Smoking Goose offers many meats from local producers.
Courtesy of Smoking Goose
Here in Indiana, family dinners are a long-standing tradition. Whether you gather around the table to celebrate a birthday or just talk about your day, good company is made even better with great food. Elevate your next gathering by shopping local and sourcing ingredients from producers in your community.
"Statistically, 68 cents of every dollar spent within the community at a local shop stays within the community," says Caroline Patrick, director for Indiana Grown, a marketing initiative housed within the Indiana State Department of Agriculture. "So, your dollars are staying close to where you're living."
Smoking Goose is an Indianapolis-based meat shop that partners with small family farmers throughout Indiana and neighboring states to source quality raw ingredients.
Smoking Goose is a USDA-inspected, wholesale production facility producing over 40 different types of cured and smoked meats, sausage and salami since 2011, says Corrie Cook, director of narration and libation for Smoking Goose.
Farm partners
"Smoking Goose's recipes always begin on the farm," Cook says. She adds that the business values relationships with both partner farms and customers. Each partner farm and its products are researched, and flavors are analyzed. A unique source code included on Smoking Goose packaging allows customers to learn more about the farm on their website.
"The quality of raw ingredients determines the quality of the end product too," Cook says. "We view our job primarily as not to mess up what the farmers produce."
Supporting local producers not only helps strengthen your local economy, but also adds to the quality of your meal. When you choose to shop local, you get a unique, high-quality product, Patrick explains. Your dollars stay local and allow local producers or businesses to hire staff and help grow the local economy, she adds.
Each time you shop local and support a local farmer, you're supporting your local environment, local economy and, essentially, local culture, Cook says. "Every meal that we make that involves our local producers is pushing and growing the community we're a part of," she says.
At the end of the day, shopping local for your next family dinner invites your community to have a seat at the table. Cook reflects that at Smoking Goose, it's not just the farmer and the butcher who benefit from a close relationship.
Full circle
"It's really a full-circle relationship from the farmer, the butcher and the folks who are buying and preparing this food for their families and friends," Cook says. "It may be about bacon, but at the end of the day, it's about people.
"I think there's a quote that says, 'The best sauce is really good company." Everything tastes better when you're sharing it with someone else."
Whether you're making dinner for two or feeding a large group, you're never really eating alone when you shop local, Cook says. "You've always got that community on the plate with you," she adds.
Smoking Goose's products may be purchased online or at their Indianapolis storefront. Visit smokinggoose.com.
Lueking is a senior in ag communication at Purdue University.
Subscribe to receive top agriculture news
Be informed daily with these free e-newsletters
You May Also Like
---