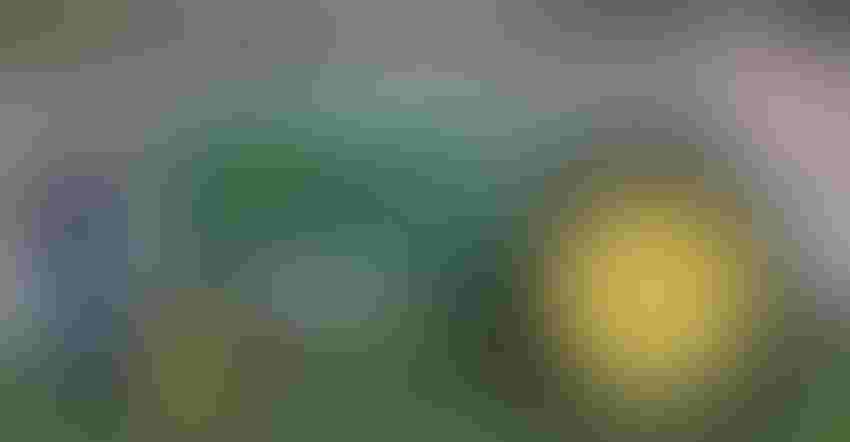 READY FOR SHOW: In four months, Bill Pfister spent $3,000 on replacement parts, upgrades and repainting for his 1952 John Deere A.
Harlen Persinger
Bill Pfister from Sussex, Wis., loves the distinct sound of a two-cylinder engine. In the fall of 1999, when a member of a local tractor club mentioned there was a 1952 John Deere A for sale, Pfister immediately contacted the owner, Jim Keats Jr., paid him $450 and headed down the road 35 miles to his place.
"Later I learned this was the last Model A that came off the showroom floor from Equity Co-op in East Troy, Wis., and in an unusual twist, Keats' father was the salesman at that time," Pfister says. "However, after 10 years, that first owner traded it back to the co-op. When Keats graduated from high school and began farming, he bought the A tractor and used it for 37 years."
Labor of love
Come spring, Pfister, a tool and die maker who grew up on 4 acres outside of Wisconsin Dells, Wis., began overhauling the A. In four months, he replaced the bearings in the steering column, put new seals in the rear axles, rebuilt the starter and generator, added a lower tank water pump, tweaked the transmission and engine, put on new tires, and purchased a new radiator. The total fixup cost for everything, along with repainting, was $3,000.
Manufactured between 1934 and 1952, the A was John Deere's first row crop tractor, replacing the GP, and the first model from the factory with rubber tires. It had an adjustable wheel tread and a one-piece transmission case. With the ability to change the tread width, any side draft could be eliminated, so steering was much easier for the operator.
Other features included: rear PTO transmission, differential mechanical expanding shoe brakes, open operator station, battery box, cushion seat, manual steering, Roll-A-Matic front end, six forward gears and one reverse gear, power lift lever, temperature and oil pressure gauge, choke button, fuel lever light and generator switch, ammeter, 14-gallon-capacity fuel tank, and 321-cubic-inch, two-cylinder, four-valve liquid-cooled horizontal engine.
Pfister mainly did small chores with the A, but a decade ago he took on the task of putting in a 4-acre wildlife plot for his neighbor. Over a period of four years, the tractor got a workout pulling a 10-foot JI Case disk, 8-foot John Deere field cultivator, two-row John Deere 290 corn planter, two-row mounted John Deere cultivator and John Deere two-bottom No. 44 plow. By the end of one growing season, the A had covered 400 miles up and down the road.
"Today, I drive it to tractor shows in Oak Creek, Union Grove, Saukville, Burnett and Richfield. During the Sussex Antique Power Association get-together, it works on the dyno, threshes grain and pulls the people hauler," Pfister says. "I also have a Model 1940 John Deere H, along with a Model 1951 John Deere G, but the one I purchased over 20 years ago is my favorite tractor. It's very easy to start, runs so smooth — and I truly love to hear the governor open up on the hills. There is nothing more invigorating than hearing that two-cylinder engine running at top speed in the countryside."
Persinger writes from Milwaukee, Wis. To have your favorite tractor featured, email or send in a photo of yourself with your tractor, along with a 300-word write-up about the tractor, to: [email protected] or Wisconsin Agriculturist, P.O. Box 236, Brandon, WI 53919.
Subscribe to receive top agriculture news
Be informed daily with these free e-newsletters
You May Also Like
---