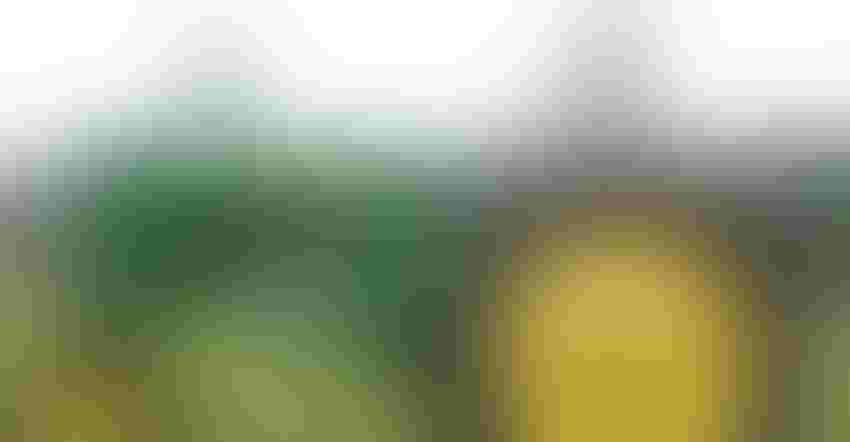 TRACTOR ENTHUSIAST: Dave Krump of Eau Claire, Wis., exhibits his John Deere A at Wisconsin Farm Technology Days.
Harlen Persinger
The John Deere Model A was the first true row crop tractor replacing the GP and is one of the most beloved green machines in the company's 185-year history. Manufactured in April 1934, it came equipped with an impressive 25-hp engine and was the first tractor to come from the factory in Waterloo, Iowa, with rubber tires.
Early tractors burnt distillate, a petroleum product similar to kerosene, which became a selling point owing to the fuel's low price. This two-cylinder design made a distinctive sound that gave these tractors the nickname "Johnny Poppers."
Lester Krump's experience with this tractor began in 1970 when he purchased a used, unstyled Model A that had a cracked block for $450 from a dealership in Brownsville, Minn., that was going out of business. Two years later, he became the third owner of another Model A. After adding a wooden box and two-point hitch, this tractor was used about 30 minutes each day to feed Lester's Angus herd corn silage in the morning and hay in the evening.
"I often did those chores and would toss some corn out for a flock of pheasants that roamed around the yard," says Lester's son Dave. "One morning a rooster was sitting on the seat and started riding with me. That scenario went on for some time but ended rather abruptly. After loading hay from the pole shed, the bird jumped off onto the box. When I pushed the bale, it took a goofy bounce, which crushed him and ended our time together."
An evolution
The Model A was produced in a wide variety of versions for special-purpose cultivations. It received styling upgrades in 1938 and 1947 that substantially changed its appearance. With the advent of John Deere's numerical model system, the A became the John Deere 61 and later the 620 and 630. The Model A was intended to compete directly with the McCormick Farmall. With over 300,000 units sold by the end of its original production date in 1952, it was a very popular tractor that used Deere & Co.'s two-cylinder design.
Features included an open operator station with steel pan seat, differential mechanical expanding shoe brakes, dry disc clutch, four forward gears and one reverse gear, 4-by-2 two-wheel-drive chassis, 14-gallon-capacity fuel tank, and a Deere 5.1-liter, two-cylinder, all-fuel, liquid-cooled horizontal engine.
"For many years the tractor was used to cultivate a half-acre of sweet corn," says Dave, who lives in Eau Claire, Wis. "When Dad passed in 2012, the A came to me, and I repainted it a year later. This is my favorite tractor, mainly because of all the memories of Dad using it every day. I relish the electric starter, snap when you push the throttle and overall power rush.
"Today, it mainly goes to various events at Alton, Augusta, Eau Claire, Edgar and the annual steam thresher show in Rollag, Minn. It is a joy to meet folks at various celebrations and experience those times with my six grandsons. I hope that A will always stay in the family."
Persinger writes from Milwaukee. To have your favorite tractor featured, email or send in a photo of yourself with your tractor, along with a 300-word write-up about the tractor, to: [email protected] or Wisconsin Agriculturist, P.O. Box 236, Brandon, WI 53919.
About the Author(s)
Subscribe to receive top agriculture news
Be informed daily with these free e-newsletters
You May Also Like
---