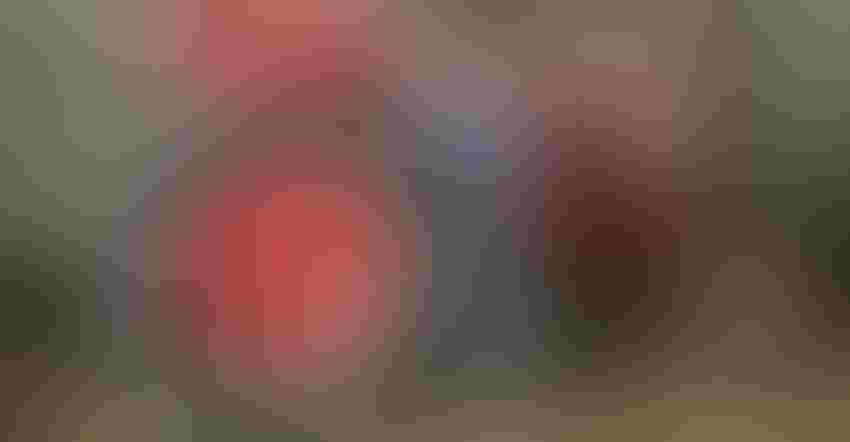 HANDY TRACTOR: Steve Schluter says between 2000 and 2010, the International 666 was primarily used to wrap 5,000 round and square bales, and ran 24 hours a day from May to September during the hay harvest season.
Harlen Persinger
When Steve Schluter's father, Dale, needed a bigger, more efficient tractor for his 200-acre farming operation near Watertown, Wis., he purchased a new 1976 International 666 Farmall from Reul Brothers in Helenville, Wis., for $7,500.
"The 666 came directly off the showroom floor, and with a horsepower rating 20 points higher than his older model Farmall 450 diesel, it was immediately used to handle plowing, disking and other tillage chores," Schluter says. "And since we did custom work, another full-time job was operating the haybine and John Deere 336 baler, pushing out 20,000 small square bales each summer. By the next cropping season, it also pulled the six-row, 38-inch John Deere 1250 planter."
From 1972 to 1976, there were 9,361 of this particular model manufactured by International Harvester. It had a 103-inch wheelbase and weighed 7,053 pounds, with an original selling price of $11,875. Other features included: a wide front end, hydrostatic power steering, independent rear PTO, dry disc brakes, open-operator station, sliding gear transmission, torque-amplifier partial power shift, 10 forward and two reverse gears, two-part rollover protective structure or canopy optional, IH fast rear hitch, and a 51-liter, 6-cylinder, liquid-cooled engine.
Since coming to the Schluter farmstead 44 years ago, very minimal maintenance has been done on the 666. At 5,500 hours the engine was rebuilt, which included putting in new pistons, rings, bearings, crank and head. While it still has the original paint, the seat and tires have been replaced a couple of times. The tachometer now reads 7,500 hours.
Between 2000 and 2010, the 666 was primarily used to wrap 5,000 round and square bales, and ran 24 hours a day from May to September during the hay harvest season. Now basically retired, it handles the grain auger and helps move equipment around the yard and in the shed.
"Actually, I was fortunate to drive the 666 more than my son, nephews and dad," Schluter says. "It featured good maneuverability, was easy to get on and off, always started, handled any chore, and proved to be steady, reliable and certainly a good fit for me. The job I enjoyed most with this handy tractor was driving on the baler."
Persinger writes from Milwaukee, Wis. To have your favorite tractor featured, email or send in a photo of yourself with your tractor, along with a 300-word write-up about the tractor, to [email protected]; or Wisconsin Agriculturist, P.O. Box 236, Brandon, WI 53919.
Subscribe to receive top agriculture news
Be informed daily with these free e-newsletters
You May Also Like
---