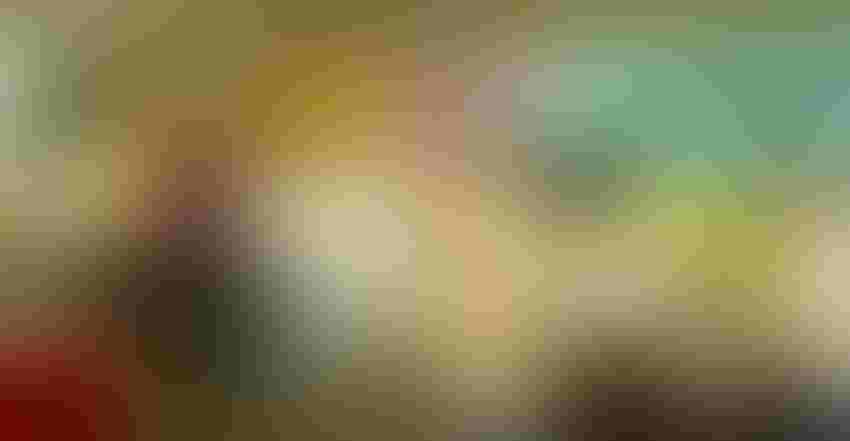 PROMOTE AGRICULTURE: This special local-products event held at the Indiana Farm Bureau Building during the Indiana State Fair is just one of the things INFB does to promote ag today.
When Indiana Farm Bureau Inc. was founded, more Indiana farmers farmed with horses than tractors. There was no electricity in the country.
Thanks to Molly Zentz, INFB public relations manager, here's a closer look at what INFB has accomplished, and how it sees itself today. Zentz compiled answers to Indiana Prairie Farmer questions for this fourth article in a series of six celebrating 100 years of INFB. Various staff members provided information.
What are INFB's major accomplishments over the last 100 years? Indiana Farm Bureau has been instrumental in shining a light on the issues and concerns of the farming community. From saving farmers money to protecting their land to promoting issues facing Indiana agriculture, INFB has effectively advocated on behalf of its members for 100 years. For example, in 1939, 15,000 members marched to the Statehouse to successfully save the gross income tax from repeal.
INFB recognized early on the need for advocacy but also acknowledged, in a groundbreaking way, the vital role women play in farming communities. In 1922, just shortly after the women's suffrage movement, INFB formalized women's involvement in the organization. A year later, Edna Sewell became the first woman elected to the board of directors.
INFB has also always put a focus on cultivating the next generation of farmers. Therefore, Indiana Rural Youth was created in 1938. In 1969, INFB formed its Young Farmer program. Today, we have a similar program called Young Farmers and Ag Professionals, which helps to strengthen the next generation of agriculture leaders in this state.
What are major accomplishments over the last 10 to 20 years? Some of the most significant wins come from INFB's grassroots public policy program.
From 2012 to 2016, INFB worked with its members to organize a grassroots policy campaign that helped reduce farmland property taxes by approximately $500 million.
Just in the last few years, INFB has been influential in passing legislation on issues such as broadband infrastructure and funding for rural roads and bridges. In 2017, INFB was instrumental in passing of House Enrolled Act 1002, which provided a framework for road funding. In 2018, INFB focused its effort on the expansion of reliable, sufficient broadband internet access for Indiana's unserved areas. The efforts resulted in the passing of House Enrolled Act 1065, which authorizes the Indiana Utility Regulatory Commission to study broadband expansion and tools, and establishes a grant program for broadband deployment.
These successes are only possible because INFB members take the time to visit the Statehouse and call and write their elected officials to ensure that their voices are heard. Over the last 100 years, INFB members have rallied together countless times for the good of their communities and the agriculture industry.
What are primary goals and functions of INFB today? Indiana Farm Bureau's mission is virtually the same as in 1919: to promote agriculture through public education, member engagement and by advocating for agricultural and rural needs. For 100 years, INFB has worked alongside farmers to help them protect their land and livelihood. Today, with offices in all 92 counties, the organization remains focused on helping the industry grow and prosper through a wide range of programming — from agriculture education for kids in urban areas to access to elected officials at all levels.
Subscribe to receive top agriculture news
Be informed daily with these free e-newsletters
You May Also Like
---