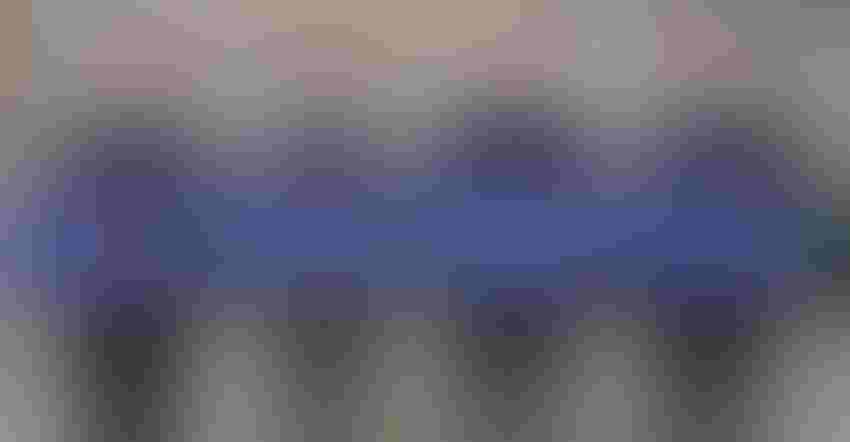 STARS OVER INDIANA: Four FFA members were recognized in their respective categories in the Stars Over Indiana ceremony: Collin Tennant (from left), Gabe Hefty, Cade Snethen and Tyler Bluhm.
A packed house applauded the efforts of four Indiana FFA members named Stars Over Indiana at the 90th Indiana FFA State Convention earlier in June. Each of the four was recognized as being the best in his respective category.
The Stars Over Indiana program highlights accomplishments of members who develop successful supervised agricultural experience programs during their careers in FFA. The SAE is the component of agricultural education that students complete on their own outside the classroom. It incorporates what they learn in ag classes, and the leadership skills they develop through FFA in their pursuits, such as exploring ag research or earning money either in their own business, or working for someone else.
4 winners
Here is a closer look at the four honorees:
Collin Tennant was named Star in Agribusiness. Tennant hails from Manchester FFA. A former national FFA proficiency winner, he sells some 12,000 pumpkins each fall. He has developed what he calls the Pumpkin Post, using creative methods to display and sell his products. Tennant hopes to continue developing his business and turn it into an agritourism destination.
Gabe Hefty was named Star in Agriscience. This award is based on research projects members carry out during their career in FFA. Hefty is a member of the DeKalb FFA. He explored several research areas, including alternative energy sources. He hopes to put what he's learned to good use when he returns to the family farm at some point in the future.
Cade Snethen, from the Benton Central FFA, was named Star in Agriculture Placement. Today, he has many responsibilities in a large confined feeding-to-finish hog operation in his area. What makes his story amazing is that he didn't grow up with an agricultural background in a traditional ag setting. Snethen has become so dependable that the owners of the operation trust him to manage it when they're not around.
Tyler Bluhm was named Star Farmer. He is a member of the Adams Central FFA chapter in northeastern Indiana. He has developed a feeder steer operation and is currently feeding out 70 head of Holstein steers. Bluhm also has expanded into trucking, and he currently has two trucks and conventional trailers. Besides doing his own hauling, he keeps the trucks on the road doing custom hauling. He hopes to expand by adding semitrucks.
Subscribe to receive top agriculture news
Be informed daily with these free e-newsletters
You May Also Like
---