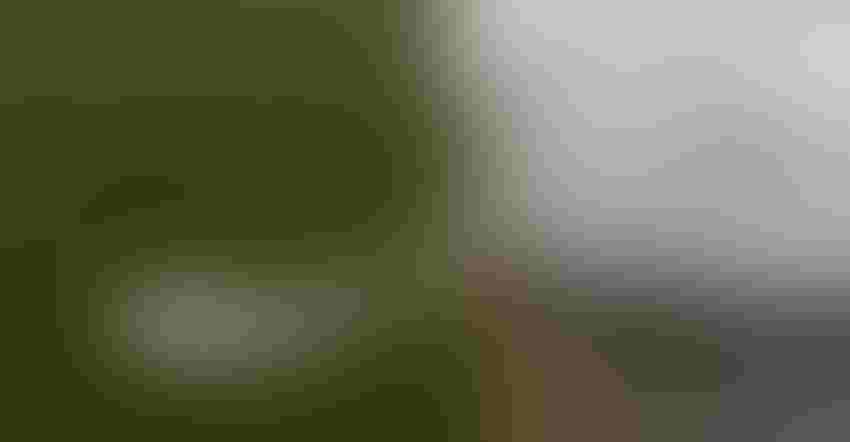 WHATCHMACALLIT: In farm country, the photo illustrates what is called a "bale tail." Maybe your farm has a different term for it, depending on the inventive language of farm life.
By Carrie Ann Tomko
I was in the barn, in an aisle sweeping away dust and debris, when my 90-year-old father-in-law and life-long farmer told me, "You're in the road."
Taking his words literally, I responded quite practically: "I am not anywhere near the road. The road is outside the barn, past the grouping of trees, near the mailboxes."
Then, a tractor screamed from around the corner, startling me. I jumped out of its path just in time to clear its forward motion.
Clearly and quickly, I learned a lesson about the language of farming: "The road" is anywhere on a farm and not based upon asphalt. And being told "you're in the road" is really a warning to get out of the way before a tractor runs you over.
Farmers are known for inventing ways to make things work. They get the job done. They do whatever it takes to make it happen. Same goes for the language of farmers. Farming expressions are created to communicate. Not growing up around farming, but now immersed in farm life, I listen and learn the language of farming.
For my off-farm day job, I teach communication studies courses at the university level. As a formal study of the discipline of communication and language, this creative flow of words and phrases is called the Theory of Linguistic Relativity, or the Sapir-Whorf Hypothesis, which essentially are both fancy names for inventing language.
As a close observer of words, I have learned to pick up on the language of farming and not to take words so literally, but rather apply in a farming context. This is creative, expressive and clear communication — most of the time. But as a newbie to farming, I learned the hard way about farming expressions.
For example, after heavy rains I would call the fields "squishy." However, the common farming term is that the fields are "soft." Markets, too, in farming, can be soft. Both are not favorable. Soft is a word with negative connotation in farming.
Of course, the word "hard" is not favored upon much either. Soil can be compacted from tractor weight and be hard, as can soil where you are trying to drive a fence post. And when someone says farming is hard work, there is no argument from me. There, the language is loud and clear. Hard means hard.
Some words tend to lean toward sounding soft, but are really hard. For example:
• When you need to get some metal to move to hook up an implement, you might "bump" it with a hammer. This is more than a bump; it is more likely a hard push.
• When someone says hay was harvested and you ask how much, the response might be "one or two bales," when they really mean that they worked darn hard to put up thousands of pounds of hay.
• And the word "rough" sounds rather soft, but it usually means ruggedly hard.
• If someone looks at livestock and says the animals are rough, it probably means the livestock are not going to sell for a high price, and most likely will be a soft sale. That is hard luck.
• If someone drives through a field and says it rode rough, it probably means that the tractor is about to fall apart from dipping up and down from ruts made when the soil was soft. Again, hard luck.
There are a few words in agreement between farming and the rest of society. The word "hot" means hot. For example, a stove can be hot, just as an electric fence can be hot, so do not touch it unless you want the shock of a life time to knock you back.
And, I think both farming folks and city folks can agree on one word, and that is "whoa." Whoa means stop. Just like a horse is signaled to "whoa," so are people backing up trailers and equipment and cars. "Whoa" means "whoa," or you got repairs on your hands.
However, in farm life, the word "tired" is rarely spoken. Why? Because speaking the words "I am tired" must be avoided to preserve the work ethic needed to accomplish farm chores. Farmers are not permitted to admit fatigue.
This avoidance of the word "tired" occurs because the language of farming reflects thoughts, attitudes, perceptions and even an outlook on life. With farmers, if you do not say the word "tired," then the feeling of fatigue cannot exist externally, although it might truly be the case internally.
And the word "yep" is like "amen" at the end of prayer. When farmers are sharing stories, someone says "yep," and the discussion ends with everyone in agreement that they all have to get back to hard work, even if they are tired.
Subscribe to receive top agriculture news
Be informed daily with these free e-newsletters
You May Also Like
---