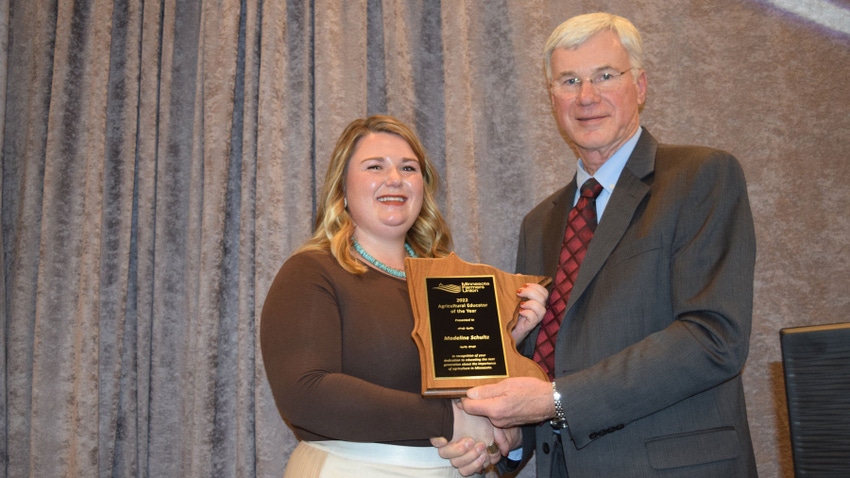 BRINGING HOME HARDWARE: Madeline Schultz, Faribault High School ag teacher, was recently recognized as Ag Educator of the Year by the Minnesota Farmers Union. MFU President Gary Wertish presented Schultz with the award.
Courtesy of Minnesota Farmers Union
Going against the old adage, Madeline Schultz did come home again.
A challenge awaited Schultz when she returned to her hometown of Faribault, Minn., six years after graduating from Faribault High School. This particular challenge is one she remembers joking that she would never undertake.
"I always joked with other ag teachers that I would never start an ag program," she says. That is exactly what she has done — and in her home high school, no less.
After graduating from South Dakota State University with a bachelor's degree in ag education, Schultz landed a long-term substitute teacher for eight months at Triton High School in Dodge Center, Minn. The lure of a full-time job took her to the ag department at Atwater-Cosmos-Grove City High School.
The lure of getting back to her home area became strong, and it coincided with the Faribault community passing a levy increasing the school day from six hours to seven, "allowing for new classes to get established," she says.
Science teacher Pete Jacobson had laid the groundwork for an emerging ag education program by proposing a chicken class. The interest was overwhelming as students were drawn to the new class, enough for four sections — "giving them the numbers to be able to justify hiring an ag teacher," Schultz says. Plant science and exploring ag classes have also been added.
Schultz's first year at the helm of the FHS ag program in 2020 saw 97 students enrolled. Just two years later, a second ag teacher, Madisyn Schuster, has been added to the ranks to help teach the 415 students now enrolled in ag classes.
Though she doesn't take all the credit for this growth, Schultz was honored as Ag Educator of the Year by the Minnesota Farmers Union at the organization's annual meeting late last year.
Bringing it home
Schultz did not have the luxury of ag classes offered when she was in high school, but rather taking those classes and being a part of the FFA chapter at Medford High School, just south on Interstate 35.
Ag classes at FHS went by the wayside with the retirement of the previous ag teacher in 2010. Jacobson continued to offer the wildlife classes that had been in place to keep a semblance of an ag program.
Though Schultz joked about never wanting to start a high school ag program, she felt the timing was right, "just kind of felt like it was a calling that needed to happen, especially since I was looking to come back to the area," she says. "It was definitely nerve-wracking, but I have a lot of really good mentors in my life that helped provide guidance with starting, figuring out and navigating a program."
High school ag instructors are a close-knit group, leaning on and learning from each other, and Schultz has looked to Christa Williamson, ag instructor at Kerkhoven-Murdock-Sunburg; Tim Larson, her high school instructor at Medford; and Robert Ickler, with whom she student-taught at Triton. "There were a lot more," she says, "but these are some of the key players."
Even though the Faribault program has seen great growth in two years, Schultz envisions more growth — but not necessarily in numbers.
"I think the big thing within the education in the classroom is offering classes that really meet the career pathway. So having established pathways in animal science, plant science, agribusiness, power technical structures and food, food products and processing," she says. Boasting on the strength of the career development programs at the high school, Schultz foresees "utilizing each other to make each one of our programs stronger… I think that would really be cool."
Within FFA, she wants to see students continue to develop leadership skills and experience the benefits and the career opportunities in front of them.
There is potential to add a veterinary science class as well as other hands-on classes "that provide experiences for students beyond just sitting in a desk," Schultz says, "and that's where I want to see the program go."
Chickens come first
As part of the chicken class offered at Faribault High School, students are involved from chick to layer to harvest.
"It's really that farm-to-table experience," Schultz says: "Students knowing exactly how the process works and the steps involved to raise livestock."
Two of the chicken coops are 8-by-10-foot sheds, while she says a third coop is "like one of those backyard chicken coops."
This year, rather than having chickens throughout the entire school year, laying chicks will be brought into the school in February. Once those hens start laying, the harvested eggs will be used in food classes.
"Students learn how to candle them and check for food safety issues, wash them and process them," Schultz says.
After spring break, 50 broilers [25 per class] will be brought in. After six weeks, these broilers will be harvested and processed by the students. A meat science class will then cook the product. Some of the chicken is also cooked in the regular chicken class, and the students get to enjoy the "fruits" of their labor.
When it comes to the harvesting and processing steps, students pick a specific job, rather than being assigned a task.
In addition to seeing the farm-to-table process, this chicken class has opened doors for students — as Schultz says she took students to the FFA poultry contest last fall.
About the Author(s)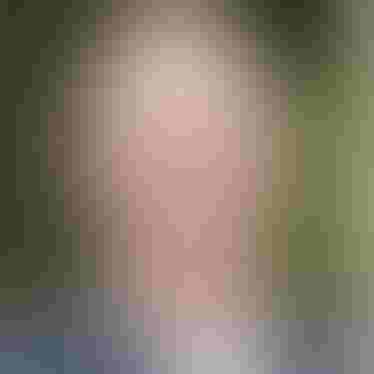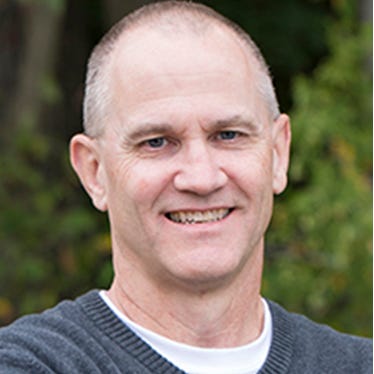 Kevin Schulz joined The Farmer as editor in January of 2023, after spending two years as senior staff writer for Dakota Farmer and Nebraska Farmer magazines. Prior to joining these two magazines, he spent six years in a similar capacity with National Hog Farmer. Prior to joining National Hog Farmer, Schulz spent a long career as the editor of The Land magazine, an agricultural-rural life publication based in Mankato, Minn.
During his tenure at The Land, the publication grew from covering 55 Minnesota counties to encompassing the entire state, as well as 30 counties in northern Iowa. Covering all facets of Minnesota and Iowa agriculture, Schulz was able to stay close to his roots as a southern Minnesota farm boy raised on a corn, soybean and hog finishing farm.
One particular area where he stayed close to his roots is working with the FFA organization.
Covering the FFA programs stayed near and dear to his heart, and he has been recognized for such coverage over the years. He has received the Minnesota FFA Communicator of the Year award, was honored with the Minnesota Honorary FFA Degree in 2014 and inducted into the Minnesota FFA Hall of Fame in 2018.
Schulz attended South Dakota State University, majoring in agricultural journalism. He was also a member of Alpha Gamma Rho fraternity and now belongs to its alumni organization.
His family continues to live on a southern Minnesota farm near where he grew up. He and his wife, Carol, have raised two daughters: Kristi, a 2014 University of Minnesota graduate who is married to Eric Van Otterloo and teaches at Mankato (Minn.) East High School, and Haley, a 2018 graduate of University of Wisconsin-River Falls. She is married to John Peake and teaches in Hayward, Wis. 
When not covering the agriculture industry on behalf of The Farmer's readers, Schulz enjoys spending time traveling with family, making it a quest to reach all 50 states — 47 so far — and three countries. He also enjoys reading, music, photography, playing basketball, and enjoying nature and campfires with friends and family.
Subscribe to receive top agriculture news
Be informed daily with these free e-newsletters
You May Also Like
---