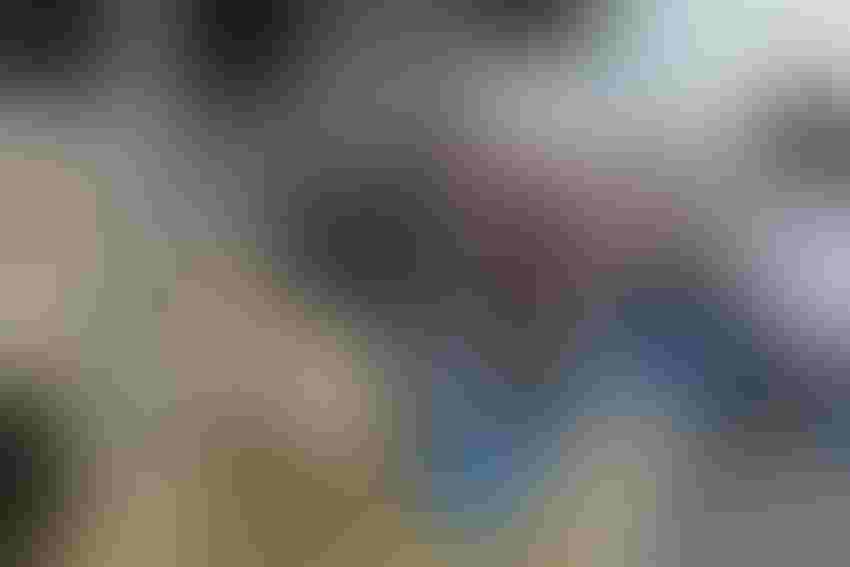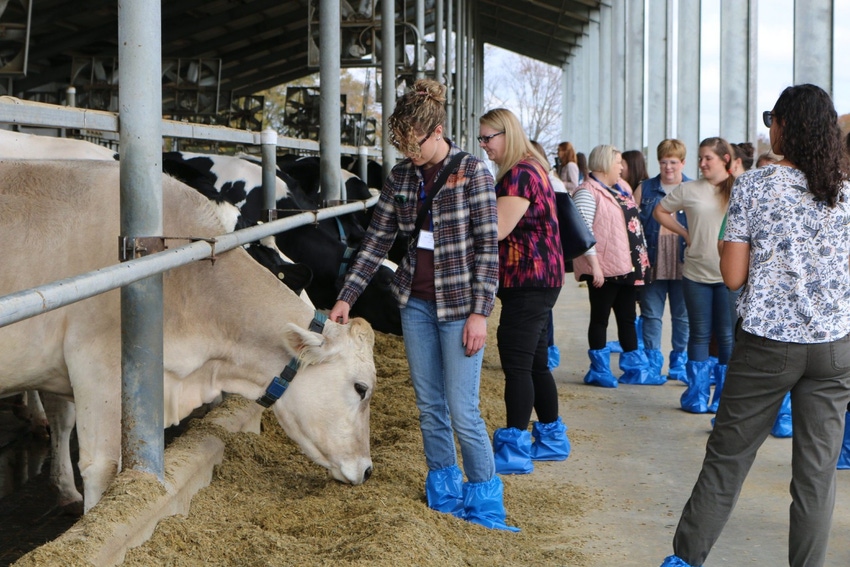 Women attending Clemson Extension's 2022 S.C. Women in Agriculture Conference tour Clemson's LaMaster Dairy Center.
Clemson Public Service and Agriculture
Sometimes, folks say, success depends not so much on what you know as it does on who you know.
With this in mind, the Clemson Cooperative Extension Service is using its resources to help South Carolina women working in agriculture enlarge their networks and increase their knowledge.
Clemson Extension recently held its first-ever South Carolina Women in Agriculture Conference. More than 60 women registered for the 2-day conference held at the T. Ed Garrison Arena in Pendleton, South Carolina. Charlotte "Charley" Maxwell, conference organizer and Clemson Extension agribusiness agent, said the conference was held to connect women to resources available to help them in their agricultural endeavors.
"Agriculture tends to be a pretty isolating industry," Maxwell said. "We're holding this conference to help women connect with each other and build their networks. This conference also allows them to learn about resources available to them through Clemson University, as well as other organizations and professionals."
The number of women in the agriculture industry has increased and today more than 14% of the state's total producers are women. Data from the 2017 Census of Agriculture for South Carolina indicates between 2012 and 2017 alone, South Carolina saw a 27.8% increase in female producers and a 56.9% increase in females as principal producers on farms.
Christina Mozeleski is interested in starting an agritourism farm. She and her mother moved to Bluffton, South Carolina from New York. Although her agricultural experiences are limited, she is excited about the possibility of owning a farm dedicated to agritourism. She participated in the conference to learn about resources, as well as network and connect with other women in agriculture.
"My mother and I moved to South Carolina two years ago, during the pandemic, after she retired," Mozeleski said. "I wanted to branch away from corporate life and do something I really enjoyed. So, I moved to South Carolina with her to get out of the city, buy some land and have a little space. I'm down in the Lowcountry where there are a lot of people, it's a booming society and I would love to give people an opportunity to enjoy farm life. I am excited about this new venture and want to learn about resources and other opportunities. Events such as this are great for networking and learning from each other."
Networking is an important part of agriculture. A panel of female producers – Katie Moore of Saluda Bend Farms, Kristin Dorr of Dorr Farms and Tracy Woodard of Covered in Cotton – encouraged participants to make "unique" connections.
People business
"We're in the people business," Woodard said. "Become involved and serve in local organizations. Make unique connections with people who have similar interests. Join groups such as the South Carolina Farm Bureau's Women's Leadership Program or the South Carolina Department of Agriculture's ACRE program. Become active in Clemson Extension programs. Being involved in programs such as these can connect you with people who can help you in your farming operations and in your personal life as well."
Social networking is another way to connect with people of similar interests.
"We offer monthly events, on our farm, to teach people about where food comes from," Dorr said. "We post information on Facebook about these events, as well as information about fruits and vegetables we have available. We connect with a lot of people through our Facebook page."
While working on a farm is fun, it also can be demanding. Moore said it is important women spend some time investing in themselves.
"Find a community of people who will support and challenge you," she said. "Get involved in activities such as this conference. Don't be afraid to step out of your comfort zone and learn new things. This is what will help you grow."
Lunch keynote speaker Marilyn Easter of Eastglen Farm, a dairy farm in Laurens, South Carolina, echoed the panel's message. Easter's talk centered on "connecting the dots" that exist in the lives of women in agriculture. Easter and her husband moved to South Carolina from Vermont in the late 1970s.
"We bought an old farm in South Carolina and my husband went back to our farm in Vermont to finalize things there," Easter said. "I stayed behind to get the farm we had just bought in order."
There were a lot of things to do and Easter soon found out she was going to have to get to know the people in her community so that she could get the farm ready.
"I got involved in local organizations and serving in these community roles gave me a chance to meet people," she said. "I learned who represented me at local, state and national levels so that I would know who to contact when I needed something."
After some setbacks and a lot of hard work, Easter got the farm ready, and she and her husband Glen have been quite successful. One of their achievements was receiving the Outstanding Dairyman of the Year Award. Easter credits their success to being able "to connect the dots early" with people who could help them advance.
"Connections are very important because sometimes in order to get things done, it's not what you know, it's who you know," Easter said. "It's important to make connections, embrace everybody, be open to new ideas and look for opportunities."
This was the first year for the South Carolina Women in Agriculture Conference. In addition to speakers, the conference also included tours of some of Clemson's agricultural facilities, as well as a variety of educational sessions and presentations. Maxwell said plans are being made to make this conference an annual event. For information, contact Maxwell at [email protected].
Denise Attaway is a writer with Clemson Extension.
About the Author(s)
Subscribe to receive top agriculture news
Be informed daily with these free e-newsletters
You May Also Like
---