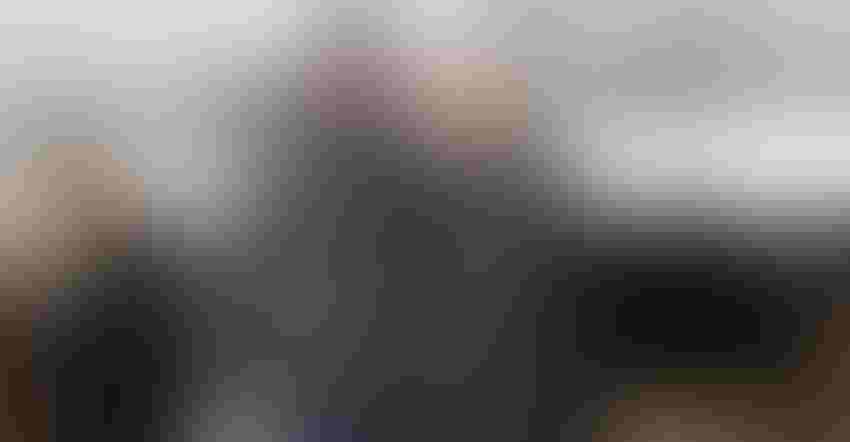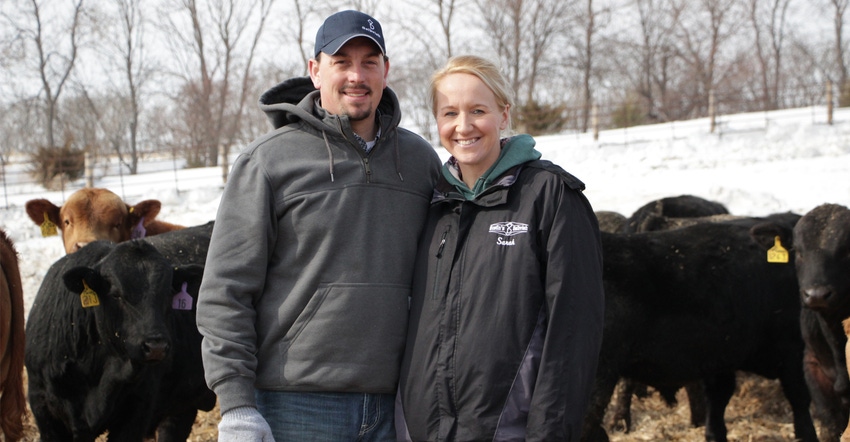 AWARDED FOR EXCELLENCE: For Sarah and Richie Heinrich of Medina, N.D., their dedication to excellence on and off their operation led to them being awarded one of the National Outstanding Young Farmers of 2022.
Photos by Sarah McNaughton
For Richie and Sarah Heinrich, promoting excellence on an off the farm isn't new. Being heavily involved in production agriculture in North Dakota, they work to make the land better for their sons, Luke, Jacob and Andrew. Their dedication to excellence has led them to being named one of the National Outstanding Young Farmers for 2022.
To highlight farmers' importance and impact on the economy, the National Outstanding Young Farmers award honors those farmers who have made outstanding contributions to their communities and farms.
The Heinrichs' farm in Medina was started by Richie's family. "My grandparents bought the place in 1939. I grew up here, and we remodeled my grandparents' house," he says.
After getting married in 2014, Richie and Sarah moved to the farm in Medina, merging the purebred cattle business with crop farming. "We cash-grain farm with my dad and my brother, and they've got some commercial cows, and then when we got married we took on her family's registered purebred business," Richie says.
GOOD GENETICS: The Heinrichs have carried on Sarah's family purebred Gelbvieh cattle business. The disposition and genetics behind their Gelbvieh cattle herd made the breed an easy choice for the family.
Sarah grew up on her family's registered Gelbvieh cattle operation in Morton County. "We've had a really good opportunity for us to run registered cattle with increased value with my family," she says. "Even though the operations are 80 miles apart, we always say we have two herds that operate as one. Everything is done in both places at the same time."
Life on the farm
"It's busy and wild, and every day is different," Sarah says of farming together as a family of five. Their three sons, ages 5, 3 and 1, go along whenever they can. "If we're doing something, they go with whether it's to the calving barn or if we need to show bulls. The boys are just with us."
The Heinrichs always have the next step in mind when considering their farm's growth. "We want to continue to grow our cow herd, grow our acreage," Richie says. "Most importantly, maximize what we have on a per acre basis or a cow per acre basis."
Sarah says additional goals for the future include adding more technology to the operation. "We want to work on adding in more embryo transfer, more artificial insemination, just more technology — whether it's on the cattle or the grain side," she says. 
The Heinrichs employ conservation practices on their farm wherever possible. "We've always had the mentality of take half, leave half with our grazing practices," Sarah says. "That really paid off in the drought year because we had enough grass to carry our cows through this extremely dry grazing season we had."
This and other conservation grazing practices have always been present on their farm. "We try to minimum-till just about every acre, and no-till if we can. We grid soil sample to get the fertilizer where it's best used, instead of just a blanket application, and are working to plant more trees around the farm," Richie adds.
When they're not working on the farm, they both stay busy giving back to their communities. "I've been a volunteer firefighter since I was a freshman in high school [and] an EMT on the ambulance service since 2011. I serve on the board at the Central Grasslands Research Extension Center at Streeter, and am a board member on the Farmers Union Cop-op board," Richie says.
Sarah is just as involved, as well as working full time off the farm. "I serve as a mentor for the National Association of Farm Broadcasters, am a board member for the Farm Rescue Foundation, and on the breed promotion committee for the American Gelbvieh Association. We both are involved in the Medina FFA Alumni, and we're also involved at St. Mary's Church," she says.
National award
The Heinrichs were nominated for the award by Doug and Maria Bichler, 2020 National Outstanding Young Farmers winners from North Dakota. Sarah and Richie then embarked on the application and interview process.
"Every year they try to get a submission from each state, and then they narrow it down to 25, then to 10," Sarah says of the National Outstanding Young Farmers program. "If you are a part of the top 10, then you're flown out to the National Outstanding Young Famers Congress to complete in-person interviews."
"It's based in three parts: your operation, where they really want to see growth in your financials and farm; your conservation, where they want to see you incorporating soil conservation techniques; and then the third being your community service and volunteering," Sarah says.
The Heinrichs say they were pleased by not only the process, but also the chance to network with other diverse ag operations. "It's an awesome organization. We're super-grateful for the opportunity and the chance to connect with so many like-minded people," Sarah says. "We all had the same problems, just on different scales and experiences as far as how we were challenged."
Richie agrees, saying, "It wasn't so much about how many acres you farm [or] how many cows you have. It was about all the things that you think would be important. Why do you do what you do? How do you do it? How have you overcome your challenges you're faced with?"
Each year four winners are selected. The other winners for 2022 included farmers from Illinois, Wisconsin and Tennessee. "It's so interesting to see the diversity and realize we're all facing the same things," Sarah says. "There was a tulip farmer in Alabama [and] a couple dairy farmers who had started bottling their own milk. It was an interesting and diverse group represented."
Nominated farmers who are selected in the top 10 can become members of the Outstanding Farmers of America Fraternity, created to facilitate the exchange of ideas and friendship among farmers from across the country, with the Heinrichs being part of this group.
LEAVE IT BETTER: The Heinrichs' philosophy of conservation for their crop and purebred cattle operation is to leave their land better than they found it for the next generation.
The Heinrichs plan to continue to improve the land on their farm and implement new production practices where they can. "We want to continue to enhance every acre and every cow," Richie says. "We want to improve what we have. And if our kids so choose to farm, then we can hopefully leave it better than what we started with."
Find out more about the National Outstanding Young Farmers and Outstanding Farmers of America programs at outstandingfarmers.com.
Subscribe to receive top agriculture news
Be informed daily with these free e-newsletters
You May Also Like
---