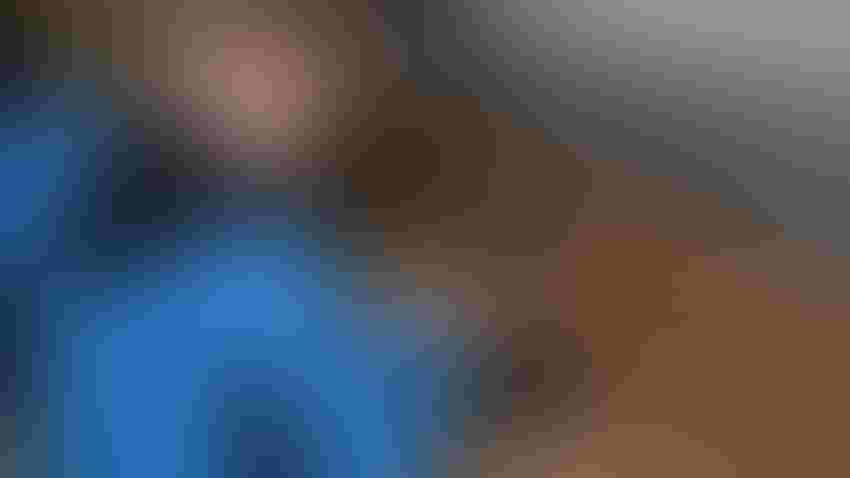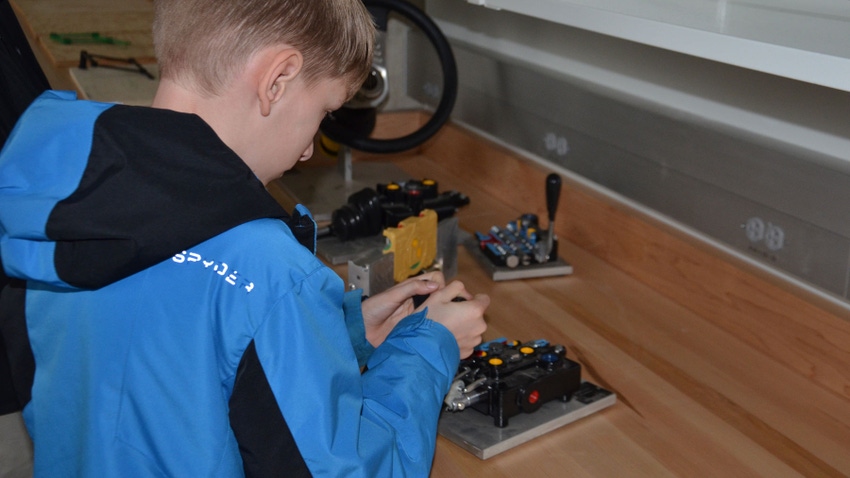 FUTURE FOR EDUCATION: Graham Curtis gets acquainted with a lab in the new Purdue Ag Engineering building. What will tuition cost when he is old enough to enroll in the fall of 2028?
Tom J. Bechman
Jay Akridge is a believer in the land-grant college system. He is also a realist. The former dean of the Purdue College of Agriculture and former Purdue provost knows there is conflicting information swirling around the potential decline in value of a college education.
"Part of my goal in the recent lecture about land-grant colleges was to show that while there are challenges, higher education still creates so much value for society," Akridge says. "It's important not to see one report and draw too many conclusions without digging further."
Akridge uncovered reams of data while preparing to discuss the future of land-grant colleges. Here is a sampling presented in a point-counterpoint format. Read both the point and the counterpoint before drawing a conclusion, Akridge advises.
Point: Faith in college education is dropping. A WSJ-NORC poll summarized in The Wall Street Journal in July indicated Americans' faith in the value of education fell from 69% in 2020 to 55% in 2022.
Counterpoint: The poll was conducted in the aftermath of COVID-19. Much of the drop occurred in the volatile period from 2020 to 2021, when the percentage of those believing colleges have a positive effect on the way things are going in this country dropped from 69% to 58%.
Point: The cost for college tuition is climbing. Published public tuition at a four-year institution was 2.5 times higher in 2022-23 vs. 1992-93, after adjusting for inflation.
Counterpoint: In real terms, the cost is flat. Published tuition is only part of the story. Grant aid to students offsets rising costs. Actual cost of attendance for four-year undergraduate students at four-year public universities is relatively flat over the past 20 years in real terms, counting increases in grant aid.
Point: Enrollment is dropping. Undergraduate enrollments at four-year colleges have declined 17% since 2010, and 12% in Indiana since 2017.
Counterpoint: Enrollment is up at Purdue and Indiana University. These two public universities buck the trend. Purdue enrollment is up 23% since 2017.
Point: Students carry a high debt load. In the second quarter of 2022, $1.6 trillion in student debt in the U.S. was amassed to pay for college educations. It was in the hands of 45.3 million borrowers.
Counterpoint: Debt isn't equally distributed. Of those 45.3 million borrowers, over half (53%) owed less than $20,000 each. About 7.8% of the borrowers held 38% of the debt. That 7.8% of all borrowers owed about $100,000 each.
Point: Completion rates at four-year universities are steady since 2013 at 66% to 68%. That means just about two-thirds of those who start college finish with a degree.
Counterpoint: Completion percentage varies widely. This is one area where a general, blanket statement can be misleading. The percentage completion for students varies widely depending upon race/ethnicity and gender.
Point: Lower birth rate will mean fewer college students. By 2030, the college-age population could be 93% of what it was in 2018. Also, by 2030, college-age numbers will be down 9 percentage points from an expected peak in 2025.
Counterpoint: Pinpoint the cause. Most believe the drop in the U.S. birth rate after the 2008 Great Recession is the reason for the expected drop in college-age students by 2030.
Editor's note: This is the second in a series of articles about the future of land-grant colleges. Read the first article, Land-grant colleges still relevant today.
Subscribe to receive top agriculture news
Be informed daily with these free e-newsletters
You May Also Like
---