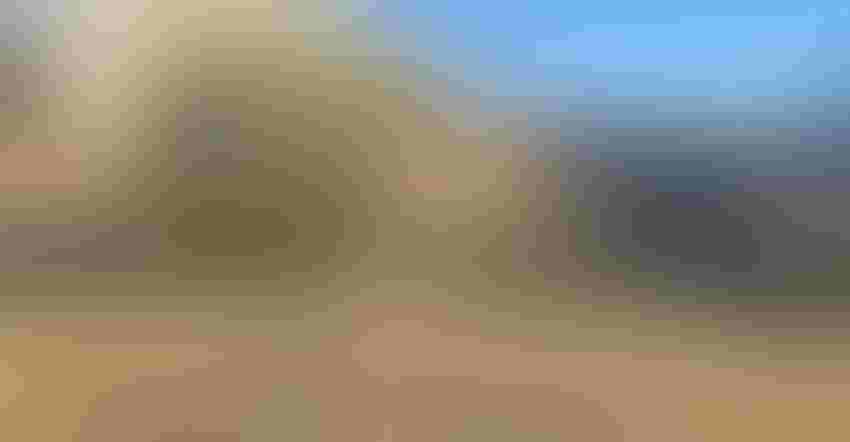 FINAL RESTING PLACE: My husband pointed out this haybale is not exactly where it was supposed to be. I pointed out he would be doing chores alone in the future. Farm chores can cause disagreements, but don't let them ruin a relationship.
As my husband's eyes met mine, I was giving him the look. Most men have seen it. A few fear it. But all can recognize it. Still, with the hay bale rolling down the hill, me barely able to move, my husband didn't quite get the intent of the look. Instead he spoke.
"Babe, you pushed too hard," he uttered through laughter. "You missed the spot. Now we have to go push it back up the hill." Still chuckling, he jumped back in the truck cab, shut the door and put it in gear.
Many of you know we are empty nest part-time farmers raising a flock of sheep. During winter, we feed big round hay bales. Our farm supplier uses a front-end loader to place it on the back of our truck.
Note, we do not own a tractor. When our daughters were around, rolling the hay bale off was easy. We had a full set of eight hands and four bodies all moving in one direction. Now, it is down to just two people, but on this day, it was down to one — me.
My husband decided to make things simple: he would try to "hop" the bale off. You guys know what I mean. Since the location where the bale needed to land was on a slight hill, he would just pull the truck up, put it in reverse, run hard and then stop short. That would create just the right amount of movement to help the bale "hop" right on off the truck.
After two failed attempts, I received "the look" out the passenger window. It was accompanied by the head nod toward the truck bed. I knew what that look meant. He wanted me to jump in and give her a push.
We have become smarter as empty nest farmers. We now allow for space between the cab and the bale by placing wood in front and having our farmer friends place the bale closer to the tailgate. The wood allows it not to roll toward the cab during transport. So there was space for me to get in between the bale and the truck cab.
I braced my feet a little further up on the truck bed and moved my back end down toward the bottom of the bale, which allowed me to push with my legs and back. I looked up and gave him a nod.
He put it in reverse, stopped short, I pushed and the next thing I recall is being flat on my back in the truck bed with my feet in the air. Fear set in. Is the hay bale going to roll back and crush me?
Desperately flailing trying to get to my feet, pain surging through my backside, I managed to look up and see the bale rolling down the hill. I would live. Then I looked over and saw him.
There he was outside of the cab, one hand on the door the other on the truck bed rail, head down. And I heard it. Laughter. As his head lifted, his eyes met mine and I shot him the "I just single handedly pushed off a bale, landed on my butt, feared for my life, struggled to get up and you are laughing at me" look. He mustered up a "you all right" comment. And proceeded to chuckling. Then came the "babe, you pushed too hard. You missed the spot. Now we have to go push it back up the hill."
I didn't even hesitate when he suggested it. I shot him a final glance and giggled. He got the point. He was working solo the rest of the afternoon.
Farming can put a strain on anyone. But no farm chore should ruin relationships. Communication is key. Some days it's good, other days it's bad, still one thing remains — tomorrow you can improve.
Don't let "looks" or arguments bog you down. Have an open dialog. Hear other people's perspective. Look back on the situation and, at times, laugh. It may be just the stress relief you need. And if you can't find humor in your own circumstance, feel free to laugh at mine.
Subscribe to receive top agriculture news
Be informed daily with these free e-newsletters
You May Also Like
---