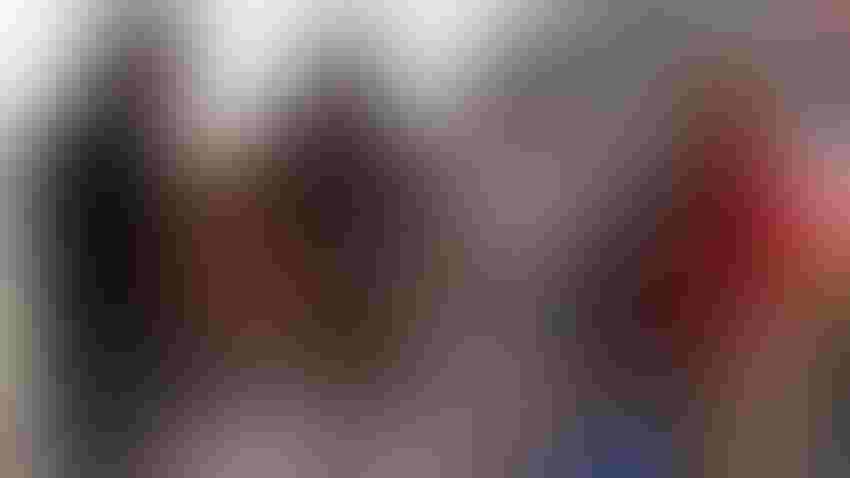 OUT TO LEARN: Visitors to the annual Science and Ag Family Field Day at Haskell Ag Lab near Concord, Neb., are treated to activities and booths from a number of agriculture-related agencies and organizations. There are fun activities for the entire family and learning opportunities about the research being conducted at UNL.
Curt Arens
A number of University of Nebraska-Lincoln research, Extension and education centers and research labs across the state will be holding field days throughout the summer in different regions of Nebraska.
Among those is Haskell Agricultural Laboratory (HAL) near Concord, Neb., with an annual Science and Ag Family Field Day set for Aug. 10. This event is free and open to the public, and all ages are welcome and encouraged to attend. A variety of activities and programs are being planned.
Here is a tentative schedule of activities for the day:
8:30 a.m. Registration will begin at the farm site.
9 a.m. to 2:30 p.m. Booths and activities run all day.
9:30 a.m. "Current Trends in Nebraska Land Values, Cash Rents and Lease Considerations for 2023" will be presented by Jim Jansen, Nebraska Extension educator.
10 a.m. A walking tour of Northeast Arboretum begins. Trolleys will be available to transport visitors from the farm site to the arboretum.
10 a.m. Research tours will be conducted featuring a number of UNL faculty and researchers.
11 a.m. Research tours continue.
11 a.m. A water quality program is offered by Laura Nagengast, Nebraska Extension educator; Crystal Powers, communications specialist; Troy Gilmore, Nebraska Extension groundwater specialist; and Daniel Snow, director, Nebraska Water Center. Powers will present Nebraska Water 101, covering where the state's water comes from, how it is used, and indicators of quantity and quality. Snow will discuss how water becomes contaminated and what we can do to prevent this from happening. Gilmore will present how nitrates move in the soil. Nagengast will focus on health and water quality.
12:45 p.m. A live question and answer panel begins for Backyard Farmer. Visitors should bring their questions and plant samples if they would like assistance in identifying lawn, garden, landscape or forestry issues.
Food trucks will be on-site, and tickets to use at the food trucks will be given out when visitors sign in the day of the event.
Among the popular activities and booths that will be available are a return of the Heartland Docs DVM (Drs. Ben and Erin Schroeder) to answer animal-related questions; University of Nebraska Mobile Beef Lab; Science Literacy Trailer; Precision Ag Trailer; Shooting Sports Trailer; and various activities for children, along with health checks, food demonstrations, ag budget calculator demonstrations, farm safety, rocket demonstrations and more.
Northeast Power will be doing safety demonstrations, and several other vendors also will be present.
For more information, call HAL at 402-584-2261 or visit its Facebook page or the HAL field day website.
The Haskell Ag Lab is located at 57905 866 Road, about 1½ miles east of Concord. The event is funded in part by the Dixon County Convention and Visitors Bureau.
Source: HAL
Subscribe to receive top agriculture news
Be informed daily with these free e-newsletters
You May Also Like
---