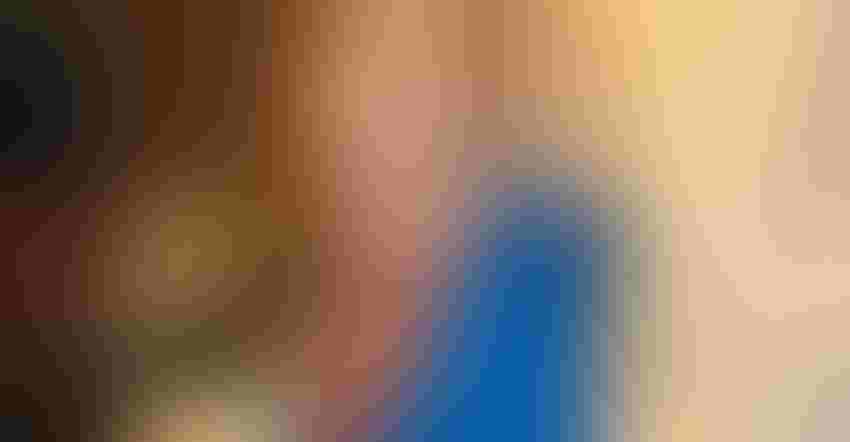 BELOVED: There's no doubt Lucas Flint knew how loved he was, and that he came from a loving family.
"The day we lost him and left the hospital, we lost a part of ourselves."
That's Josh Flint, whom Prairie Farmer readers may remember as editor from 2008 to 2015, talking about his first son, Lucas, whom readers may also remember. Lucas was born in October 2008 and died in November 2010, just a month after his second birthday. He spent a fourth of his young life fighting acute myeloid leukemia, subtype M7.
Josh remembers driving home the day Lucas died, crossing the Poplar Street bridge in St. Louis and getting stuck in traffic. It was a 20-minute drive that felt like a lifetime, but not because of traffic. "It was like we left a piece of us behind in that hospital, and we'd never see him again," he recalls.
Josh and his wife, Tiffany, lost their child that day, something that simultaneously so few and yet too many people experience. The experience aged them. Eight years later, Tiffany still visits Lucas' grave every day. When Linus, 7, and Brooklyn, 4, were each born, the family stopped at the cemetery on the way home from the hospital. They decorate a Lucas tree every Christmas.
Gone. But not forgotten. And always part of their family.
Diving deep
Our Prairie Farmer family felt the loss deeply, too, and we grieved for our friends. And so it was that when my Indiana Prairie Farmer colleague Tom Bechman called recently to tell me about a story he was working on and to ask if I knew any grief experts, Josh and Tiffany singularly came to mind. Who knows better how to grieve than the people who've walked that road?
Grief, Tiffany says, is not linear, nor is it predictable. It comes in waves. In the best circumstances, it can draw a family closer.
"Josh and I know either of us would have done literally anything to save Lucas," she told me recently. Lucas's very rare, very aggressive cancer was discovered during a blood test when antibiotic failed to clear up an ear infection and the resultant fever.
Tiffany's dad died suddenly when she was 5, which means her grief spectrum is full circle: she's a child who's lost a parent and a parent who's lost a child. She speaks carefully of becoming a "healthy person." I like that phrase.
"It's important for parents who are going through the death of a child that they do what feels right to them," she says. "If reading things on Facebook is upsetting, then get off Facebook. If you want to be surrounded by people, be surrounded by people. If you need counseling, go to counseling. There's no right or wrong. Do what you need to do to be a healthy person."
Amen. Acceptance is hard, and just like on that drive home from the hospital, Josh and Tiffany didn't want to accept that Lucas was gone — for a long time. It took Tiffany two years, as she recalls. That's a deep struggle with long days.
But at the end of that long, hard road, there was light. "You can overcome tragedy and obstacles in life," she says. "That makes you a healthy person."

NOT FORGOTTEN: After their son died, Josh and Tiffany Flint learned they could grieve differently, and they respected their differences. "Josh internalizes more," Tiffany says. "I visit Lucas' grave at the cemetery every day."
Faith helped them. They watched families struggle on the children's cancer floor. Some turned deeper into God. Others decided if there was a God, He wouldn't let things like that happen. Josh and Tiffany both grew up with strong stories of faith, and they've never once faltered in their beliefs that they'll see Lucas again someday. Like faith, they cling to this.
"I think about that constantly," Josh says. "What will it be like?"
When our kids are young, we all look at them and wonder what they'll be like when they grow up. That's the great unanswerable question for Josh and Tiffany. Lucas would've turned 10 this past fall. What would he have been like at 10? At 20? What work might he have done someday? What might he have been like as a father?
It's the same for their other children, who never knew Lucas in life. They pray and ask God to say hello to Lucas, but the idea of him is abstract — like the other day when Brooklyn sang a song about Lucas and Jesus and Santa. In some ways, Linus has better words to explain it to Brooklyn than Josh and Tiffany have.
Being the helpers
In the years since Lucas' death, Josh and Tiffany have figured out what helps. They donate new toys to Children's Hospital in Lucas' memory twice a year, around the times of his diagnosis and his death. They acknowledge the sadness of hard days and Christmases. The first Christmas they wanted to skip it, and went to St. Jude's in Memphis to volunteer instead. While it was good to give back, the upshot was that they felt more alone.
"We decided we'd never skip the holiday again," Tiffany says. "Now we always make sure Lucas is part of everything we do."
What can you do for a family in crisis — or in grief? Josh says something is always better than nothing. I concur. The physical presence, sending a note, a card, helping with food, sending gift cards to restaurants … all were helpful to them. If you've ever wondered if it makes a difference, the answer is yes, it does.
Some people think it's awkward, so they don't say anything.
"That's the worst thing to do," Josh says. "Even when you don't know what to say, acknowledging it is better than not." As an introvert, he recommends a simple, "I'm sorry." And don't worry if your comment moves someone to tears; it's not as if they'd forgotten about their loss until you brought it up. They're always thinking of that person.
Mr. Rogers used to say that in times of disaster and hardship, if you look around, you'll find the helpers. They show up. The same is true in times of grief. It's the casserole at the knock on a door, the gift card when you can't eat another hospital meal. A silent hug. A note in the mail. Acknowledging what was left behind at that hospital they just drove away from.
And it's the promise that we can all be the helper, when we're most needed.
Comments? Send email to [email protected].
Subscribe to receive top agriculture news
Be informed daily with these free e-newsletters
You May Also Like
---