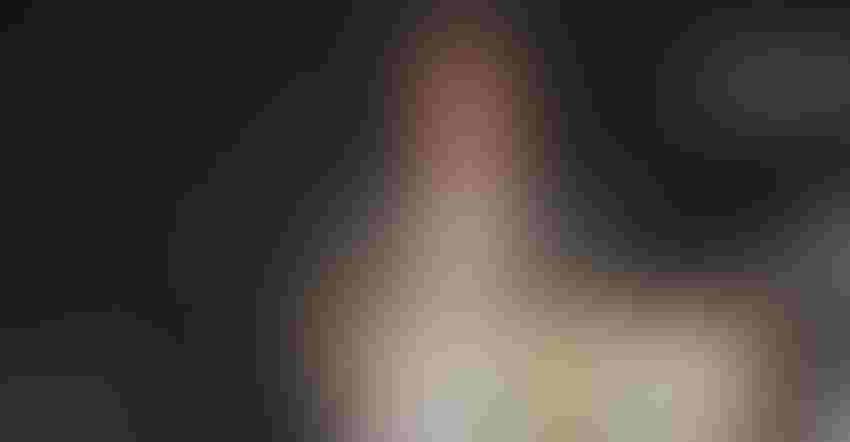 LESSONS FROM MONSANTO: Vance Crowe, the former head of millennial engagement for Monsanto, uses his experiences with the company to educate farmers about communicating with the public.
Chris Torres
When someone tells Vance Crowe that they don't like GMOs, he doesn't argue with them. Instead, he talks about broccoli.
And why not. Broccoli was bred from Brassica oleracea, a wild cabbage plant that is native to the Mediterranean. Many other food cultivars — Brussels sprouts, cauliflower and kale among them — originated from this one plant.
But for Crowe, talking about broccoli does two things: It teaches about science and it builds trust.
"You don't have to fight their arguments with other arguments. You fight them by fascinating them because they'll trust you and they'll want to listen," Crowe said at the New York Farm Bureau's annual meeting.
Instead of facing down detractors or getting into arguments, Crowe said farmers should tell stories about themselves and their farm to build trust with others.
Finding the 'dragons' and 'lies'
The key to good storytelling, he said, is finding the "dragons" and "lies" in the story.
The dragon — not the fire-breathing monsters, that's just a metaphor — represents something that a person fears most. For example, farmers who fear that inner-city people are out to get farmers and modern agriculture.
"This is important because when you're thinking about telling your story, imagine being able to draw somebody in when you're telling them about how you faced the dragon," he said.
The other part of a good story is the lie, a situation where the "hero" is facing something only to realize that in order to confront it they need to look within themselves and see that the solution was within them the whole time.
"What we want to know is when that hero faced that problem, what was it they had to change about themselves in order to make them transcend and beat the dragon," he said. "This is important because it's so easy for us to be told, 'you farmers should go out and tell your story.'"
Lessons from Monsanto
GMOs and farmer communication are subjects Crowe is very familiar with. He is the former director of millennial engagement for Monsanto — now Bayer — where one of his first jobs was speaking to scientists about farming techniques and GMOs.
Crowe doesn't have an ag or farming background, so talking to the company's scientists was crucial for him to understand what a GMO was and how he could use that information to better educate young people.
In the process he met Fred Perlak, a former Monsanto scientist who was instrumental in developing BT crops, first in cotton.
Perlak also helped run Monsanto's research facility in Hawaii. But as Crowe described it, Perlak fell out of favor with the company and was sent back to the company's headquarters in St. Louis to finish out his 34-year career in a cubicle.
Crowe picked Perlak's brain about GMOs and plant science, but he also got to know him personally, getting him to open up about regrets and things he would have done differently.
The two became trusted friends and decided to use their friendship to educate others about GMOs and plant science. They participated in a Reddit Ask Me Anything thread where Perlak engaged with people who were interested in the history of GMOs, Monsanto and plant science.
Crowe thought it would get some attention. What he didn't expect was that it would be viewed by more people than the company's Super Bowl ad. In fact, the thread is among the most popular AMA posts of all time on the Science subreddit.
This is the perfect example, he said, of finding a dragon and a lie, and conquering the dragon.
"That's the power of people saying, 'I was down, I was out and now I've come back," he said.
Telling better stories
Anti-ag activists win many arguments, he said, because they put people in the position to make decisions based on knowledge given to them. It creates the effect of making the people "the hero."
"If you tell all of your stories where you are the hero, people won't listen. They want to be the hero in the story that you're telling them," he said.
Oftentimes, Crowe has to confront people who disagree with him and will do anything to poke holes in what he believes in. It makes him frustrated, but it also has a positive side.
"Over time I've come to realize that the people you expose [yourself] to, that correct you and that poke you, those are the ones that give you the most valuable information that there is," he said.
One technique he's used is listening to people who have a different viewpoint, acknowledging what they said and giving them a chance to finish their thoughts without interrupting.
"It turns out that most people that have ideas that are strong against agriculture are really just a few sentences long. They're telling a story that someone handed them," he said. "And so, once they're done, and if you have not tried to push back against them, they are going to be relaxed."
The next step to answering someone who disagrees with you is improving their argument, something called "steelmanning." The premise is that by filling in the holes of their argument or story, you show the other person that you're acting in good faith. It seems counterintuitive, but Crowe thinks that once you build that person up, it makes you stronger because they now have full trust and might be open to other ideas or even a new viewpoint.
This is where a good story comes in; a good personal story of facing a struggle — a dragon — realizing what you did wrong — the lie — and making a change for good can bring a best effect.
"That's what you should be thinking about, telling stories where you saw a dragon: 'We thought the farm was facing doom, I didn't want to look at it, and then I had to go in and face it.' And what was the thing that I believed was keeping me from moving forward and what did I change in order for me to do it better," he said.  
Subscribe to receive top agriculture news
Be informed daily with these free e-newsletters
You May Also Like
---