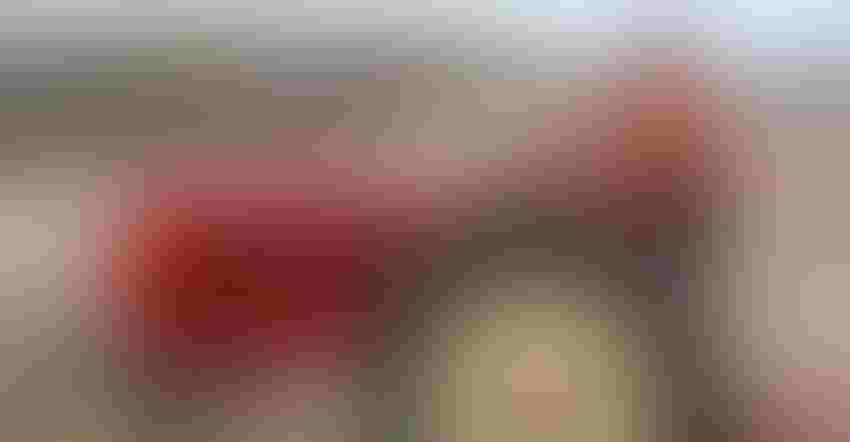 UNUSUAL TRACTOR: George Mayer says his tractor is the only Cockshutt within a 50-mile radius of Hartford, Wis., and the only Canadian-built machine owned by any of the Restored Antique Tractor Club's 90 members.
Harlen Persinger
George Mayer from Hartford, Wis., always had the mindset that he wanted to own a Cockshutt tractor because it featured a top road speed. In June 2007, his vision became reality when a collector near Stevens Point, Wis., had one listed for sale.
"My son, Marshall, and I headed north to check out a model 1952 Cockshutt 30," Mayer says. "Although it showed patches of rust, some of the paint and decals were faded, and the camshaft had a few minor holes, there were no dings or dents in the frame. The asking price was $2,500, so without hesitation I purchased my one and only tractor. During the next year we overhauled the motor, rings and pistons, put on a new seat, and replaced the oil pressure and amp gauges. I did all the prep work and a friend from work, Mike Yukon, repainted everything."
Built in Canada
The Cockshutt 30 was the first production tractor built in Canada and the first model with an independent PTO system. The live PTO was controlled by a separate clutch on the tractor. The operator could handle varying crop conditions without overloading or plugging harvesting equipment. There were 37,328 units manufactured in Brantford, Ontario, between 1946 and 1957. The Cockshutt Plow Co. was started by James Cockshutt. Prior to making tractors, the factory produced seeding equipment, mowers, rakes, binders, wagons and carriages.
Other features on the 30 included an open operator station, 15-gallon-capacity fuel tank, mechanical contracting band brakes, 4x2 two-wheel-drive chassis and a Buda 2.5-liter, four-cylinder, liquid-cooled gasoline engine. A four-speed transmission was standard, but a two-speed gearbox could be added to achieve eight forward speeds. The tractor ranged in weight from 3,620 to 5,528 pounds.
In 2008, Mayer brought the newly renovated tractor out of his garage and took it to the Restored Antique Tractor Club (RATS) annual plowing day near Hartford. Today, he notes it's the only Cockshutt within a radius of 50 miles and the only Canadian-built machine owned by any of the club's 90 members.
"I drive it 100 hours and around 800 to 1,000 miles every year," he says. "This is my favorite tractor because of the round grill front design, it starts like a champ, it's easy to get on and off, receives plenty of attention and sparks many interesting conversations. But most of all, with that high-low shift lever, I can cruise at a top road speed near 20 mph."
Persinger writes from Milwaukee, Wis. To have your favorite tractor featured, email or send in a photo of yourself with your tractor, along with a 300-word write-up about the tractor, to: [email protected] or Wisconsin Agriculturist, P.O. Box 236, Brandon, WI 53919.
About the Author(s)
Subscribe to receive top agriculture news
Be informed daily with these free e-newsletters
You May Also Like
---