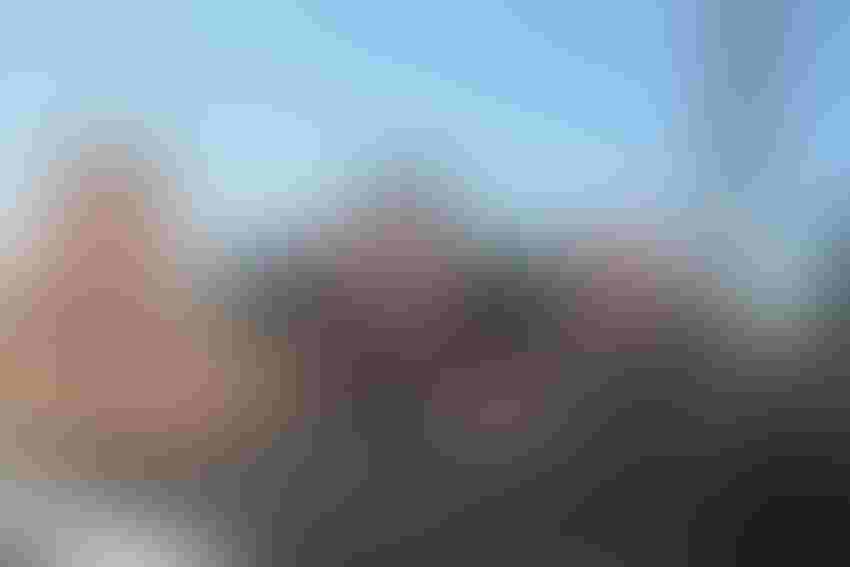 Young men and women raised on farms are viewing careers in agriculture differently than older generations, according to a recent study by Osborne and Barr. Members of generation Z (18 to 22 years of age), the study shows, are less likely to take over the family farm or ranch. Troy McGann, right, on the edge of the Gen Z range at 23, may be bucking the trend. After finishing a degree last year, he is trying to put enough acres together to farm. His uncle Gordon Graves (recently retired), and cousin Clay Graves are trying to help.
Members of Generation Z (young men and women aged 18 to 22) with strong ties to agriculture exhibit significantly different attitudes toward government involvement in agriculture, farm succession, ag technology, and brand loyalty than do previous generations, including Baby Boomers and Generations X and Y (representing an age range of 28 to 74).
Generation Z members, for instance, have a more positive attitude toward government involvement, less brand loyalty, and more interest in technology, but are much less likely to choose farming as an occupation.
These findings come from an Osborn Barr study, "Farmers of Tomorrow: Generation Z's Future in Agriculture," that included a survey to assess attitudes expressed by the four representative demographics.
For instance, 71 percent of BoomXY parents expect at least one of their children will take over the farm. Only 54 percent of Generation Z respondents indicate a desire to take up farming or ranching as a career. They do plan for careers in agriculture, however.
One respondent summed it up: "The reason I do not choose farming as a career is because I need a more steady option and also want a career that does not have such big risk and startup costs."
Osborn Barr looked to its Ag Advisory Council, created last June, for guidance and interpretation of some of the key issues facing agriculture.
Richard Fordyce, Ag Advisory Council chairman, says several of the study findings are surprising. "I am surprised at the lack of brand loyalty," he says. "This group's purchasing ideas are different. They are not as focused on family history with certain brands, but prefer to do their own research and find what fits best. They are more likely to believe what they see on YouTube videos through social media than they are company sponsored advertising."
"We know what we need on our farm and ultimately if it gets the job done the brand shouldn't matter," said one Gen Z survey respondent.
He says two outliers in the brand loyalty issue are tractors and seed, both of which appear to carry over from one generation to the next.
Fordyce says he's not concerned about the low percentage of Generation Z members who are choosing ag careers but not farming or ranching. "If that figure were 14 percent instead of 54 percent, I'd be worried," he adds. "But these young people want a paycheck and a career in agriculture."
 Changing ag tends
He adds that a bigger problem might be if 75 percent indicated they wanted to come back to farm. "Where would we put them? The competition for land and other resources would be significant."
He believes, too, that the changing nature of agriculture may be suited to this trend. The average age of U.S. farmers continues to rise, supporting the idea that opportunities will be available for new farm and ranch operators. "But we are seeing fewer farmers, fewer but larger farms and an increased reliance on technology."
Those trends mesh with what he believes will be the defining characteristic of Generation Z — rapid adoption and creation of agriculture technology. "That's not a surprise," Fordyce says. "This generation is immersed in technology, and they will demand updates and new products. They will not wait for it."
In fact, he believes this generation will be the ones who create the next wave of advanced ag technology products.
 More positive on government
Also a bit of a surprise is Generation Z's acceptance of government involvement in agriculture, a departure from the older age groups. Fordyce says USDA gets the biggest nod from the Z group, but they also have positive feelings for the EPA and FDA. He adds that this group is interested in protecting the environment.
"They believe government experts are doing the jobs they were asked to do," Fordyce says. "Based on this data, I believe Gen Z has more trust in government, they know the issues, and they are committed to ag," said Fordyce. "They are more engaged with lawmakers, active in policy and want to make a difference."
Gen Z members are somewhat negative on organic agriculture but positive on genetically engineered products. "This is encouraging," says Fordyce. "They are not anti-organic but skeptical of those who pit one production method against another. I think that mentality might come from witnessing the us versus them
activities of several years ago — things like the negative Chipotle claims about farmers. They are well-informed on issues and do not subscribe to that philosophy. They understand that agriculture's role is to provide food and fiber to the country and to the world."
He says this young generation "understands issues better than their predecessors. They want to contribute and they want to make a difference."
Fordyce says the results of the study offered unexpected attitudes. He explained that the Gen Z respondents are all involved in agriculture to some degree. They are pursuing training in agriculture in colleges, universities or trade schools or have a background in agriculture. He says obtaining a degree in an ag-related field is viewed as a means of remaining involved in agriculture with the steady paycheck that farming often doesn't offer.
He contends that Gen Z members will face significant challenges as they deal with the increasingly complex work of agribusiness. "But as these young people work their way into leadership roles, I think we are going to be in pretty good hands."
 Key study findings:
Farm Succession Expectations Differ
Of the sample surveyed, succession expectations differ between older farmers/ranchers and their children, many of whom plan to work in agribusiness.
71 percent of BoomXY farming parents believe at least one of their children may desire to take over their farming business someday COMPARED to 54 percent of the farm-raised 18-to 22-year-olds who indicate a desire to take over the family farming/ranching business someday.

For those 18- to 22-year-olds who don't currently plan to take over the family farming/ranching business, obtaining a degree in an ag-related field is viewed as a means of remaining involved in agriculture with the steady paycheck that farming often doesn't offer.
Gen Z Views Government Involvement More Positively
 Gen Z had an overwhelmingly positive outlook when it came to government entities (USDA, EPA, FDA), far outpacing BoomXY in regard to the FDA, in particular.

 64 percent of the farm-raised 18-to 22-year-olds view restricted immigration policy FAVORABLY compared to just 35 percent who oppose greater immigration restrictions.
 Ag Tech Tops the List for Gen Z
According to the study, Gen Z is more in favor of agricultural technology.
85 percent of the farm-raised 18-to 22-year-olds view existing herbicide technologies positively compared to 43 percent of farmers 28 and older.

 85 percent of the farm-raised 18-to 22-year-olds view existing insecticide technologies positively COMPARED TO 59 percent of farmers 28 and older.

 The older age group had a more balanced opinion of organic farming, while Gen Z skewed negatively and also in favor of existing bio ag technologies.

 GMOs and more advanced genetic engineering are largely perceived positively by both ag groups but even more so from Gen Z.
Gen Z Prefers Peers Over Brand Names
Research shows Gen Z is less brand loyal, and more peer-driven when making decisions and are more receptive to marketing messages.
78 percent of the farm-raised 18-to 22-year-olds consider brand names important when it comes to purchasing farm products compared to 90 percent of BoomXY farmers/ranchers.

 For ag information, Gen Z was far more receptive to information provided by their peers via social media, other farmers, network/cable TV and ag/rural radio, while the older age group favored ag print pubs, network radio and manufacturer websites.

  Gen Z was much more inclined to pay attention to marketing messages, while BoomXY was not, unless it came from their dealer/retailer.
Fordyce says the study is ongoing with more interviews planned, including opportunities at major farm equipment shows.
He adds that the study will expand the baseline data over the next year to provide "a more in depth understanding of the compelling aspects of the next generation and tomorrow's American family farm."
Future topics of exploration include ag tech adoption, food innovation and the broader issues of rural America.
About the Author(s) Senior Content Director, Farm Press/Farm Progress
Ron Smith has spent more than 40 years covering Sunbelt agriculture. Ron began his career in agricultural journalism as an Experiment Station and Extension editor at Clemson University, where he earned a Masters Degree in English in 1975. He served as associate editor for Southeast Farm Press from 1978 through 1989. In 1990, Smith helped launch Southern Turf Management Magazine and served as editor. He also helped launch two other regional Turf and Landscape publications and launched and edited Florida Grove and Vegetable Management for the Farm Press Group. Within two years of launch, the turf magazines were well-respected, award-winning publications. Ron has received numerous awards for writing and photography in both agriculture and landscape journalism. He is past president of The Turf and Ornamental Communicators Association and was chosen as the first media representative to the University of Georgia College of Agriculture Advisory Board. He was named Communicator of the Year for the Metropolitan Atlanta Agricultural Communicators Association. More recently, he was awarded the Norman Borlaug Lifetime Achievement Award by the Texas Plant Protection Association. Smith also worked in public relations, specializing in media relations for agricultural companies. Ron lives with his wife Pat in Johnson City, Tenn. They have two grown children, Stacey and Nick, and three grandsons, Aaron, Hunter and Walker.
Subscribe to receive top agriculture news
Be informed daily with these free e-newsletters
You May Also Like
---