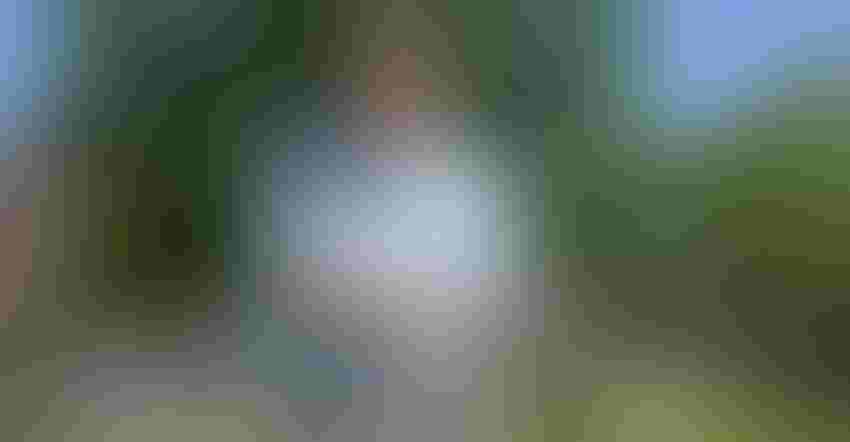 MAN OF THE SOIL: Much of Gary Steinhardt's life work involves Indiana soils. Today, Steinhardt, West Lafayette, Ind., is a soil scientist in the Purdue Agronomy Department.
Tom J. Bechman
What's over the next hill? Gary Steinhardt asks that question often as a soil scientist. It's the same question he asked repeatedly as his career took many twists and turns. Whatever he found "over the next hill," he met with commitment and a "let's get it done" attitude. That's why Steinhardt is being named an Honorary Master Farmer. The Master Farmer program is co-sponsored by Indiana Prairie Farmer and the Purdue College of Agriculture.
Today, Steinhardt is a soil scientist in the Purdue Agronomy Department. In the mid-20th century, he was a farm boy on a diversified farm near Lansing, Mich. He attended Michigan State University, studying food science. "My goal was a career in the Army," Steinhardt recalls.
Related: Welcome Indiana's new Master Farmers
Two crucial things happened. First, there were no summer jobs for food science students in 1963. But MSU needed students to map soils in cooperation with USDA's Soil Conservation Service. Steinhardt liked the challenge of mapping soils.
Second, his prospects for an Army career waned. He also decided that food science was not his career of choice. He had taken soils elective courses, so pursuing a master's degree in soils was "over the next hill." After completing the degree, Steinhardt served two years as an Army officer, including a tour in Vietnam.
Next, he followed Don Franzmeier, a friend from MSU, to West Lafayette, Ind., to begin a doctorate program in 1971. He finished in 1976 as Harry Galloway, another renowned Purdue soil specialist, retired from Extension. Steinhardt filled Galloway's position.
Career milestones
Among Steinhardt's many contributions to agriculture and rural life are the following:
Soil classification. As the nationwide modern soil survey by USDA neared completion, Steinhardt's first Extension effort was helping soil and water conservation districts and community leaders use soil maps for land use planning and preservation of prime farmland.
"Obviously, we weren't totally successful," he says. "Land use is still a major issue today."
Tall corn, short corn. Farmers began reporting this phenomenon in the late '70s. Steinhardt and others would later track it down to soil compaction. But soil compaction wasn't supposed to exist.
"The mindset was that soil compaction couldn't be the problem," Steinhardt recalls. "There was research backing that up. The problem was that the research dated back to the 1950s, and farming had changed. We weren't popular with farmers or equipment companies."
Working with Gary Krutz, a now-retired Purdue ag engineer, Steinhardt completed studies at Purdue's agronomy farm proving soil compaction could cut yields drastically under certain conditions. This opened the door to work with other researchers on no-till and strip-till studies.
Soils judging and teaching. Indiana has one of the largest, most competitive FFA and 4-H soils judging programs anywhere. Steinhardt is largely responsible for bringing soils education into the 21st century. He started coaching the Purdue soils judging team early in his career. Past teams have won many regional contests, one national title in the American Society of Agronomy contest and three titles in the North American Colleges and Teachers of Agriculture contest.
On-site septic system education. Steinhardt promotes education for proper installation and care of rural septic systems and interacts with soil scientists.
"Training soil scientists who do site inspections for new systems is critical," he says. "We incorporate training into our high school soils judging program, using the same pits. It's critical for soil scientists who evaluate soils for septic systems to gather and compare notes, making sure we're all interpreting soil properties similarly."
A snapshot of Gary Steinhardt
Beginning: Steinhardt grew up on a diversified farm near DeWitt, Mich.
Education: Steinhardt has a bachelor's degree in food science from Michigan State University; a master's degree in soil science from MSU; and a doctorate in soil science from Purdue University.
Career: Steinhardt started doing part-time work with the Michigan Agricultural Experiment Station conducting a modern soil survey mapping project. He then joined the Purdue Agronomy faculty in 1976 in Extension, research and teaching.
Family: He and his wife, Thinh, have been married 49 years. They have two children — Angela Steinhardt, M.D., and Sarah Steinhardt Reiger, D.P.H., Pharm.D., J.D. — and three grandchildren.
Service and accomplishments: Steinhardt was in ROTC in college and served two years in the Army, including service in Vietnam. Later, he served in the Army Reserve for 30 years. His Purdue collegiate soils judging teams have won both national collegiate soils judging contests.
Notable: Steinhardt was instrumental in restarting the Farm Progress Show Soils Judging Invitational in 2003. Through his efforts, Illinois adopted a similar soils judging format to Indiana. Three of the author's children competed on Steinhardt's soils judging teams.
Subscribe to receive top agriculture news
Be informed daily with these free e-newsletters
You May Also Like
---