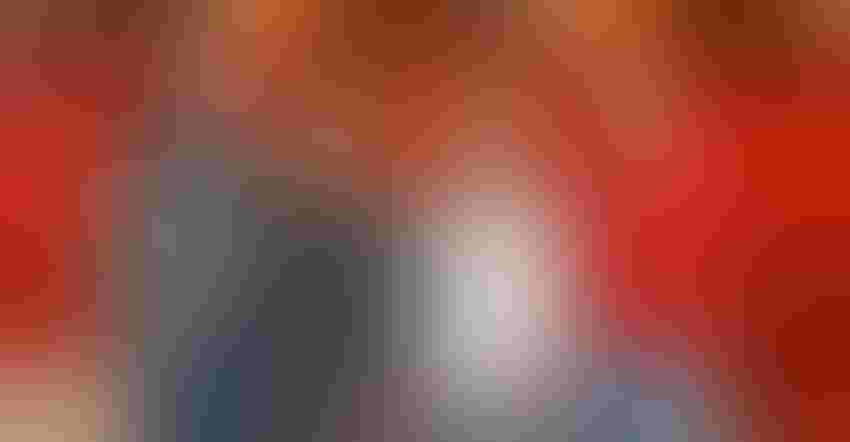 CONTINUE INNOVATING: The Merrells pose in the safety training room for Merrell Bros. employees, designed to resemble a fire station locker room. They are Terry (left), Nieta, Jean and Ted Merrell.
Photos by Tom J. Bechman
Ted and Terry Merrell were so eager to enter farming that they began their careers raising feeder pigs in a rented barn. Soon they were building their own bigger barns.
Indiana Prairie Farmer visited them during those days and did a story about two up-and-coming brothers striking out on their own in the hog business.
Related: Welcome new class of Master Farmers
It was the mid-1980s — tough times in agriculture. One wondered if the brothers' business would survive. As it turned out, it not only survived but thrived. But no one could foretell what direction their operation would take, and how it would impact agriculture across the country.
Ted and Terry began hauling and applying hog manure, not only for themselves but also for other hog producers. It wasn't a giant leap from applying animal manure to spreading solid waste from municipal waste treatment plants. Soon, Merrell Bros. was a company with multiple employees, fulfilling contracts to haul and manage municipal biosolids and spread it on farm fields.
More innovation
The story doesn't stop there. Today, Merrell Bros. is a company with 140 employees, still headquartered in rural Howard County, Ind., outside Kokomo. It manages municipal biosolids in several states, including Alaska, and is heavily centered in Indiana, Missouri and Florida.
The company has discovered ways to remove excess moisture from municipal biosolids, doing much of its own research on equipment and methods in its ever-expanding 137,000-square-foot facility in Howard County.
Related: Why others praise the Merrell families
Merrell Bros. built a unique facility in Pasco County, Fla., which combines the best of several existing technologies in drying and handling biosolids, coupled with some unique twists of its own. The product is a dry material called Florida Green, marketed as fertilizer for various agricultural uses.
The next step is pelletizing the product and marketing it as fertilizer in small plastic bags to home gardeners. Ted says the product should hit the market very soon, beginning in Florida.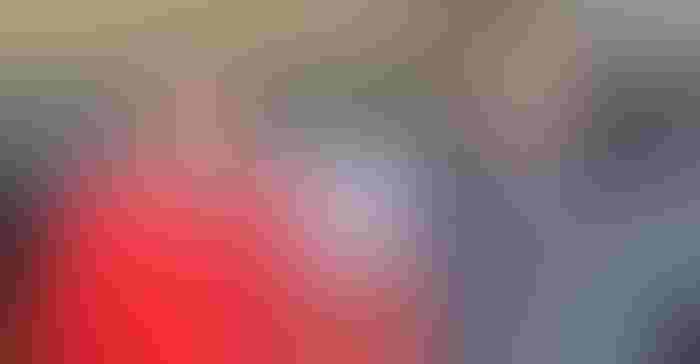 SEEK BETTER WAYS: Ted (left) and Terry Merrell don't just operate a business that spreads biosolids; they also search for more environmentally friendly ways to handle and process these materials.
Rural roots
Ted and Terry still actively farm in north-central Indiana, raising corn, wheat and soybeans. This year, they're also helping farm their father's acres. Dayton Merrell, who nominated his sons, was named a Master Farmer in 1999.
"The best thing Dad did for us was give us the opportunity to fail," Terry says. "That was a blessing. We made mistakes, but we figured things out and moved forward."
There is more to Merrell Bros. than just a large company employing cutting-edge methods to improve the environment in an area often overlooked and ignored in the past. Ted and his wife, Jean, and Terry and his wife, Nieta, each have four children, and each couple also invests time, energy and money in community and missionary projects outside the business.
Ted and Jean take the message of salvation and growth in Christ to both local communities and other countries through a missionary program called The Way. Individuals experience intense mentoring in faith. Learn more at theway2him.org.
Terry and Nieta are founders of Cross America, with a 23,000-square-foot brick-and-mortar facility in Kokomo, reaching out to people seeking salvation. The nonprofit also distributes religious material across the country, with the goal of reaching every home in America, one ZIP code at a time. To learn more, visit crossamerica.net.
By the way, what happened to Ted and Terry's hog operation?
"I hired a young guy named Steve Wallace early," Ted says, smiling. "He married our sister Teena, and we sold him the hog business."
Wallace still operates today as Wallace Pork Systems Ltd. The business includes custom feed milling operations. Visit wallaceporksystems.com.
The Merrells at a glance
Age: Ted, 59, with wife, Jean; Terry, 57, with wife, Nieta
Location: Kokomo, Howard County
Started in business: Ted and Terry Merrell started on their own, raising feeder pigs and farrowing sows in 1982. They soon invested in equipment to haul their own manure and did custom application. They formed Merrell Bros. Inc. and began hauling and applying municipal biosolids in many areas across the Midwest.
Entity today: The company includes an innovative facility in Florida that produces Florida Green, a dry, biosolids fertilizer. It will soon also be sold bagged for home gardeners. Merrell Bros. employs 140 people.
Farming: Ted and Terry raise corn, soybeans and wheat. This year, they're also helping with their father's farmland.
Children: Ted and Jean have four children: Katie (Dustin) Smith, Blake (Alyssa) Merrell, Brayden (Lauren) Merrell and Karson (Abby) Merrell, plus four grandchildren. Blake, Brayden and Karson are employed by Merrell Bros. Terry and Nieta have four children: Dustin (Briyanni) Merrell, Kira (Jake) Archer, Karlie (Rob) Wright and Klair Merrell, a college student. They have one grandchild. Kira works at Merrell Bros.
Servant service: Ted and Jean founded The Way to help individuals find their way to salvation. (It is in no way associated with The Way International based in New Knoxville, Ohio.) Terry and Nieta founded Cross America, with the goal of reaching every home in America with the message of salvation, one ZIP code at a time.
Nominator: Dayton Merrell, their father, who was named a Master Farmer in 1999
Notable: Ted and Terry first appeared in Indiana Prairie Farmer in the Hog Producer section in the mid-1980s, when both were in their 20s.
Subscribe to receive top agriculture news
Be informed daily with these free e-newsletters
You May Also Like
---