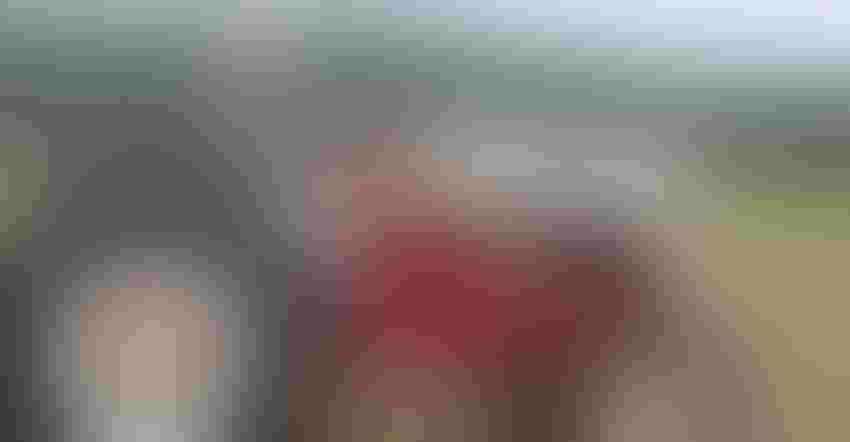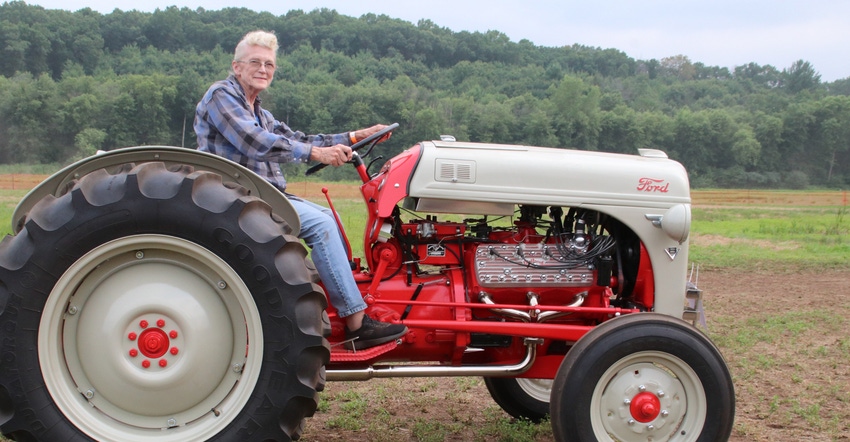 BEST MODEL: Sharon Green of Cadott, Wis., likes her Ford 8N because it is easy to get on and off, and has excellent brakes and visibility.
Harlen Persinger
Sharon Green from Cadott, Wis., first drove a Ford 8N tractor when she was 8 years old. As a youngster, her chores were to gather the cows from the pasture for milking each evening and drive on the hay wagon.
"Growing up on the 1948 model was a fun experience," she says. "I recall that going down a hill with a load of loose hay would cause the tractor to pick up speed. That situation could be somewhat precarious, but I always made it OK."
Originally advertised as a nice two-bottom plow utility tractor, the 8N was manufactured by Ford from 1947 to 1952 in Highland Park, Mich. It was a larger, newer machine than both the 9N and 2N, featuring more power and an improved transmission. It became the most popular Ford tractor of all time in North America, with over 530,000 units sold worldwide.
During its production years, the 8N was equipped with running boards, and painted light gray on the sheet metal and red on the body. It was the first Ford to feature a clutch on the left and independent brakes on the right. In 1950, the 8N design changed to feature a side-mounted distributor and a Proofmeter (combined speed meter, tachometer and hour meter) located on the lower right portion of the dash.
Other features were a wide front end, four forward gears and one reverse gear, 871 blower, mechanical steering, manual drum brakes, open operator station, rear type three-point hitch, PTO, four-speed manual powertrain, 10-gallon fuel capacity, and Ford 2.0-liter four-cylinder liquid-cooled gasoline engine. The Sherman Step-Up and Step-Down transmission provided two additional ranges — one higher and one lower — through the use of an auxiliary gearbox. The Step-Down was geared down by 1.513 to 1. The Step-Up was geared up by 1 to 1.495.
Sharon's husband, Orville, purchased their 8N Ford tractor for $600. The previous owner used it for plowing driveways, but one time the engine got hot, which cracked the block and allowed all the water to leak out.
Orville has a collection of other tractors and always had the idea to put a flat head Ford V8 engine in a Ford 8N tractor. In 2012, he purchased one with a bad motor and started working on it with help from his sons, Jeff and Glenn, during the winter months. They did all the fabrication and made the drawbar and grill guard out of stainless steel. Glenn polished and repainted it. Jeff did all the welding on the stainless steel, which took them two winters to complete.
"Today the little Ford is hauled to and driven in parades and tractor/car shows in Augusta, Fall Creek, Jim Falls and Cadott," Sharon says. "The 8N is easy to get on and off, has excellent brakes and visibility. Of course, it is my favorite, and many folks say it's the best tractor ever produced for its size and era."
Persinger writes from Milwaukee. To have your favorite tractor featured, email or send in a photo of yourself with your tractor, along with a 300-word write-up about the tractor to: [email protected] or Wisconsin Agriculturist, P.O. Box 236, Brandon, WI 53919.
Subscribe to receive top agriculture news
Be informed daily with these free e-newsletters
You May Also Like
---