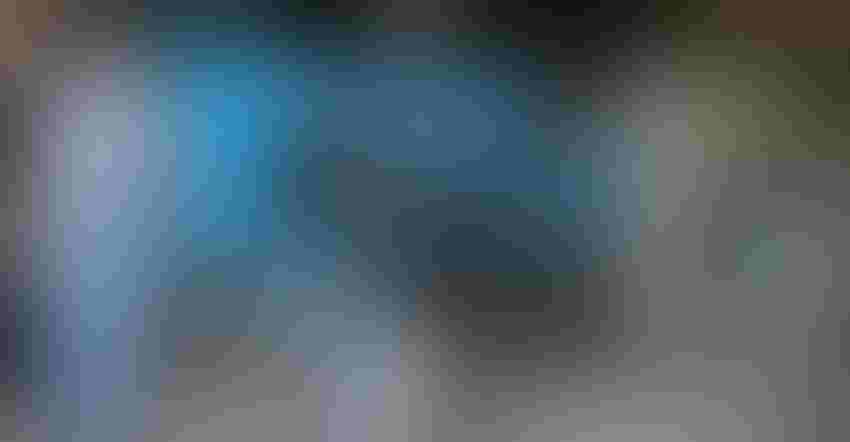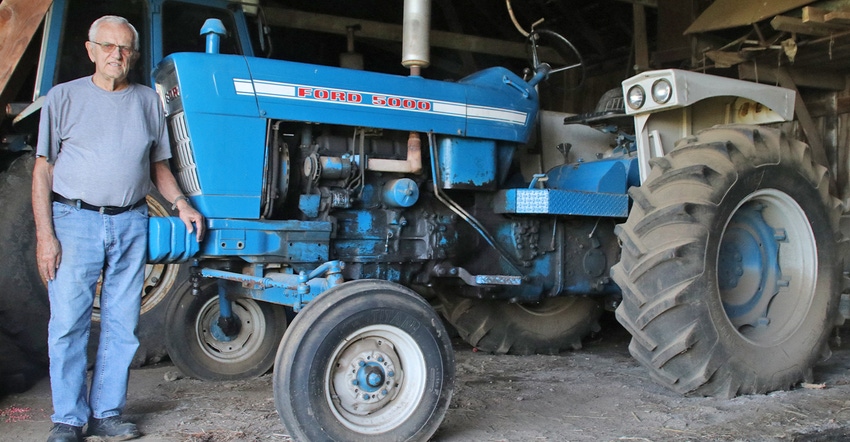 VERSATILE AND HANDY: In 1968, Lloyd Zastrow of Oconomowoc, Wis., bought this Model 5000 Ford tractor new. He used it to handle a variety of chores on the farm, including planting all of his corn, oats and alfalfa ground.
Lloyd Zastrow of Oconomowoc, Wis., purchased a brand-new Model 5000 Ford tractor in 1968.
"I had just bought the farm from my father, Herbert, and planned to rent an additional 150 acres, so I needed more horsepower, live hydraulics and power steering to handle all the corn, oats and alfalfa ground," he recalls. "So in March, I went to the lot at Ford Tractor Inc., in Watertown, Wis., and paid $8,600 for the machine, along with a 3-foot, 16-inch Ford mounted plow to replace a Farmall H and M."
During that spring and summer, the 5000 handled a variety of jobs, such as plowing, disking, dragging, planting, operating a New Holland 46 baler, hauling grain wagons, and harvesting corn with a two-row New Idea pull-type picker.
Basic features included a 3.8-liter, four-cylinder, liquid-cooled diesel engine; 4-by-2 two-wheel-drive chassis; 70-hp rating; wide front end; open operator cab station; weight of 5,865 pounds; differential mechanical wet disc brakes; power-assist steering; independent rear PTO; fenders; tachometer; Select-O-Speed transmission; 10 forward and two reverse gears; and four lights in the front and one in the back.
Ford Major
The blue and white tractor, named the Ford Major, was manufactured in Highland Park, Mich., from 1964 to 1969. During its 50 years on the Zastrow farm, the 5000 has worked 20,000 hours. The engine has been overhauled once, the tires replaced three times and a new seat added.
Zastrow remembers one day when his dad put the tractor into park and got off, but the shift slipped back into drive. "Fortunately, I was nearby and managed to crawl on and get it stopped," he says.
 The Jefferson County farmer owns another 5000 along with a 1988 Ford 7710 and a 1991 7710.
"I chose the Ford line of tractors because they offered more lugging power and exhibited the most fuel-efficient economy. I have never been disappointed with the 5000," he says. "It is very dependable, durable, has good maneuverability, excellent turning radius and always started in the winter for hauling manure and moving snow.
"I would like to restore the tractor. Hopefully it will stay in the family and one of my nine grandsons will have the opportunity to purchase it and work the farm."
Persinger writes from in Milwaukee, Wis. To have your favorite tractor featured, email or send in a photo of yourself with your tractor, along with a 300-word write-up about the tractor, to: [email protected] or Wisconsin Agriculturist, P.O. Box 236, Brandon, WI 53919.
Subscribe to receive top agriculture news
Be informed daily with these free e-newsletters
You May Also Like
---