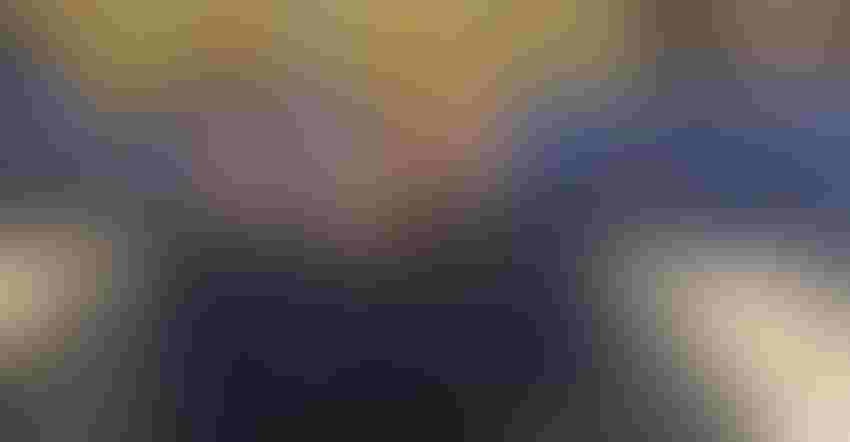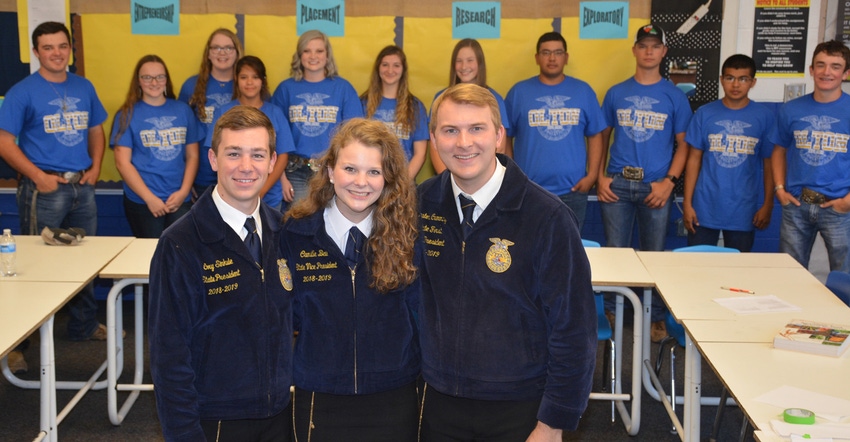 State FFA officers visit area schools. Front left to right: Texas FFA President Cory Sinkule, Area Vice President Camille Bell and First Vice President Preston Cummings. Olton High School FFA officers, left to right: Vice President Kade Blount, S. Advisor Kambry Roberts, Reporter Esmeralda Lopez, Treasurer Madison Young, President Breely Huguley, Sentinal Adysson McFadden, Greenhand S. Advisor Kallie McCall, Secretary Daniel Ibanez, Chaplain Alec Pinkerton, member Alex Zuniga, Greenhand President Kyle Blount.
Each year State FFA Officers visit about 400 Texas high schools giving presentations and workshops on leadership. On a fall day in September, Texas FFA President Cory Sinkule and First Vice President Preston Cummings made a stop at Olton High School.
"We visit three high schools on average a day," says Cummings, who is studying agricultural education at Tarleton State University. "We defer a year of college and we pretty much spend it on the road until May."
Joining them was Area Vice President Camille Bell, an Agricultural Communications major at Texas A&M University, from Lubbock. Texas is broken into 12 FFA areas. Each area has an officer who travels with the state team for a week. "I'm from Area 1, which is most of the Panhandle, and Olton is in Area 1," says Bell, who's taken a week off from college to travel with Sinkule and Cummings.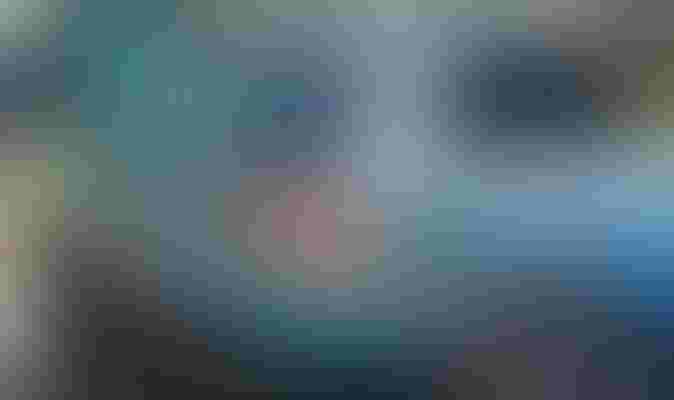 The Texas FFA Travel Team addressed the student body about time management: "Seeing that time is limited, therefore, the need to focus on things that are important to our priorities, our passions, our goals, so we can best spend our time," says Cummings.
The State officers also conducted a workshop for 10 Olton FFA officers focusing on teamwork and how to make relationships within their team more effective.
Sinkule, who will attend Texas A&M next fall, credits his FFA chapter in Penelope, for helping him find his place in high school. "It developed me, got me out of my comfort zone. I was able to learn how to speak in front of people and articulate my thoughts. FFA prepared me for a career in agriculture and that's what we do as we travel the state, we share the message of leadership, motivating kids and inspiring them, to make the most of their time in high school."
All three officers agreed, traveling and taking time off from school has been rewarding. "My favorite part is traveling and seeing students, trying to meet them where they are, motivating them to get more involved and to take advantage of opportunities they might be too shy to do," says Cummings.
Bell says she's enjoyed being home for a week and getting to know the area high school FFA members. "It's fun to make someone feel like they're included, that they're a part of something bigger than themselves. So, to be able to serve in that capacity and advocate for the organization that shaped me and gave me personal growth, has been really cool."
As for Sinkule, he points to his team's trip to Washington D.C. to advocate for the National FFA, agriculture issues and the farm bill with legislators as his most rewarding experience thus far.
While not all officers grew up on a farm or ranch or in a large FFA program, Sinkule says FFA offers something for everyone. "You don't have to come from small town USA; you can come from the city. There's something for everybody. No matter how big your school is, what your interests are, you can pursue your passions and follow them in some form or fashion."
"Everything we do in FFA, carries with you to the real world," says Cummings. "That's the biggest thing we talk about, making tomorrow's leaders today. Everything you do now isn't meant to stay in high school, but to go with you after you graduate."
About the Author(s)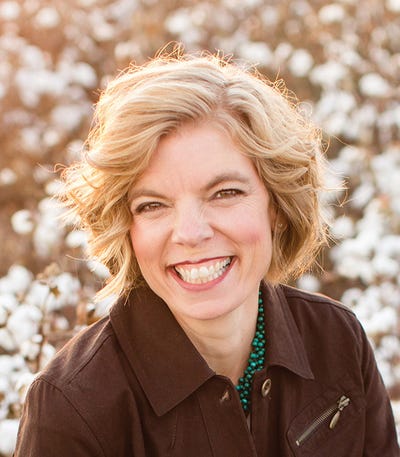 Editor, Southwest Farm Press
Shelley Huguley has been involved in agriculture for the last 25 years. She began her career in agricultural communications at the Texas Forest Service West Texas Nursery in Lubbock, where she developed and produced the Windbreak Quarterly, a newspaper about windbreak trees and their benefit to wildlife, production agriculture and livestock operations. While with the Forest Service she also served as an information officer and team leader on fires during the 1998 fire season and later produced the Firebrands newsletter that was distributed quarterly throughout Texas to Volunteer Fire Departments. Her most personal involvement in agriculture also came in 1998, when she married the love of her life and cotton farmer Preston Huguley of Olton, Texas. As a farmwife she knows first-hand the ups and downs of farming, the endless decisions that have to be made each season based on "if" it rains, "if" the drought continues, "if" the market holds. She is the bookkeeper for their family farming operation and cherishes moments on the farm such as taking harvest meals to the field or starting a sprinkler in the summer with the whole family lending a hand. Shelley has also freelanced for agricultural companies such as Olton CO-OP Gin, producing the newsletter Cotton Connections while also designing marketing materials to promote the gin. She has published articles in agricultural publications such as Southwest Farm Press while also volunteering her marketing and writing skills to non-profit organizations such a Refuge Services, an equine-assisted therapy group in Lubbock. She and her husband reside in Olton with their three children Breely, Brennon and HalleeKate.
Subscribe to receive top agriculture news
Be informed daily with these free e-newsletters
You May Also Like
---