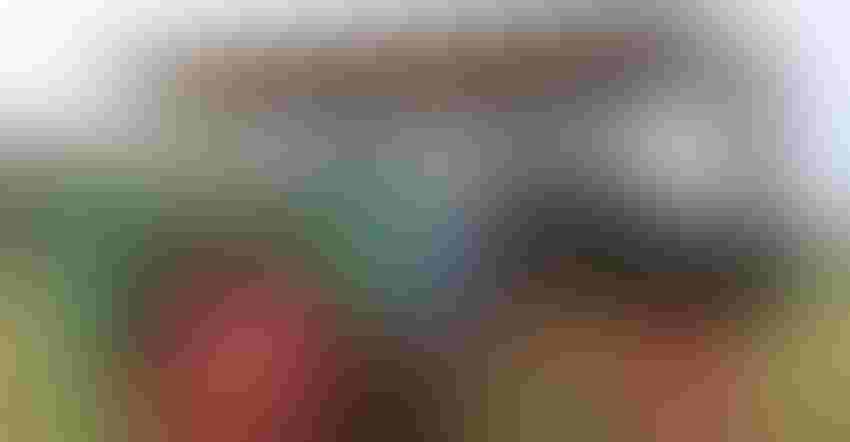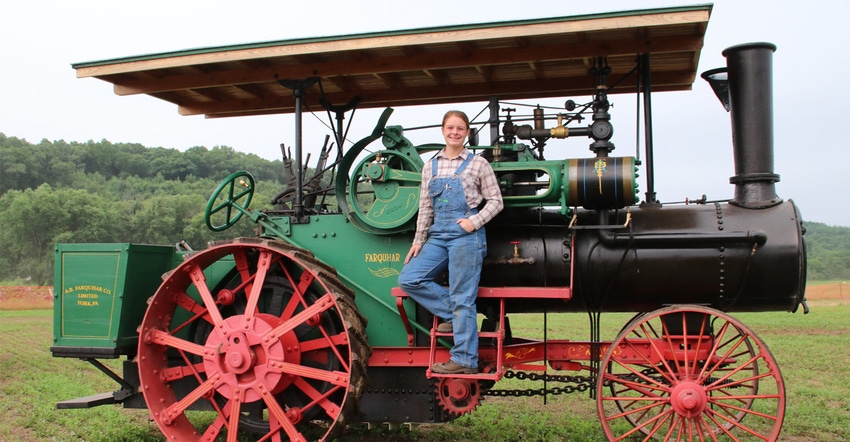 STEAM LOVER: Lilly Wahl of Mayville, Wis., knows every bolt and every quirk associated with this Farquhar steam engine. From 2019 to 2021, she was selected queen for the Western Minnesota Steam Threshers Reunion.
Harlen Persinger
Arthur Briggs Co., the manufacturer of steam tractor engines, gasoline farm tractors and agricultural implements, has its roots planted deeply in the industrial history of the city of York in south-central Pennsylvania.
As a young man, Mike Wahl would often venture out from his home in Brandon, Wis., to visit tractor shows across the area. His grandfather Harris Firch owned several IH machines, which spurred his interest in this type of farm equipment. But while working with a local steam enthusiast, Danny Moerke, in the mid-1980s, Wahl began to focus on steam engines.
It was soon evident that the young man had "steam in his blood." After much persuasion, he convinced his parents that they should purchase their first steam tractor: a 1921 15-hp Style K Farquhar. In 1991, Wahl found one in Illinois. Originally it came from Virginia and had been used to steam tobacco beds. The engine was in working condition, and the Wahl family went to various events in Wisconsin for the next 20 years. But then it was parked in the shed.
Fixer-upper
In 2017, Wahl decided to make some repairs so he could get the steam engine running again. He added an original-style canopy, rear deck, gear guards, and a water and fuel tank. Other major improvements included some boiler work, retubing, a new firebox door ring and re-piping. With an engine like this, it all comes with the territory. This hobby can be quite challenging because only a dozen or so are known to exist, and they must be preserved. Some general parts may be available, but most items must be manufactured by knowledgeable craftsmen.
"At 5 weeks of age, I experienced my first steam engine, and I can't remember when this big ol' thing wasn't a part of my life," says Wahl's daughter Lilly. "I started driving at 9 by standing on three pieces of wood and Dad helped me steer. Now I'm the primary operator, along with assistance from my sister, Maddy, because Dad prefers to work with the sawmill."
The first job to do every morning is to punch out (or clean with a wire brush) about 35 flues that run from the end of the firebox to the front of the engine to remove soot. That grit decreases the conductivity of the metal so the water doesn't heat as effectively. The family says the most difficult part of running this rig is that some items are not exactly as they seem. A simple fix often turns into something a lot bigger.
This particular steam engine was designed specifically to work on road construction. Therefore, it was manufactured with the fly wheel on the opposite side of a typical engine to allow for increased visibility while steering. The engine was also designed with a heavy frame that is detached to reduce stress on the boiler when pulling. The standard operating power is 125 pounds per square inch. It weighs 18,000 pounds and has a top speed of 2.5 miles per hour.
"My biggest reward with this machine is providing inspiration to other young girls so they have the confidence to get behind the steering wheel. My advice to them is work hard, ask questions and keep your nose to the grindstone because there is always more to learn," Lilly says. "It might take extra hours to do all the maintenance to keep everything running smoothly, but I don't mind. This is truly a wonderful hobby because working with steam is like having another family, and it is a privilege to help such a unique piece of history."
Persinger writes from Milwaukee. To have your favorite tractor featured, email or send in a photo of yourself with your tractor, along with a 300-word write-up about the tractor, to: [email protected] or Wisconsin Agriculturist, P.O. Box 236, Brandon, WI 53919.
About the Author(s)
Subscribe to receive top agriculture news
Be informed daily with these free e-newsletters
You May Also Like
---