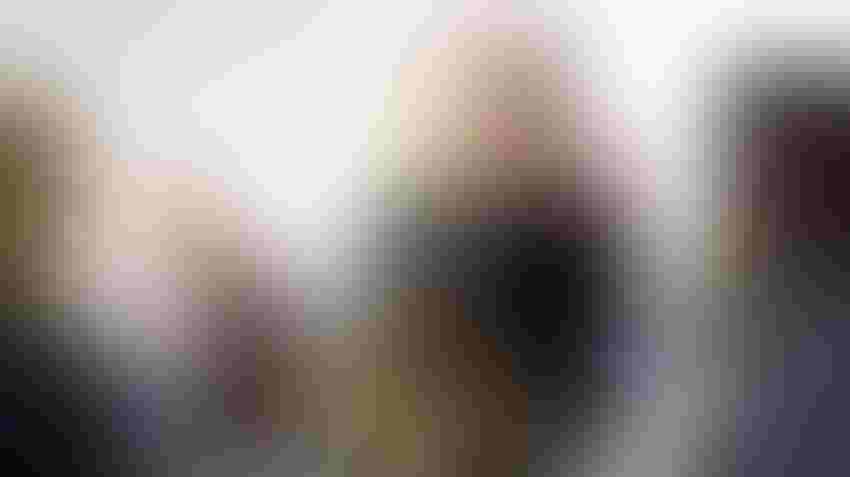 Colorado State University professor Temple Grandin developed a system for moving cattle that calms animals before being weighed.
UCANR
As a 28-year-old woman with Down syndrome, Anika Pounds has worked washing dishes, folding silverware into napkins, doing laundry and cleaning health club machines. She wants something more. 
The RAM Scholars program for adults with an intellectual disability at Colorado State University strives to facilitate meaningful employment for Pounds and her classmates. October was National Disability Employment Awareness Month, supporting inclusive employment practices that benefit both employers and employees. 
The RAM Scholars pilot initiative began this spring at CSU's Agricultural, Research, Development and Education Center, or ARDEC, and with classes at CSU. That was followed by a summer internship program at ARDEC and classes this fall. The goal is to match adults with disabilities to jobs in agriculture, an industry that needs employees.
"It's great to be free to help animals," said Pounds, fresh off learning about the curved cattle corral and chute system at ARDEC. "It makes me feel better to calm down and tell myself to be independent."
Pounds speaks two languages (English and her mother Ingrid Grotheer's native German), walks to CSU's main campus from home, rides horses, dances, plays musical instruments and has traveled to visit family in Germany and to Italy with former classmates and teachers from the Poudre School District. 
"Where a lot of people would maybe be OK with menial work or simple things, she gets bored with that," said Grotheer, who stressed she cannot fully express how much RAM Scholars means. "This program has been really good because it is challenging her mentally, and she's really enjoying it."
Learning specific skills
On a recent clear and sunny day, RAM Scholars learned how the cattle moving system developed by CSU Professor Temple Grandin calms animals before being weighed. Students took turns catching the cattle in just the right spot of the hug machine, which reduces stress by applying even pressure across the animal's body.
"They're gaining exposure to a potential pathway to jobs in a sector that is employing here in Colorado," said Deborah Fidler, a professor in the Department of Human Development and Family Studies and director of the department's Developmental Disabilities Research Laboratory.
 James Graham, a professor in the Department of Occupational Therapy and director of the department's Center for Community Partnerships, and Fidler are the program's co-directors. "There are a lot of potential employers for people who have specific technical skills in the field of agriculture," Fidler said.
Pounds, classmate Alec Robinson and other RAM Scholars worked Grandin's cattle hug machine. It was hands-on, real-world learning from expert teachers and peer mentors from the College of Health and Human Sciences and the College of Agricultural Sciences. "As Dr. Grandin says, we don't know what an individual might excel at until they have exposure to it," Fidler said. "When Alec and Anika have the opportunity to learn new technical skills, that's one more exposure that they have for potential employment."
Peer mentor and CSU senior Brianna Honeycutt has worked as a research assistant in Fidler's lab for three years. Honeycutt wants to be an occupational therapist, so supporting and teaching adults with disabilities is a good fit. Developing relationships with the participants is a benefit.
Honeycutt said, "All seven of us were walking across the Oval, and Alec, one of our RAM Scholars, looked at me and said, 'I love college, I love being a student. This is so fun.' At that moment I thought, 'That's what this is about.'"
Campus collaboration
Fidler said the collaborative program partners are experts who focus on optimizing participation for people across the lifespan with coursework opportunities to learn about horticulture, germination, row cropping systems, greenhouse operation, agronomy, and livestock handling and sorting.
Classes on CSU's main campus taught by Department of Occupational Therapy staff focus on developing practical life and job-related skills.
"We aim to provide a broad exposure to the field of agriculture so that when RAM Scholars finish the program, they will know exactly which next steps they want to take on their career pathway," Fidler said.
Fidler said RAM Scholars started with funding from Larimer County to develop a workforce innovation program for people with intellectual and developmental disabilities. A state funding grant allowed CSU to expand the program with additional staffing and administrative resources to sustain the program. 
Nathan Clark, a senior instructor in agricultural education, said his job is to train future teachers and that serving neurodiverse learners has elevated his work.
"When you put a student on the path to becoming a future secondary agriculture teacher in a classroom like this, working with the RAM Scholars students, and alongside  peer mentors who specialize in working with neurodiverse learners, your vision of what can happen in your future classroom opens wide," Clark said.
"These future teachers become more in tune to all the diversity they will have in their future classrooms and are confident they can accommodate whatever needs their students will have."
RAM Scholars is a collaboration between CSU's College of Agricultural Sciences and College of Health and Human Sciences.
Partners help scholars
Last year Colorado passed a bill to expand opportunities for inclusive postsecondary higher education. Fidler said the RAM Scholars program was selected as one of two new expansion initiatives. The goal is to add six to eight Scholars per year and, by the third year, have 18-24 students.
Fidler has been in the field of intellectual and developmental disabilities research and practice for more than two decades and is grateful for all the community partners working in that space. Northern Colorado entities include: Foothills Gateway; Disabled Resources Center; Aging and Disability Resources for Colorado; The Arc of Larimer County; The Arc of Weld County; and Access and Ability.
"This feels like a full circle kind of opportunity where we can create something that provides a resource and provides a service," she said. "Our community partners have provided so much of their time and energy to supporting and participating in our research activities at CSU, and this feels like the next step in growing our community together."
Fidler, Graham, Clark, the peer mentors, program coordinator and applied developmental science doctoral student Kaylyn Van Deusen and CSU's leadership all hope area agricultural employers find new employees.
"I think I'd want the broader community to know that we're working really hard to prepare productive and valuable members of the work force," Fidler said. "Our scholars have elevated every learning environment that they've been in, and they can do the same thing for future employment environments as well."
Anyone interested in getting involved with RAM Scholars can call (970) 430-5454 or email [email protected].
Source: Colorado State University
Subscribe to receive top agriculture news
Be informed daily with these free e-newsletters
You May Also Like
---