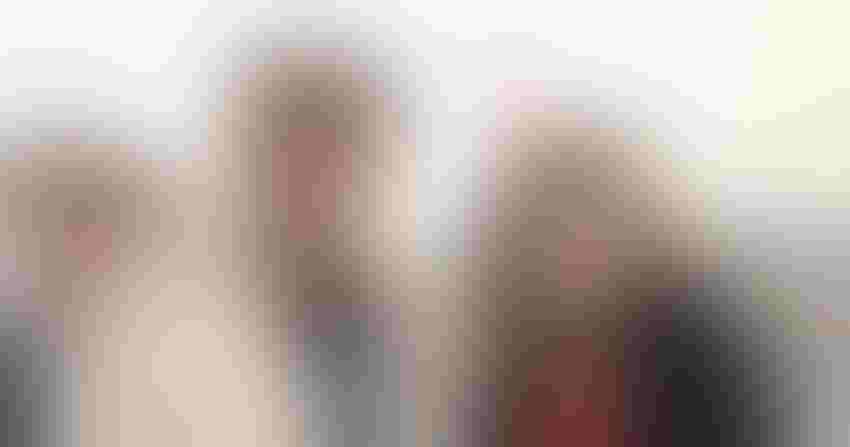 Larry T. Robinson, left, CEO and founder of Kudzukian, an independently-owned audio and visual content producer, visits with Colleen Coury, West Tennessee public affairs coordinator for the Tennessee Department of Agriculture. Kudzukian live-streamed the Memphis, Tenn., Agricenter's Ag Day Student Art Contest and Exhibition at the Agricenter's Farmers Market.
Forrest Laws
Joe McKinnon reached into his pocket and pulled out a $1 bill. "Anybody know what this is?" he asked the audience attending the Memphis, Tenn., Agricenter Ag Day Student Art Contest and Exhibition.
"Usually, when I'm doing an educational program, I will have a miniature cotton gin, and I'll ask the kids what this is?" said McKinnon, field services administrator for the Tennessee Farm Bureau. "They will say a dollar bill or money.
"Anybody want to take a guess at what our money is made of?" he asked, drawing blank stares from the gathering primarily of students and teachers. "How many say trees, from wood or paper? It is paper money, right? This is 75% cotton and 25% linen, which is why you can wash your money but not your kids' homework."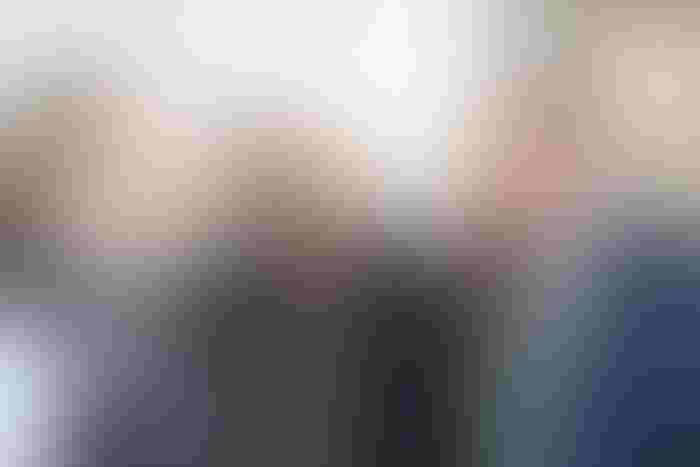 Joe McKinnon, left, Tennessee Farm Bureau and Jim Todd, UT-TSU Extension Service, talks with Cliff Norville, director of public works in Shelby County, Tenn. Norville represented Shelby County Mayor Lee Harris in welcoming guests to the Memphis, Tenn., Agricenter Ag Day Student Art Contest and Exposition. (Forrest Laws)
McKinnon was part of a panel discussion at the event led by Margaret Oldham, director of entrepreneurship at AgLaunch Memphis. The other panelists were Colleen Coury, West Tennessee public affairs coordinator for the Tennessee Department of Agriculture, and Jim Todd, Shelby County director for the University of Tennessee Extension Service.
Importance of ag
The primary purpose of the panel was to acquaint the Agricenter art contest participants, many of whom have never been near a farm, and other guests about the importance of agriculture and the career possibilities in the field.
"I'm really hoping that one of our audience members today will be on this stage talking about how agriculture impacted their lives in a few years," said Oldham, who has worked in communications with different agricultural entities over the years. "That's my goal – let's see if we can make that happen.
"We are excited today to talk about developing leaders in agriculture," she noted. "You've already heard about how important the ag industry is to our state and our nation, and we can't keep that engine going without a lot of leadership."
Farm Bureau, which was founded in 1921 to help farmers tell their story, has been active in promoting its Ag in the Classroom program, which provides materials to teachers, most of it free of charge.
"It's not to make the kids farmers but to make them aware of how agriculture is a part of their lives," said McKinnon. "Ag in the Classroom, for example, will teach kids where their money comes from and other facts like that. We also have leadership programs that are designed to help farmers better tell their stories and improve understanding of ag issues."
Extension Service
The University of Tennessee Extension Service, which was founded in the early 1900s, also provides leadership training for farmers along with research information about how to better grow their crops and livestock.
"When you think about the commodity groups like soybeans and corn, nurseries, livestock, forestry, Extension has always had a role in leadership development and getting those organizations off the ground," said Todd.
"Currently, one of the strongest programs we have now is that for master gardeners," he said. "That's a program that we train adults to not only conduct core social programs, to be activists for agriculture, but as they conduct those they extend what our agents can do."
Todd also discussed a joint Extension-Agricenter program that provides tours of the Agricenter research and farm operations for students nine years of age to past high school to help youths from urban areas of Memphis learn more about agriculture.
Coury said a major portion of her job with the Tennessee Department of Agriculture is conducting outreach programs to help students gain a better understanding of the role of agriculture in their lives.
"(Tennessee Agriculture) Commissioner Charlie Hatcher is very passionate about education," she said. "I think it's important to talk to kids about careers when they're in the ninth grade and are starting to get involved in Future Farmers of America. But I also think there's a lot of value in talking to children in the primary grades.
"I would love to say we have a public school curriculum where we talk about reading, writing, arithmetic and agriculture because it is the foundation of life, and there isn't any part of our life that isn't touched by agriculture. I think the younger the better when we can get kids exposed to agriculture."
About the Author(s) Forrest Laws, senior director of content for Farm Press, spent 10 years with The Memphis Press-Scimitar before joining Delta Farm Press in 1980. He has written extensively on farm production practices, crop marketing, farm legislation, environmental regulations and alternative energy. He now oversees the content creation for Delta, Southeast, Southwest and Western Farm Press. He resides in Memphis, Tenn. He served as a missile launch officer in the U.S. Air Force before resuming his career in journalism with The Press-Scimitar.
Subscribe to receive top agriculture news
Be informed daily with these free e-newsletters
You May Also Like
---