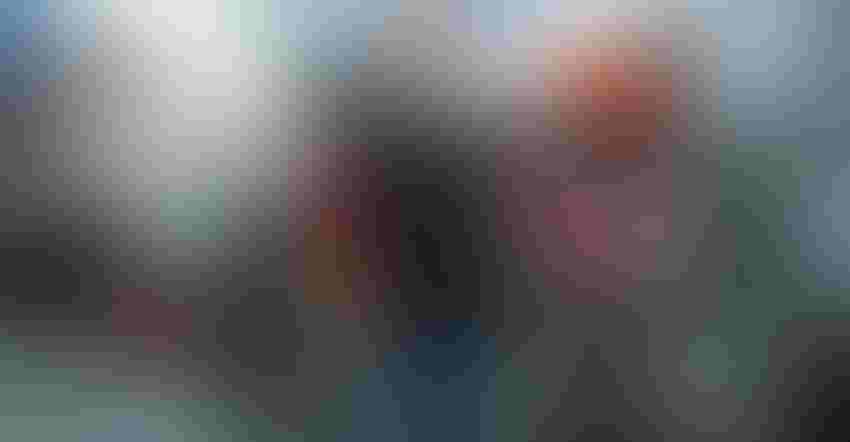 READY TO COMPETE: Matthew Streit, president of the Cyclone Power Pullers, poses with this year's tractor (left) and last year's model (right) inside a Sukup Hall workshop on the ISU campus at Ames.
Christopher Gannon
The 2017 Cyclone Power Pullers hope to squeeze every last bit of efficiency out of the tractor they've built from scratch this academic year. The Iowa State University team has taken many of the concepts and components introduced in previous years and refined them in an effort to make sure not a single ounce of power is wasted.
"We've looked at the different components that have worked before, and we're just trying to get better performance out of the entire system," says Patrick Haight, this year's team leader and junior in agricultural systems technology. The team's workshop is located in Sukup Hall on the ISU campus at Ames.
Members of the Cyclone Power Pullers team, a long-standing ISU student organization that designs and builds a quarter-scale tractor to compete in an annual national competition, feel confident that their creation, which they're calling "The ExCYter," will pull some serious weight. Last year's model finished in the top half of all entrants in the weight-pulling portion of the competition, and Haight, a native of Denver, Iowa, says this year's tractor will feature better efficiency and torque.
Entrants are judged on various criteria
The competition, organized by the American Society of Agricultural and Biological Engineers, starts June 1 in Peoria, Ill. The entrants are judged on a range of criteria, including performance, safety, ergonomics, manufacturability and maneuverability. In addition to showing off how the tractor performs, the team will also be judged on a written submission and oral presentation.
The 2016 Power Pullers placed sixth overall out of 27 teams. The team finished first for its written report and third in team oral presentation. The Power Pullers also received the award for the most innovative tractor, due to their design using an electronic transmission vs. the standard hydraulic. They also took first in sound, which means their tractor was the quietest at full throttle. Finally, they took home first place in the safety portion of the competition as well.
Tractor built from scratch
The electronics, a hallmark of last year's tractor, received an upgrade this year, said Matthew Streit, the club's president and senior in mechanical engineering from Gowrie. Last year's tractor sported rear-wheel electric motors that could channel a maximum of 48 volts. The ExCYter's wheel motors can handle a maximum of 72 volts, meaning less power will be wasted. The team also fashioned the tractor's frame from a single piece of steel to make it watertight and to protect the electronics.
"Our 2017 team hopes to build on the success of previous years by refining concepts and components that worked well in past competitions," Streit says. "Last year, we tried some new things that got good results. This year, we feel even better about what we're doing and how all those concepts can work together."
Source: ISU
Subscribe to receive top agriculture news
Be informed daily with these free e-newsletters
You May Also Like
---