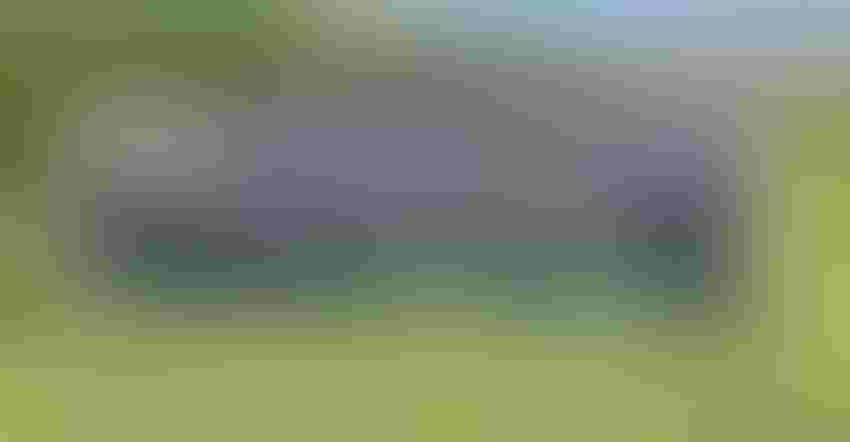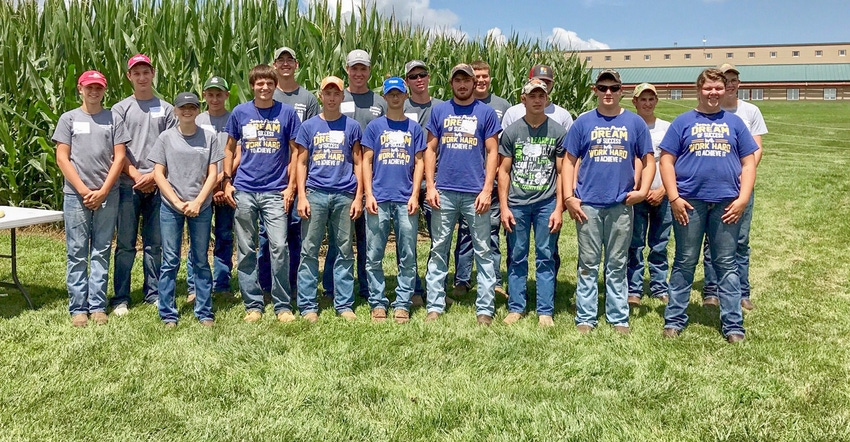 FIELD EXPERIENCE: Contest participants included the Kornhusker Kids 4-H, Humphrey FFA, Colfax County 4-H and Norris FFA.
In early August, 19 members of FFA and 4-H from five teams across Nebraska gathered at the Eastern Nebraska Research and Extension Center (ENREC) to compete in the fourth annual Youth Crop Scouting Competition.
County fair season brings plenty of opportunities for youth to participate in livestock competition, but as Brand VanDeWalle notes, kids don't have many chances to compete in crop-related contests. This is where the Youth Crop Scouting Competition comes in. "It's real-world crop scouting, with real, in-depth challenges," says VanDeWalle, University of Nebraska Extension educator who coordinates the event.
The competition's goal is to provide students an opportunity to learn crop scouting and principles of integrated pest management for corn and soybeans in Nebraska.
The contest includes seven field scouting stations where students compete as teams, scouting for corn and soybean diseases, insects, weed identification, and nutrient management, as well as general scouting and staging of corn and soybeans. There's also a 25-question written test participants take individually. At the field stations, students use resources like UNL and the Nebraska Department of Agriculture's publication, Weeds of the Great Plains, as well as crop scouting apps on their smartphone.
This year, five teams competed. Colfax County 4-H took home first place, while Kornhusker Kids 4-H of Cuming County took home second. Also competing were two teams from Humphrey FFA, as well as Norris FFA.
The event, sponsored by DuPont Pioneer and the Nebraska Independent Crop Consultant Association, offers a $500 cash prize to first, $250 for second and $100 for third-place teams.
VanDeWalle notes the competition gives kids a chance to not only diagnose and address real-world problems in corn and soybeans, but also network with Nebraska Extension educators and specialists, and prepare for potential careers in agronomy. And this year brought a few unique challenges to the competition.
"This year participants had a chance to distinguish the difference between bacterial leaf streak and gray leaf spot. That was definitely a unique challenge for some of them," VanDeWalle says. "There were a lot of Japanese beetles out there — another thing we don't usually see in the competition. They had a chance to determine whether a treatment should be applied."
Colfax County 4-H has taken first place for four years now. Aaron Nygren, Colfax County Extension educator and coach of the Colfax County 4H team, notes several team members have been involved in the contest for all four years.
"Over time, they've learned to pick things up and can spot them pretty quickly," says Nygren. "If there's something they haven't seen, they have resource materials available, so that gives them an opportunity to identify new things they haven't seen before. An agronomist out in the field may not always know the answer, but they still have to find out what's going on in the field."
"Seeing something in a book goes a long way, but seeing it in the field and having experience on the ground is what people in industry look for," Nygren adds. "There are some things they see at ENREC like Japanese beetles, which are becoming a bigger issue across the state. Last year the team went to Iowa to compete, and there were things we saw there we would never see in Nebraska, like potassium deficiencies."
Again, this year the top two teams will be going on to compete against teams from Iowa and Indiana. This year they will go to West Lafayette, Ind., on Aug. 28. "We're hoping down the road it may turn into a regional or national competition," says VanDeWalle.
More information about the crop scouting competition is available at cropwatch.unl.edu/youth. Click on the link that says, "Crop Scouting Competition." Next year's competition will be July 26 at UNL's Eastern Nebraska Research and Extension Center again.
Subscribe to receive top agriculture news
Be informed daily with these free e-newsletters
You May Also Like
---