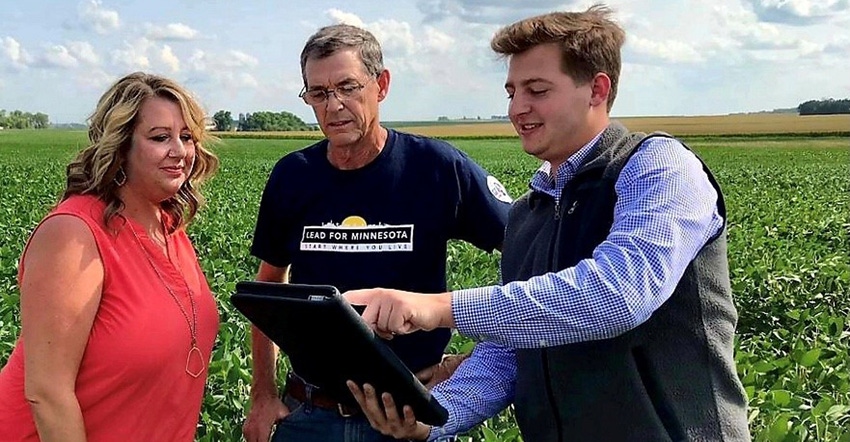 The American Connection Project's goal is to bridge the rural digital divide by sponsoring fellows to serve two-year fellowships in underserved areas. Briana Mumme (left), Redwood County Economic Development Authority coordinator' farmer and Lead for Minnesota board member Bruce Tiffany; and Patrick Garry, the county's American Connection Corps fellow, have helped promote and develop broadband access in their area.
Courtesy of Redwood County Economic Development Authority
Often compared to the quest for rural electrification in the 1930s, the push for high-speed internet access in rural areas continues across the U.S.
Federal and state programs have provided billions of dollars to bridge the digital divide in areas with low populations. Philanthropic foundations also have heavily invested in efforts, such as the American Connection Corps. ACC specifically focuses on supporting its fellowship program that places young adults in rural areas to work alongside local community leaders on broadband development, digital access and digital literacy.
ACC falls under the umbrella of Lead for America, co-founded in 2018 by four young college-educated adults interested in returning to and revitalizing their home communities. One of the cofounders, Benya Kraus Beacom, returned to her family's sixth generation farm near Waseca, Minn., in 2019. Once considering a career in international relations, Beacom redirected her interests after her college junior year, when she spent the summer at home.
"I learned what challenges were here [in a rural community] and learned more about my family, the ethos here," Beacom says. "I also got to know my grandpa better before he passed. He was a role model for me and my family. I realized I needed to shift my plans. I wanted to do what my grandpa did and have pride in place."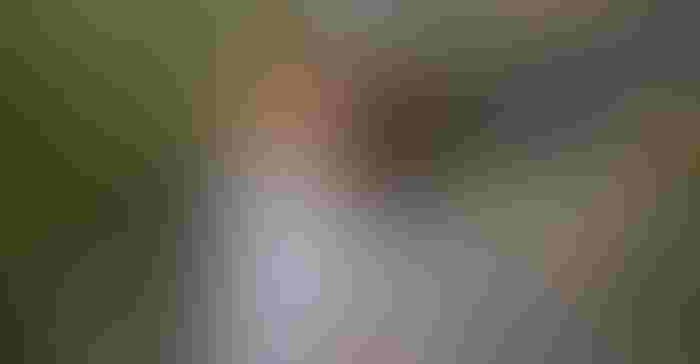 Beacom reached out to Tina May, Land O'Lakes Inc. vice president of rural services, who shared similar interests in small community development. The co-op also had been working to improve digital connectivity in rural communities. They decided to pilot a cohort, and in August 2021, along with the Mayo Clinic, Midwest Dairy and Scoular, placed six ACC fellows in Redwood and Ottertail counties, the Mille Lacs Band of Ojibwe community, the East Iron Range and the cities of Warroad and Fairmont.
Today, ACC has 250 fellows across 40 states. In Minnesota, fellows work in more than 30 communities, including Waseca and Koochiching counties, which were added in 2022. Land O'Lakes serves as organizer of the effort, called the American Connect Project, which has grown into a 1,765-member coalition of business leaders investing significantly in broadband. The connection partnership advocated for the passage of the federal Infrastructure Investment and Jobs Act, which allocated a historic $65 billion in broadband funding.
Redwood County fires up
When fellows start working in a community, their focus is threefold — on broadband development, digital access and digital literacy. They work at coordinating all providers in the area, obtain accurate digital maps, work with engineering firms to determine fiber needed, and engage with the community, Beacom explains.
In agriculture-rich Redwood County, Patrick Garry spent his first fellowship year working alongside local county government staff and host Briana Mumme, the county Economic Development Authority coordinator.
"As a 23-year-old, I was placed in charge of the county's broadband program," Garry says. "Briana helped me navigate the community. She has a tremendous amount of community knowledge and respect, which was absolutely catalytic to our initiative."
While Mumme provided strong local context, Garry supplied high-energy focus to the task. In one year, they worked alongside local internet providers and devised a far-reaching goal: to bring gig-speed fiber to every home and business in the county.
"We wanted a network that would rival Chicago, New York City and the Twin Cities," Garry says, adding that it would be a generational investment. "We adopted the motto 'Bold Today, Bold Tomorrow.' Rural success is measured in generations, not in years. The community wanted to build a foundation for the next generation of young people to build the next chapter of rural America."
The county's largest project currently underway, referred to as the "Cadillac Project," looks to serve 30% of the county with fiber. The $4.4 million project pools the county's American Rescue Plan funds, internet provider contributions and the state's Border-to-Border Grant. Population-wise, it serves 1,870 structures making up eight cities.
"This project and initiative represent a community's effort to change the trajectory of a rural community," says Garry, who is finishing his second fellowship year in Chicago. "If you look at the numbers, Redwood County is a shrinking community, businesses are closing and young people are leaving. This project represents the first step towards challenging the narrative and rewriting the future. It shows that big ideas and groundbreaking initiatives can happen in rural America."
Ottertail County on a roll
ACC fellow Carter Grupp, based in Fergus Falls, Otter Tail County, has an impressive resume of accomplishments in his first year, too. He has helped establish 10 Zoom conferencing rooms and built an app to use them. He developed STEM curriculum and kits for three county libraries. He promoted a speed testing campaign to get real data on how his community was being served by internet service providers.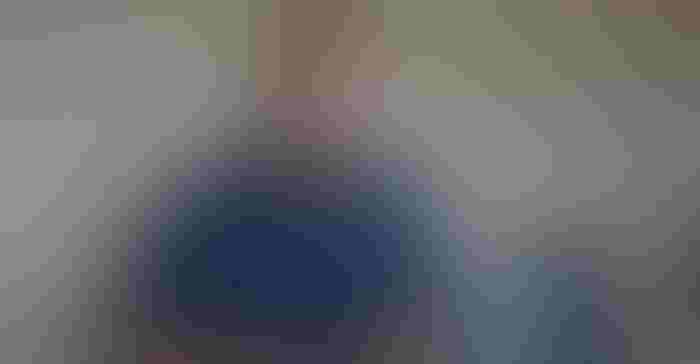 Data reported to governing agencies isn't always reflective of actual speeds delivered, which makes a tool like speed testing important in planning and applying for broadband funding. As with most data, the more of it, the better. Results show that sparsely populated, rural areas of the county are on the wrong side of the digital divide.
While fiber installation work is pending, Carter has widened his circle of digital inclusion to all ages of county residents and has three pilot projects going in his second year as a fellow. The first pilot focuses on increasing the comfort level of seniors in using technology. Through Fergus Falls community education, Grupp taught free classes on technology use to older residents. They were encouraged to bring in any device and received help to use it. Other communities and counties heard about the classes and want to offer similar instruction.
"I'm looking for tech-saving high school students who can help with this," Grupp adds. "I hope Minnesota recognizes that this is not just for older citizens, but also underequipped communities."
Closest to his heart these days is promoting computer science as a potential career to high school students — his second pilot project. Grupp teamed with Luke Heine, who works for Microsoft and last year, held the first remote statewide youth computer science training program — the Northland Hackathon. The educational event teaches youth how to code, design their own apps and websites, and showcases career opportunities with companies such as Meta, TikTok or Microsoft. Last year, more than 30 high schools participated virtually. The event in 2023 is set for April 23.
"Minnesota ranks last in the U.S. in offering computer science courses in high school," Grupp explains. Of those 24% of high schools that do offer classes, most are in the Twin Cities.
"This is an opportunity for rural kids to meet others like them, to build and develop something cool," he says, adding that they are looking for additional partnerships to help support the statewide effort.
Grupp's third pilot project focuses on modernizing small businesses and equipping them with technology tools to improve their digital access. He is currently working with Greater Fergus Falls, the county's economic development agency, on tech development training and the opening of a co-working space.
"We need broadband access to live in rural Minnesota," he concludes. "We need to modernize rural areas and agriculture with the equipment and tools that are technology-related. It is a true issue of our times."
To learn more about the American Connection Corps, visit American Connection Corps at Lead for America.
To learn more about the Northland Hackathon, visit northlandhackathon.com.
To learn more about Minnesota's efforts to provide broadband access, visit state of Minnesota Office of Broadband Development.
New broadband development director named
Bree Maki was appointed by Gov. Tim Walz in October to serve as the new director of the Office of Broadband Development.
Maki was the senior outreach director and state broadband and telecommunications outreach director for Sen. Tina Smith. She previously worked as an office administrator for Winona County Soil and Water Conservation District.
As part of the Department of Employment and Economic Development, the Office of Broadband Development helps educate residents about broadband availability, and how to work together to improve the availability and use of high-speed broadband services.
Since 2014, DEED has awarded more than $176 million in broadband infrastructure grants, with the goal of border-to-border broadband access.
Source for Maki item: DEED
About the Author(s) Paula Mohr has been editor of The Farmer since 2004. She enjoys covering a wide range of topics that are of interest to Minnesota producers.
Subscribe to receive top agriculture news
Be informed daily with these free e-newsletters
You May Also Like
---