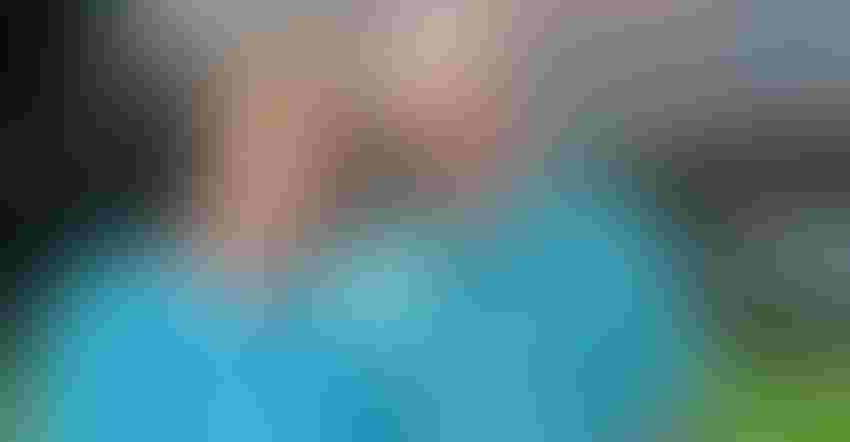 ISU SWEETHEARTS: Fran and Howard Mueller met at Iowa State University. "Fran has always found ways to share her talents to help improve the lives of others," Howard says.
In the early 1980s in the cab of a combine, Fran Mueller and a friend shared with one another their concerns about their families and rural Iowa. It was the beginning of the 1980s farm crisis, a period of severe financial turmoil in agriculture with low crop and livestock prices, plummeting land values, and lots of red ink. The stress on farm families was intense. But wringing of hands is not in Fran's wheelhouse; constructive action is.
With her neighbor, Fran organized a gathering of families, each with a unique situation, but all feeling the unrelenting financial pressure of the time. The families began meeting monthly to discuss positive steps that could help each family survive the stresses and prepare to thrive in the future. Together, they did just that.
Originally from Ohio and a graduate of Bowling Green State University, Fran taught at Iowa State University where she met Howard Mueller, who was in graduate school. In 1958, following their marriage, Fran's farming career began when she returned with Howard to farm in Bremer County in northeast Iowa.
She quickly learned how to operate machinery and handle and care for hogs and cattle.
Fran and Howard raised two sons, Mark and Steve. Today, Mark and his family farm with Fran and Howard. Steve, a small-business owner, lives with his family at Van Meter. Both sons are ISU grads. Fran and Howard have four granddaughters.
Fran also taught at Wartburg College in Waverly and at St. Paul's Lutheran elementary school.
Fran and Howard are "retired" but stay active by participating in church and community activities, and helping Mark farm. Fran is the treasurer for Mueller Farms.
Leadership extends beyond Iowa
Fran's leadership extends well beyond the family farm and Iowa. She's active in the global ag community through her work with Self-Help International, headquartered in Waverly.

GOOD WORK: Self-Help projects are reaching impoverished people in western Africa and Central America, helping them learn how to improve their food production, Fran Mueller says.
During her 23 years of service on the Self-Help board, including 12 years as chair, Fran helped guide the development of staff, expansion of community involvement, and the organization's work to develop improved seed and farming methods for farmers in Nicaragua and Ghana.
"Fran is a leader in all that she does and makes better every group she interacts with by sharing her time and talent," says Nora Tobin, executive director of Self-Help.
"In such a small organization with just two full-time U.S. staff members, our board members play a very important and active role in this nonprofit organization's success," Tobin says.
"Fran served as board chair for over a decade, and under her tenure, Self-Help was able to open a new country program and triple its operating budget," she says. "Fran has visited the farm families we serve in Ghana and Nicaragua many times, always at her own expense, to listen to their needs, see the progress they're making, encourage them, and ensure that Self-Help is serving their needs the best way possible. She is unwavering in her commitment to help people help themselves."
As chair of Allen Hospital Board in Waterloo, Fran was instrumental in the elevation of Allen's School of Nursing to Allen College of Nursing. She was the first woman elected to the Allen Hospital Board and served for 23 years — 12 years as chairperson.
Fran and Howard have hosted international students studying at Wartburg College and other international guests on the farm.
Fran is active in Bible study and book clubs. She sings in the church choir (50-plus years) and is a member of Waverly Community Symphony Association. Fran also enjoys sewing as a hobby.
Strong ties to family farm
The Muellers' sons say they admire their parents' accomplishments and care for others. The entire family is involved with the annual planting and harvest. They also enjoy canoeing, biking and traveling together. The grandparents especially enjoy time with their grandchildren. 
At St. Paul's Lutheran School in Waverly, Fran helped develop the physical education program for kindergarten through sixth grade. She served as president of the congregation at St. Paul's, and on committees of the PEO philanthropic group and Waverly Rotary.
Fran completed coursework at the University of Northern Iowa for a master's in teaching English to speakers of other languages. She has an honorary doctorate from Allen College of Nursing, honoring her years of service on the board.
Digging archaeology
As a young girl, Fran became interested in archaeology. After her children were grown, she applied to a program coordinated by five different U.S. universities and became a team leader of volunteer archeologists in Israel.
Every summer for five years she participated in the dig. "Our dig was in a farming area in southern Israel," Fran says. "I observed agriculture in a country that's very challenged by lack of moisture. But with drip irrigation and water management, they produced impressive crops. It was an interesting learning experience and I enjoyed teaching and working with the students."
The Rev. Dennis Dickman, in a letter of support for Fran's Master Farm Homemaker nomination, says "I've known Fran Mueller for almost 40 years, serving as her pastor for 17 of those years. She is one of the most gifted and caring persons I've ever met."
Subscribe to receive top agriculture news
Be informed daily with these free e-newsletters
You May Also Like
---