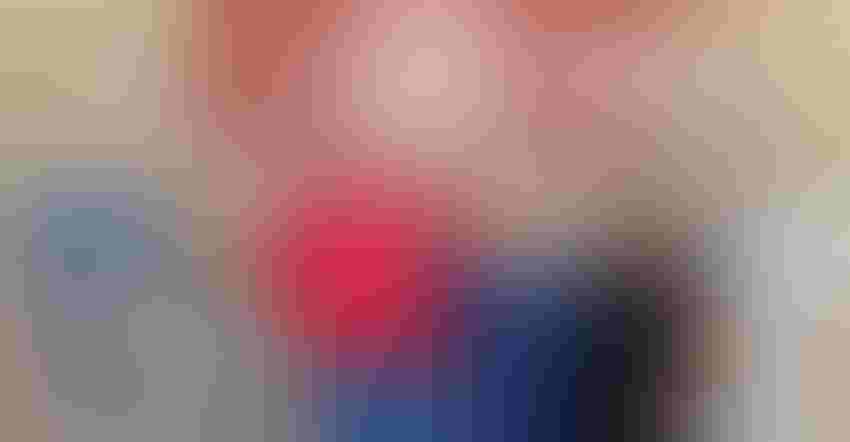 ALL IN THE FAMILY: The Cates family gathered last summer at their farm. From left are Dan and Shannon Bloom, of Alameda, Calif.; Dick and Kim Cates; and Kiley and Eric Cates.
For 24 years, Richard "Dick" Cates has directed the Wisconsin School for Beginning Dairy and Livestock Farmers, a program he helped start at University of Wisconsin-Madison's Center for Integrated Agricultural Systems and Farm and Industry Short Course. He is retiring from that responsibility this summer, but says, "I have loved assisting the next generation — so many who dream of farming; what a singular gift to have been able to help."
Before leaving, Dick has been using his teaching and farming experiences to guide his own son, Eric, back into farming. Over the past 30 years, Dick and his wife, Kim, have built a profitable direct-market beef business on their 550-acre Iowa County farm, south of Spring Green, Wis. Dick says he was in a unique position when Eric wanted to come back to farm.
Eric had a successful high school (River Valley School District) and collegiate (Dartmouth College) career as a downhill ski racer, and then became a professional ski racing coach in Colorado and Montana. But after eight years, he and his wife, Kiley, who is also from the Spring Green area, decided they wanted a life "with less travel, and the richness of a productive farm and embracing rural community."
So two years ago, Eric and Kiley returned to take over Cates Family Farm LLC, the brand Dick and Kim began using when they started marketing pastured steers 30 years ago.
"We talked about it for a while," Eric says. "I met Kiley in the area here. We both love the area. We wanted to start a family and be closer to our extended family here. It seemed like a natural transition point; they [his parents] were willing to step back, and we wanted to get in. The transition has been pretty seamless so far."
Dick says there are a few basic principles to follow when a beginning farmer takes over from parents:
• Establish goals.
• Come up with a plan that moves at a rate the new farmer can handle in terms of leasing and, only later, purchasing assets; and one that allows for cash flow.
• Be available as a mentor, when asked, and a farmhand when needed. But otherwise, get out of the way!
Dick and Kim followed that advice and allowed Eric and Kiley to begin taking over in their first two years back home.
BUCOLIC VIEW: Stocker cattle graze on the front pasture at the Cates Family Farm near Spring Green in Iowa County, Wis.
"The first priority is to own the income-producing assets; in this business, this means livestock," Dick says. "Eric worked with the bank to secure a loan, and began purchasing and raising steers in our grass-fed operation. Additionally, he received a custom rate to raise the steers that Kim and I owned."
Eric rents the land and machinery from his parents and his sister, Shannon Bloom, and her husband, Dan, "structured so the cash flow could work." Eric also has developed two custom-grazing contracts to raise other farmers' heifers.
"The opportunities for contract grazing continue to grow," Dick says. "That's key for young farmers, because they can receive a monthly paycheck without needing to take a larger loan to own the cattle; that's really icing on the cake. But if you're going to custom-graze, you better do a darn good job of it, or the cattle owner won't be back next year. ... So taking the time to develop management experience — often working for other farmers first — is key."
February marked the start of the third year of the takeover arrangement, and Dick, who is 66, has almost fully stepped back from active farming, though he still owns the land, machinery and some livestock. Eric and Kiley are in the process of determining which machinery, tools and supplies they will purchase, and a payment schedule will be arranged with his parents. A professional appraisal of the inventory is underway so the transaction will take place using fair market value.
"The third piece will be the land transfer," Dick says. "Once their business is up and running, they can begin to buy the farmland. They will continue renting until that time."
"As we move forward, some of the rental payments will go toward machinery [purchases]," Eric adds. He cites a "comfort factor" in the beef grazing operation. "We're at a comfortable point where it is manageable between myself and my wife." 
Grass-fed beef
The Jersey and Angus steers the Cates Family Farm LLC pastures are grass-fed through the growing season and receive grass-legume hay through the winter. Eric runs about 250 head — grass-fed steers plus two custom heifer grazing contracts on 270 acres of pasture and hay land. Row crops are not grown, but hay is harvested on some of the pastureland in June and on some native prairie land in August.
The Cates Family Farm Grass-fed Finished brand of beef is in a number of retail markets and uses the "Something Special From Wisconsin" label in addition to its own. The Cateses also market through a number of restaurants and have a household customer following. Eric and Kiley are looking to start relationships with specialty gift shops for their smoked meat products. 
The Cateses typically buy Jersey steers at 300 to 400 pounds and Angus steers at 400 to 600 pounds from "wonderful, exceptional neighboring farm families." Dick says the Jersey meat has "remarkable marbling and flavor," and finds the animals a calming influence on pasture.
Cheerful and forthcoming, Dick says he was considering leaving farming altogether in 2015. That's when Eric and Kiley, a former cheesemaker at the Uplands Cheese Co. grass dairy farm located a few miles from the Cates farm, said they wanted to buy into the business. So Dick stayed on. He was recognized as a Master Agriculturist in 2016 and received the Aldo Leopold Conservation Award in 2013.
Eric and Kiley foster the same conservation-minded attitude. "This is what I grew up knowing, and this is what I do," Eric says. "Maintaining that legacy is important to me."
He and Kiley were married in 2015 in a barn that Dick and Kim had remodeled for group gatherings. The barn since has been the site for other weddings for family and friends. In July 2017, Eric and Kiley had their first child, a daughter named Sloane Helen — Dick and Kim's first grandchild.
Kiley continues to help occasionally at Uplands Cheese. She also handles the Cates Family Farm website, shares in the work of beef product delivery and does chores.
"She's very versed and especially talented in the specialty cheese and local food world," Dick says. He and Kim also own a 100-acre contiguous tract with Shannon and Dan, who's originally from Loyal, Wis. They both live and work in San Francisco for Levi's Corp. and Apple, respectively, "but are excited to own property in their home territory ... and of course, the land is a productive part of the grazing acreage available to Cates beef, into the next generation," Dick says.
Buchholz writes from Fond du Lac, Wis.
Subscribe to receive top agriculture news
Be informed daily with these free e-newsletters
You May Also Like
---