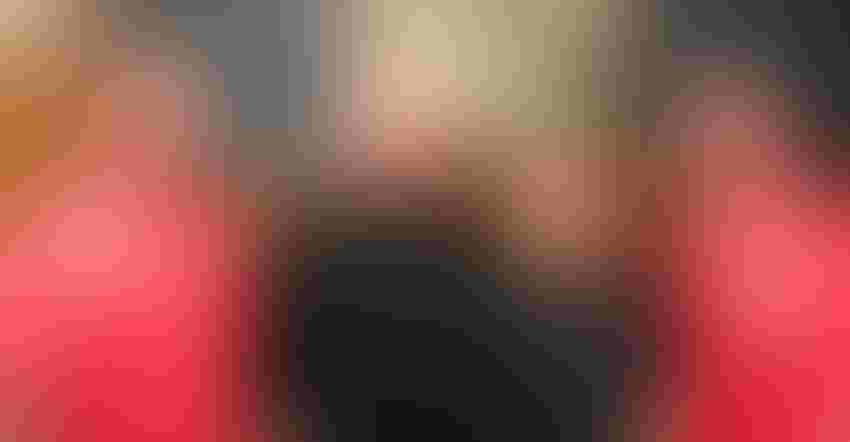 FAMILY FARM: Joe and Chris Brantmeier (center) farm with their sons, Jeff (left) and Andy.
When 2019 Master Agriculturist Joe Brantmeier was a little boy, he shadowed his father in his daily activities on their farm.
As he got older, he began milking cows, feeding calves and helping with fieldwork. When he was 12, he was reading bull books and selecting most of the AI bulls to breed to their cows. By participating in dairy judging and showing at county and state fairs, he observed and learned from those who were successful. By the time he was in high school, he had taken over the breeding program for the farm.
Joe attended University of Wisconsin-River Falls, double-majoring in dairy science and agronomy. He continued to be involved in the farm in Sherwood, on the east shore of Lake Winnebago, driving across the state almost every weekend to help with chores and fieldwork.
In 1974, Joe graduated with a bachelor's degree and went home to farm with his parents, Hilard and RoseMary. They milked 30 cows. That same year, he married Chris, his high school sweetheart, and purchased an 80-acre farm with a house bordering the home farm.
One year after Joe's graduation, Hilrose Dairy (named after his parents) was recognized with the most improved herd average in the county, going from 14,428 pounds of milk to 16,606 pounds. That was just the beginning of the improvements the Brantmeiers would make to develop the herd and grow their farm to what it is today. Joe's brother Mike was an integral part of the operation for almost 20 years before he decided to pursue other career opportunities.
In 1981, Joe and Chris took over the family business. They put an addition on the barn with 40 tiestalls and two box stalls, and increased the herd size to 100 cows. The Brantmeiers were recognized as Calumet County Outstanding Young Farmers, and several years later were awarded second place in the Mid-State AMPI young cooperators contest.
In 1985, Hilrose Dairy was one of the first herds in the state to start using modern technology such as a total mixed ration, ultrasound and embryo transfer. "TMR helped boost our herd average by 3,000 pounds," Joe says. 
Joe and Chris have steadily increased the number of acres they farm. Hilrose Dairy grows crops on 500 owned and 600 rented acres, raising high-quality feed and forages. The only purchased feeds are mineral and protein supplements. They also grow corn, soybeans and wheat for cash crops. They have bought farmland in four different decades, paying between $800 and $10,000 an acre.
Much of the fieldwork is the responsibility of longtime employee Tim Bornemann. "Tim has been an integral part of Hilrose Dairy for the past 20 years," Joe says. "He is a great asset, especially when it comes to maintaining machinery, and is our lead man in crop production."
Much of the land near the home farm is highly erodible. Alfalfa is no-tilled into wheat stubble. The fields remain in hay for a number of years, producing haylage. Then the stands are baled for dry hay to feed heifers up to 20 months. This helps in the growth and frame that allows calving by 23 months.
Next generation
The Brantmeiers raised three children — Sara, Andy and Jeff — who were all active in 4-H, Junior Holstein, showing and judging dairy cattle, and school sports. Sara graduated from UW-Madison in 2000 with a bachelor's degree in dairy science and ag journalism. She is married to Lynn Harbaugh and works for Zoetis as a senior territory business manager. They have three children: Jacob, Logan and Madison.
Andy graduated from UW-Madison Farm and Industry Short Course in 2002, and Jeff graduated from UW-Madison with a bachelor's degree in dairy science in 2006. Both boys returned to the farm and married. In 2012, Hilrose Dairy LLC was formed.
"All of our children and their spouses work in agriculture," Joe says. "Lynn is an area sales manager for NorthStar Cooperative. Andy's wife, Ashley, is an accounting specialist at Milk Source. Jeff's wife, Bonnie, is a communication specialist at Milk Products."
Andy and Ashley have one child, Kylie. Jeff and Bonnie have three children: Bentley, Blake and Brodie.
Today, Hilrose Dairy's herd average is 32,330 pounds of milk with 1,238 pounds of butterfat and 991 pounds of protein. "We've been over 30,000 pounds for the past 15 years," Joe says.
Their breed age average is 111.0, and they have received 31 consecutive Progressive Breeders' Registry awards. They won the 2011 Distinguished Holstein Breeder Award. Since Joe's parents registered their first cow in 1959, the farm has bred and developed 212 Excellent and 621 Very Good cows. Breeding for high type cows, they have stayed productive for more years. The farm has been home to two 400,000-pound lifetime cows and many over 300,000. Every year they sell an average of 40 fresh 2-year-old cows, which has helped their bottom line. Each spring they consign show-age calves to many local sales. Many of those animals have gone on to bring much success to others.
The family is active in the District 10 Show, the state show and World Dairy Expo. Last fall, Hilrose Advent Anna, an 8-year-old cow, was named the 2018 Cow of the Year in Wisconsin. Anna and the Brantmeiers were honored at Expo.
Community involvement
Joe has been a member of the county, state and national Holstein associations for 45 years. He serves on the State Bank of Chilton board of directors, and is a longtime 4-H leader and dairy project advocate in Calumet County. He is a Farm Bureau member, is active in his church and is a member of the Knights of Columbus. He is a past member of the Harrison Volunteer Fire Department. Joe also served on the Calumet County Fair Board and was a member of the Wisconsin Farm Progress Days Committee when Calumet County hosted the show in 1993.
After 27 years of teaching, Chris is now a full-time grandma and bookkeeper for the farm.
The Brantmeiers have hosted countless dairy judging practices and other youth events at their farm. They have provided project animals to youth to exhibit at the county fair and Wisconsin State Fair. They organize an annual fundraiser to help defray the costs of showing dairy animals at both fairs. The Brantmeier farm was a tour site for the 2017 Wisconsin Holstein Convention and will be a tour site for the 2019 National Holstein Convention in June.
MASTER AT A GLANCE
Joe Brantmeier
Age: 66
Location: Sherwood, Calumet County
Farming enterprises: registered Holstein cows and heifers, cash crops
Size of farm: 500 owned acres, 600 rented acres, 100 cows, 160 heifers and calves
Years farming: 45
Family: wife Chris, sons Andy and Jeff, two daughters-in-law, daughter Sara Harbaugh, one son-in-law, seven grandchildren
Subscribe to receive top agriculture news
Be informed daily with these free e-newsletters
You May Also Like
---