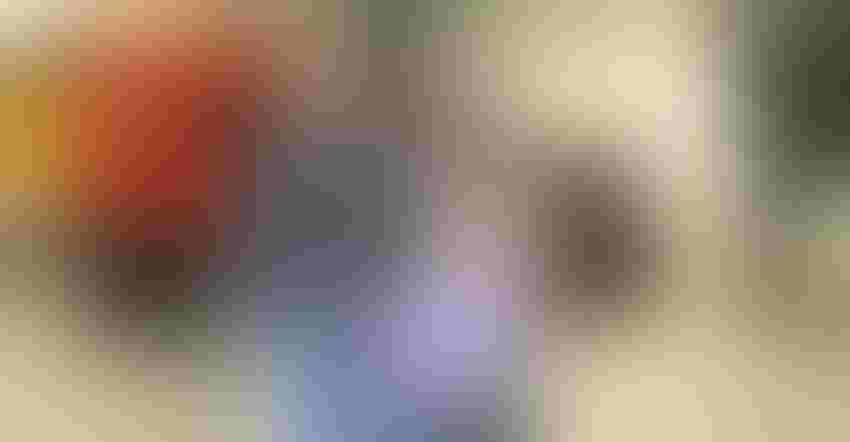 MASTER FARMERS: Jess and Laryce Schwieterman of Syracuse, Kan. — shown here with their daughter, Avery — are one of six couples named to the 2021 Class of Kansas Master Farmers and Master Farm Homemakers.
Jennifer M. Latzke
Jess and Laryce Schwieterman, of Syracuse, Kan., like so many other newlyweds, started out with a plan for their life together.
God had a different plan in mind for them. And their nearly 30-year journey in agriculture is one of the reasons why they were named to the 2021 Class of Kansas Master Farmers and Master Farm Homemakers.
Starting out
Jess and Laryce met while they were studying animal science at Kansas State University in the mid-1990s. Jess hailed from the Syracuse area, Laryce from Longford, in north-central Kansas. Both say that education, in and out of the classroom, has been vital to growing their farm.
When they graduated in 1995, they began working in animal agriculture, Jess at a local feedlot and Laryce at a hog farm. Both took advantage of learning by working for somebody else.
"My dad said, 'You need to go out and work for somebody else, so you know what it's like to work for other people besides your family,'" Laryce says.
With their animal science degrees, raising crops on a western Kansas dryland farm wasn't really in the plan.
Life had a different plan for the couple, however. A local Syracuse farmer, Paul Burkhart, approached Jess with an offer. If the Schwietermans would work for him for a couple of years, learning the farming business, he would transition the land and his farming operation to the young couple.
"At 25 years old, we took on 3,000 acres," Jess says.
Syracuse, in far western Kansas, presents some challenging conditions for dryland farmers. At an average of just 18 inches of rainfall per year, conventional wisdom had farmers planting a wheat-fallow-wheat rotation. But change was coming on the horizon.
No-till switch
Jess and Laryce were able to use Jess' father's equipment. They knew they would need to make some changes to the farm going forward, though, if they wanted to grow the operation to sustain the family they hoped to have one day.
Jess spent a lot of time talking with K-State Extension specialists and attending No-Till on the Plains and any other educational opportunity, open to learn about no-till and minimum-till farming. It was starting to gain traction in western Kansas, but it was new. They were renting much of their farm ground — and getting landowners to sign on to a change in farming methodology, let alone raising corn on historic wheat ground — took some effort.
"I remember Jess using crop budgeting spreadsheets that he got from KSU, comparing wheat-fallow-wheat with mechanical tillage, to wheat-sorghum-fallow using more chemicals for weed control and presenting those to landowners," Laryce writes. She adds that one of their landowners said, "We won't know if it's a viable option unless we let them try it."
"We thank God that was a wet year in this country and corn did well, so that really helped us believe that crop rotation could be beneficial for our farming operation," Laryce adds.
Growing the farm
Through the early 2000s, more opportunities came to grow the farm. By this time, Jess was doing most of the spraying, seeding and other farm work by himself, with Laryce helping on the weekends and doing bookwork when she wasn't working as the office manager of the local John Deere dealership.
Soon she quite to use her accounting and management experience on the farm. And they formed JL Farms General Partnership, encompassing not only the farm, but also custom application enterprises and certified seed sales.
Treating the farm as a business first has helped them in their goals. They've added irrigated and dryland acres, as well as retired Conservation Reserve Program land. They prefer to cash-rent their leased ground so that they can more intensively manage the ground with less risk to the landowner.
Today, the Schwietermans farm 13,500 acres, using no-till principles and being mindful of their area's low rainfall and high wind erosion. They regularly soil-test, and they've brought the organic matter of their soil up from 0.7% to 1%. They prefer raising corn but will also raise grain sorghum and high-oleic sunflowers, depending on the soil moisture profile they have available.
Wheat is still a staple crop for the family business. In 2007, they became certified seed wheat dealers, and they specialize in selling varieties with resistance to the wheat curl mite that is a vector for wheat streak mosaic virus.
Jess says technology has been a driving force in their expansion. They map all farming operations, and today they have 10 years of data that help them understand — to the penny — their return on investment of seeds, fertilizers and more.
"Our No. 1 management practice is to have the lowest cost of production," Jess and Laryce say. They use a software that tracks all farm inputs, labor, machinery and overhead expenses, and gives them a breakeven cost per bushel. It takes some of the guesswork out of when to market their crops.
Home and family
The couple has a clear love of farming. But, if you ask around Syracuse, Jess and Laryce are just "Avery's parents." And that's maybe their favorite title.
Jess and Laryce tried for 13 years to have children. Finally, their prayers were answered with the birth of their daughter, Avery. Born premature, and weighing just over 2 pounds, Avery spent her first 2 months of life in the hospital before coming home to the farm.
Baby Avery was 6 months old when she had her first seizure. The diagnosis — cerebral palsy.
But like any other challenge, Jess and Laryce looked to each other for strength, and then they got to work, learning how to be the best parents they could be for Avery.
"Avery is in a wheelchair and nonverbal, but what she can say with her life is amazing," Laryce and Jess say.
Syracuse is a tight-knit community, and community members have rallied around the family and Avery. That love and support has helped the family immensely, the Schwietermans say. And the couple stives to pass those blessings on by serving on various boards, volunteering in their church, hiring local young people and passing on their farming knowledge.
It's about building the community and keeping it as resilient as the soil they protect with the no-till, they say.
Indeed, life may not have turned out according to the plan the couple set out with in 1995.
But if you ask the Schwietermans, they would tell you, it turned out better than they could have imagined.
Family mottoes
"Life is what happens when you're busy making other plans."
"Life never turns out like you expect — sometimes it's good and sometimes it's challenging," Laryce Schwieterman says. "But if you stick together, you can make it through anything."
Local lore
Syracuse, Kan., is just 16 miles from the Kansas-Colorado border. It's in Hamilton County, named for Founding Father Alexander Hamilton.
Subscribe to receive top agriculture news
Be informed daily with these free e-newsletters
You May Also Like
---