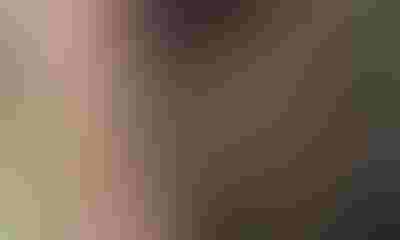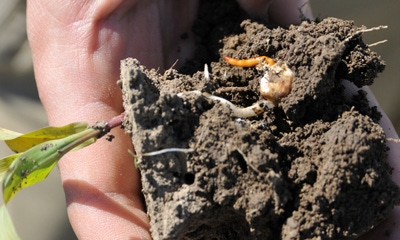 You planted 32,000 seeds per acre. You have nearly 32,000 in some places, but counts as low as 25,000 plants per acre in other places. What went wrong? What can you do about it?
A crack crew of Indiana Certified Crop Advisers played sleuth on this question. The team includes Jamie Bultemeier, agronomist with A & L Great Lakes Labs, Fort Wayne; Gene Flaningam, independent crops consultant, Vincennes; and Bryan Overstreet, Purdue University Extension ag educator in Jasper County.
Here is their discussion as they tracked possible causes.

Overstreet: First, we need to figure out what happened to the stand. Is there a pattern of reduced population areas? Was planting depth the same in different soil types? Are the lower populations on sandier, hilly areas?
Bultemeier: The key is to start scouting within a few days after planting. Hopefully, you did so. It could be caused by seed placement issues, soil conditions in the seed trench, moisture availability, environmental impacts, seedling diseases, soil insects and a whole host of other causes.
Flaningam: Scout and see if there are any patterns. First look at mechanical issues that would follow individual row units of the corn planter. Seed spacing and kernel drop issues may be limited to planter calibration. If fertilizer was used, look at placement of fertilizer vs. seed placement.
Overstreet: Did you have damage from wireworms or seed corn maggots? Was there frost in low areas of the field? Were sandy areas too dry? Find answers to those questions, and we can start thinking about how to find ways to help next year.
Flaningam: Look at soil conditions in the field. Seedbed preparation is a big factor in stand establishment. Finally, dig plants to review the possibility of any insect pest affecting plant establishment.
Bultemeier: To correctly identify the cause, you need to catch it in the act. Waiting until corn is knee-high to figure out the cause of stand loss, in most cases, is only a guess. Only when you can conclusively identify the cause can a solution be derived. Don't try to fix something until you know the cause of the problem.
Overstreet: If you decide that you had insect issues, then you could add an insecticide to your seed treatment, or use one in-furrow next year. (If your problem is wireworm and many other pests, there is nothing you can do about controlling them this year. Once soil warms up, wireworms will return to deeper levels within the soil.) If you had [stand] issues in low areas of the field where the soil stayed moist longer, you may need to add a different fungicide to your seed treatment package [next year]. If planting depth was an issue, you will need to monitor your down pressure on your planter more closely in different soil conditions [in the future].
About the Author(s) Editor, Indiana Prairie Farm
Tom Bechman is an important cog in the Farm Progress machinery. In addition to serving as editor of Indiana Prairie Farmer, Tom is nationally known for his coverage of Midwest agronomy, conservation, no-till farming, farm management, farm safety, high-tech farming and personal property tax relief. His byline appears monthly in many of the 18 state and regional farm magazines published by Farm Progress.

"I consider it my responsibility and opportunity as a farm magazine editor to supply useful information that will help today's farm families survive and thrive," the veteran editor says.

Tom graduated from Whiteland (Ind.) High School, earned his B.S. in animal science and agricultural education from Purdue University in 1975 and an M.S. in dairy nutrition two years later. He first joined the magazine as a field editor in 1981 after four years as a vocational agriculture teacher.

Tom enjoys interacting with farm families, university specialists and industry leaders, gathering and sifting through loads of information available in agriculture today. "Whenever I find a new idea or a new thought that could either improve someone's life or their income, I consider it a personal challenge to discover how to present it in the most useful form, " he says.
Subscribe to receive top agriculture news
Be informed daily with these free e-newsletters
You May Also Like
---