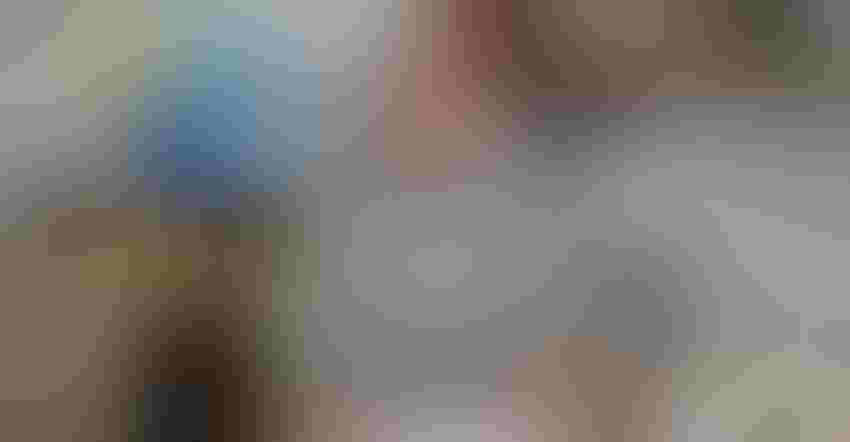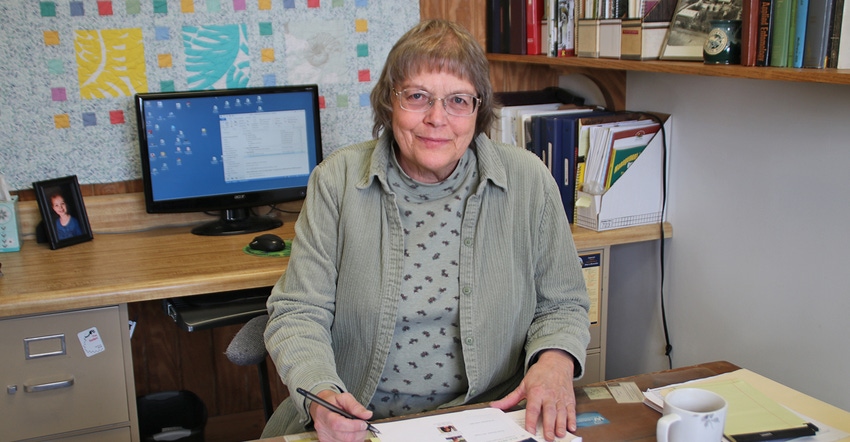 AG RESEARCH: During her time on the farm, Sue Bellman's primary focus has been overseeing the ag research business, which has grown steadily since its inception, becoming one of the most preferred field research facilities in the Midwest.
2019 Master Agriculturist Sue Bellman was born on the Delavan, Wis., farm she now lives on, and has been involved in the day-to-day operations nearly all her life.
"I was the oldest of four daughters and the only one interested in agriculture, so I spent countless hours driving the tractor, mainly disking fields. I really liked doing that chore but needed a bigger challenge," she recalls. "After entering college, I finally told Dad I was old enough that perhaps he could teach me to operate the four-bottom plow with our 4010 John Deere. During my first afternoon of plowing, I finished several acres."
That strong work ethic and close association with the land were the bonds that brought Bellman back to her roots. Today, she is sole owner and handles all management decisions at Bellman Family Farm, which consists of 320 deeded acres and 30-plus acres of rented ground.
Her journey
After graduating from University of Wisconsin-Madison and receiving a master's degree in weed science at Colorado State University, Bellman worked for FMC and Monsanto.
In 1987, she returned to the family farm and started Great Lakes Agricultural Research Service Inc. This enterprise specializes in contracted field research, providing independent, unbiased studies on a wide variety of field and specialty crops. Services include pesticide and fertilizer efficacy, biotech crop testing, and crop yield evaluation. GLARS has five full-time employees and four to six individuals working on-site during the growing season.
Building a rapport and working directly with a diverse group of agribusiness companies such as Monsanto, Bayer, Mosaic, BASF, Pioneer, Syngenta, FMC, Valent and several new ag capital ventures has played a key role in the success of Bellman's research enterprise.
At least 20 acres are dedicated to research plots on the home farm. And depending on annual research contracts, sometimes acreage is used in various parts of Wisconsin, Illinois and Michigan's Upper Peninsula. Most plots vary in size from 20 to 50 feet. However, some trials can cover up to a fourth of an acre and may have 100 small plots within that space.
Research is normally carried out on a plot for only one year. Clients choose the particular rotation for the crop raised in each plot. Besides working with the basic field crops, research is also conducted on cranberries, blueberries, cherries, potatoes, peas, cabbage and other vegetables.
"I maintain a hands-on approach in the research process by applying herbicides and insecticides as needed," Bellman says. "I follow up by taking samples and bringing them back to our freezers before they are shipped off to various laboratories, which is all part of the registration process."
She notes that most new herbicides and products used by commercial farmers come from these research plots. Any data collected is sent to the sponsor company, which then summarizes results across many sites as part of the U.S. EPA's registration process. By conducting trials with new formulations of phosphorus and potash, for example, the best fertilizers enter the marketplace.
Balancing act
Besides the core of research trials, grain production consisting of corn, soybeans, alfalfa and winter wheat in rotation, along with a beef herd, help contribute to overall profitability at Bellman Family Farm.
In the past 32 years, Bellman has doubled her livestock inventory, which now totals 55 Angus cows and a couple of bulls. To optimize overall pasture productivity, she has implemented a strict rotational grazing system covering 150 acres. She switched to this practice in the early 1990s and relied on grants from the Environmental Quality Incentives Program that helped with new fencing, water lines, grazing plans and improving the forage species in each pasture.
The average size of paddocks, which consist of native bluegrass improved with red clover, fescue and orchardgrass, is 5 acres and is normally grazed for three to seven days. The grazing season runs from May 1 to Nov. 1. Excess forage is made into small square or large round bales.
Bellman participates in a variety of professional ag organizations. She is a member of the North Central Weed Science Society, Wisconsin Association of Professional Agricultural Consultants, National Alliance of Independent Crop Consultants and Grass Works Inc. She has served on the boards of several organizations and has presented talks at national meetings for crop consultants and the weed science society.
Bellman also enjoys being involved in a variety of state and community activities. She served on the Richmond Township Board for eight years and on the Farm Service Agency county committee for 10 years, acting as chair the final two years. As a representative of that group, she sat on the Land Use and Conservation Committee and the Agriculture and Extension Committee for Walworth County.
Bellman is also a member of the Wisconsin Angus Association and the UW Alumni Association, as well as a lifetime member of the Richmond Methodist Church, most recently teaching Sunday school for five years.
Although her children, Kristina Coenen, a clinical psychologist, and Michael Borglin, a software engineer, are not actively involved in the farm operation, she is proud of the success they have achieved in their chosen careers. 
Helping hands
It takes a coordinated effort to maintain efficiency and keep everything on an even keel at Bellman Family Farm. Bellman relies on a strong management team and the farm's personal staff to achieve top-notch results. These folks include:
Bruce Ludolph, crop consultant for Top Crops LLC in Sauk City

Mark Schnell, agronomy specialist for Landmark Service Co-op in Whitewater

Matt Stevers, veterinarian at Whitewater Veterinarian Hospital

Justin Meyers, oversees calving and other cattle related chores

Albert Kertho, plant pathologist who handles disease research and maintains insect trials

Kathy Harris, oversees research trials on biotech and GMO crops

Lisa Wheelock Roney, quality assurance auditor

Faith Edwards, office manager
UW Extension provides guidelines for handling pest problems, tillage programs and rotational grazing programs.
Persinger writes from Milwaukee, Wis.
MASTER AT A GLANCE
Sue Bellman
Age: 67
Location: Delavan, Walworth County
Farming enterprises: cash grain, cow-calf, agricultural research
Size of farm: 320 owned acres, 30-plus rented acres
Years farming: 32
Family: son Michael Borglin, daughter Kristina Coenen, one son-in-law, one granddaughter
About the Author(s)
Subscribe to receive top agriculture news
Be informed daily with these free e-newsletters
You May Also Like
---